The United Club lounge in San Francisco International Airport (SFO) near the E Gates may not have the charm of the other two SFO United Clubs, but gets the basics rights with plenty of natural light, a decent selection of food and drink, and friendly service.
United Club San Francisco (SFO) E Gates Review
This is a fairly cookie-cutter United lounge, with a layout and color scheme that mimics all new United Clubs refurbished or constructed over the last decade. I do prefer the classic United Club in the F Gates or G Gates area, but purely in terms of decor and design, not amenities or service.
Location + Hours + Access
This SFO United Club  is located in Terminal 3, Boarding Area E, near gate E4. If you are coming from security, turn right after the checkpoint and walk past the food vendors and you'll come to it on the left side. During the pandemic, it is open daily from 5:45AM to 6:30PM.
Access is reserved for United Club members, Chase United Club Visa holders, Star Alliance Gold travelers, business class travelers flying to Boston (BOS), New York (JFK), or Newark (EWR) on United's premium transcontinental service, and international business or first class passengers traveling on any Star Alliance flight. Global Services members also enjoy access.
Furthermore, one-time passes from Chase are accepted or can be purchased for $59 (currently on sale for $39). Note that if you hold a Star Alliance Gold card from United Airlines (Premier Gold or higher), you can only access the lounge when traveling in conjunction with an international itinerary. Those who have a Star Gold card from other programs can use the lounge when traveling on any Star Alliance flight in any class of service. Also note that United does not give premium cabin passengers access on domestic flights, with the exception of the premium transcontinental route noted above.
Seating
Two desks staffed with agents check guests in just past the entrance. Past them is a large seating area that includes chairs with end tables between. The seating area is flanked by a bar on one side and a mounted table with chairs that stretches the length of the lounge.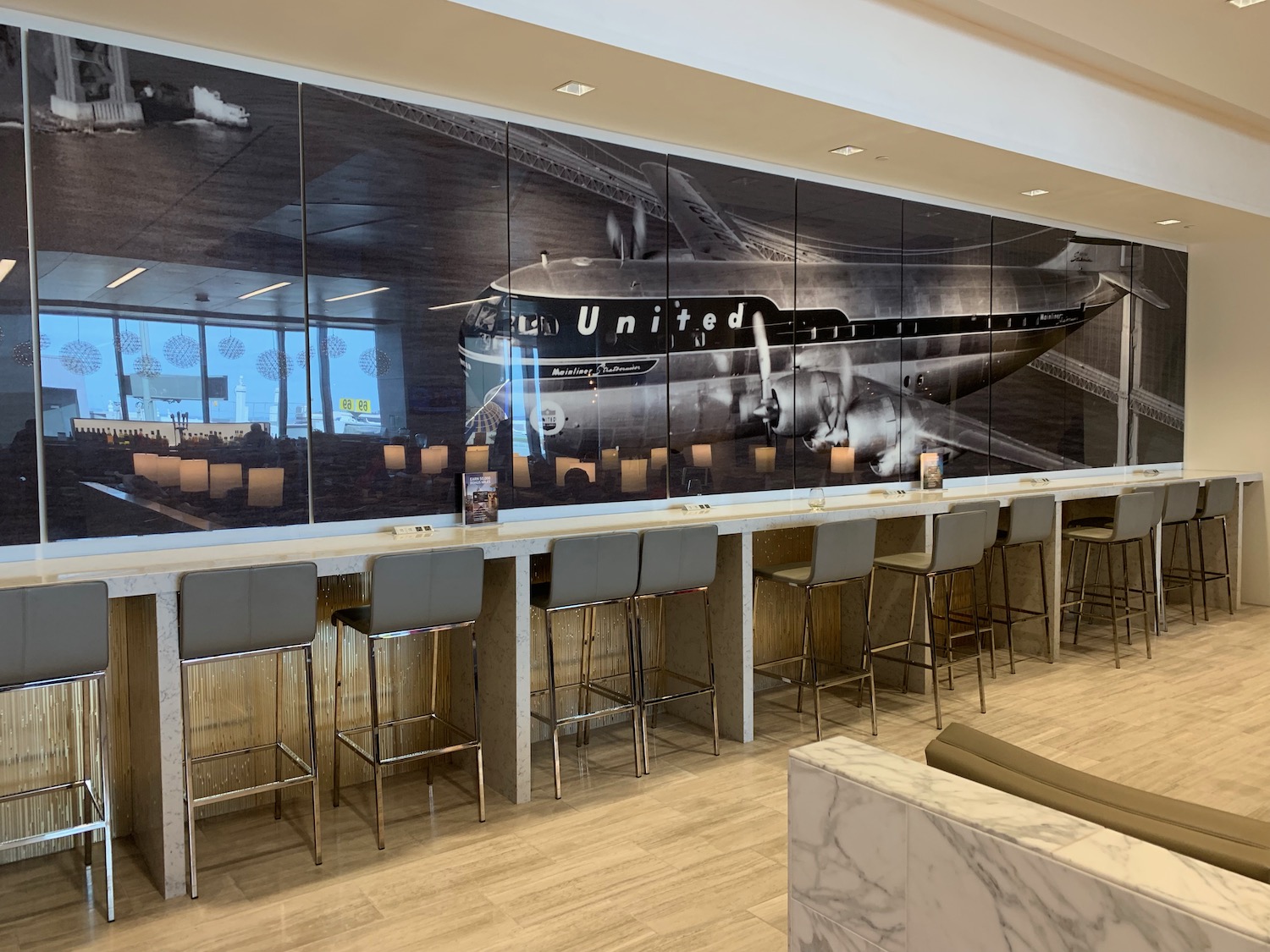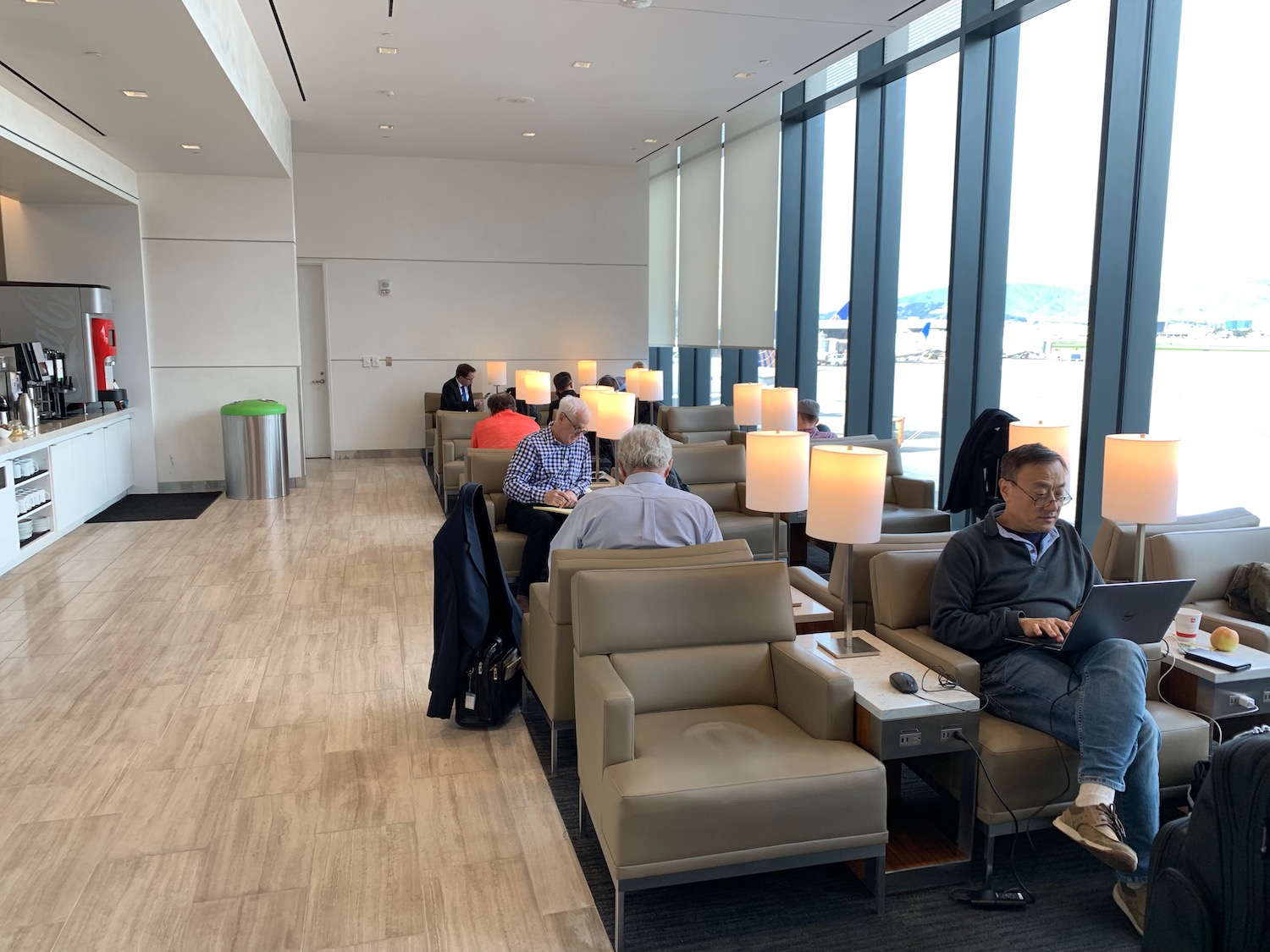 Behind a partition which hides the bathrooms, there's also a small dining area with three round tables with chairs on one side and a booth on the other.
Finally, there are a couple private rooms ("phone booths") where you can conduct telephone conversations or virtual meetings without disturbing others.
A printer is available with a wireless printing option.
120-volt power ports plus USB chargers are located throughout the lounge.
Restrooms + Showers
Before the pandemic, the mirror in the restroom was in really bad shape:
I was pleased to see that United had replaced it during my last visit:
As is the case with all United Clubs in the USA, there are no showers.
Food + Drink
In many ways, United has upped its catering game in United Clubs during the pandemic. But I'm not sure that is the case in SFO. I won't post pictures to avoid confusion, but this lounge used to have a very nice soup (multiple selections) and salad bar. These days, most of the food is pre-packaged (which is fine), but I found options lacking a bit compared to other United Clubs.
Even so, you won't go hungry with a selection of:
whole fruit
hard boiled eggs
string cheese
pasta salad
Ceasar salad
vegetable salad
soup (butternut squash during my visit)
wraps
burritos
whole fruit
cookies
crackers
candy
chips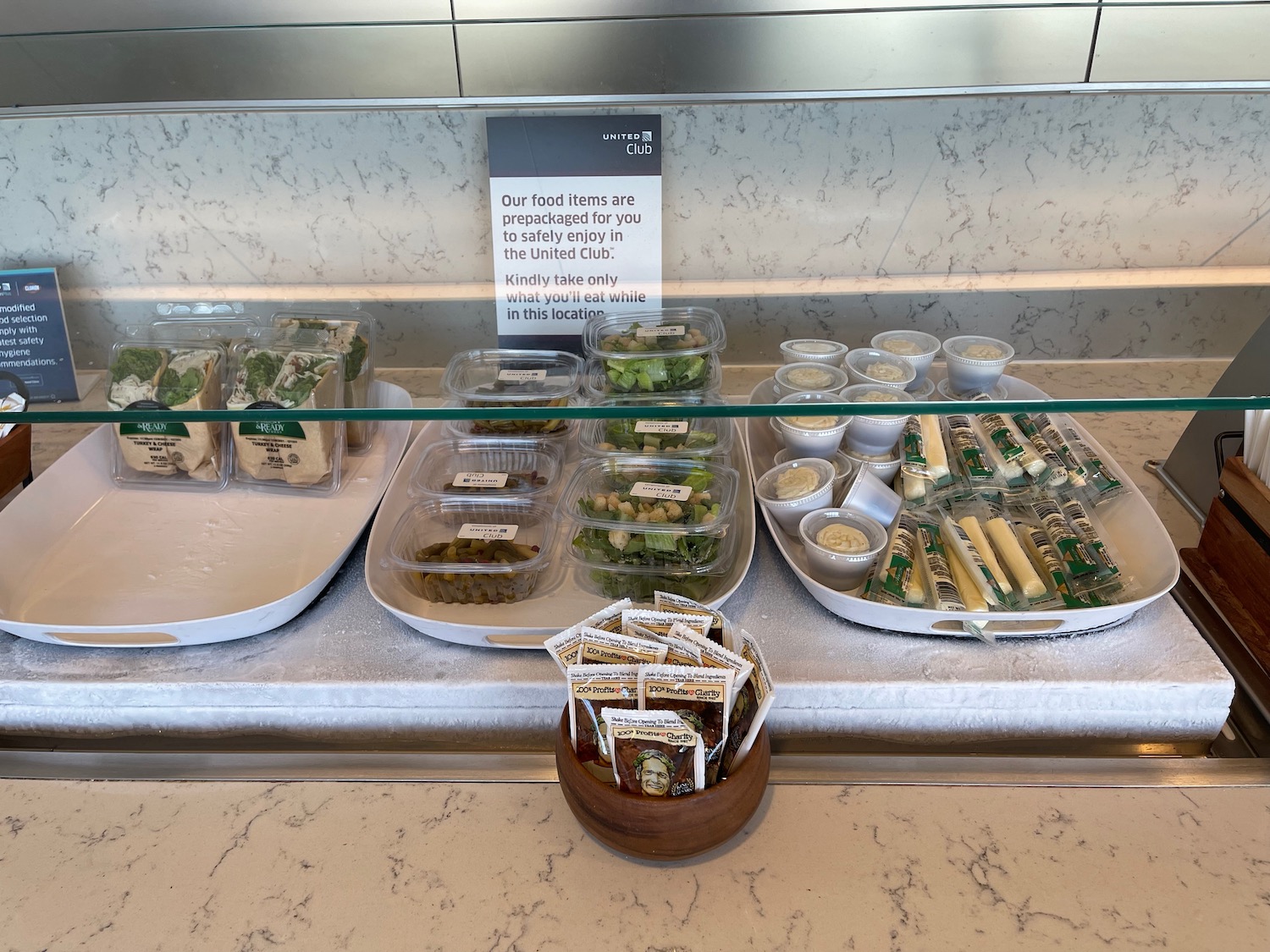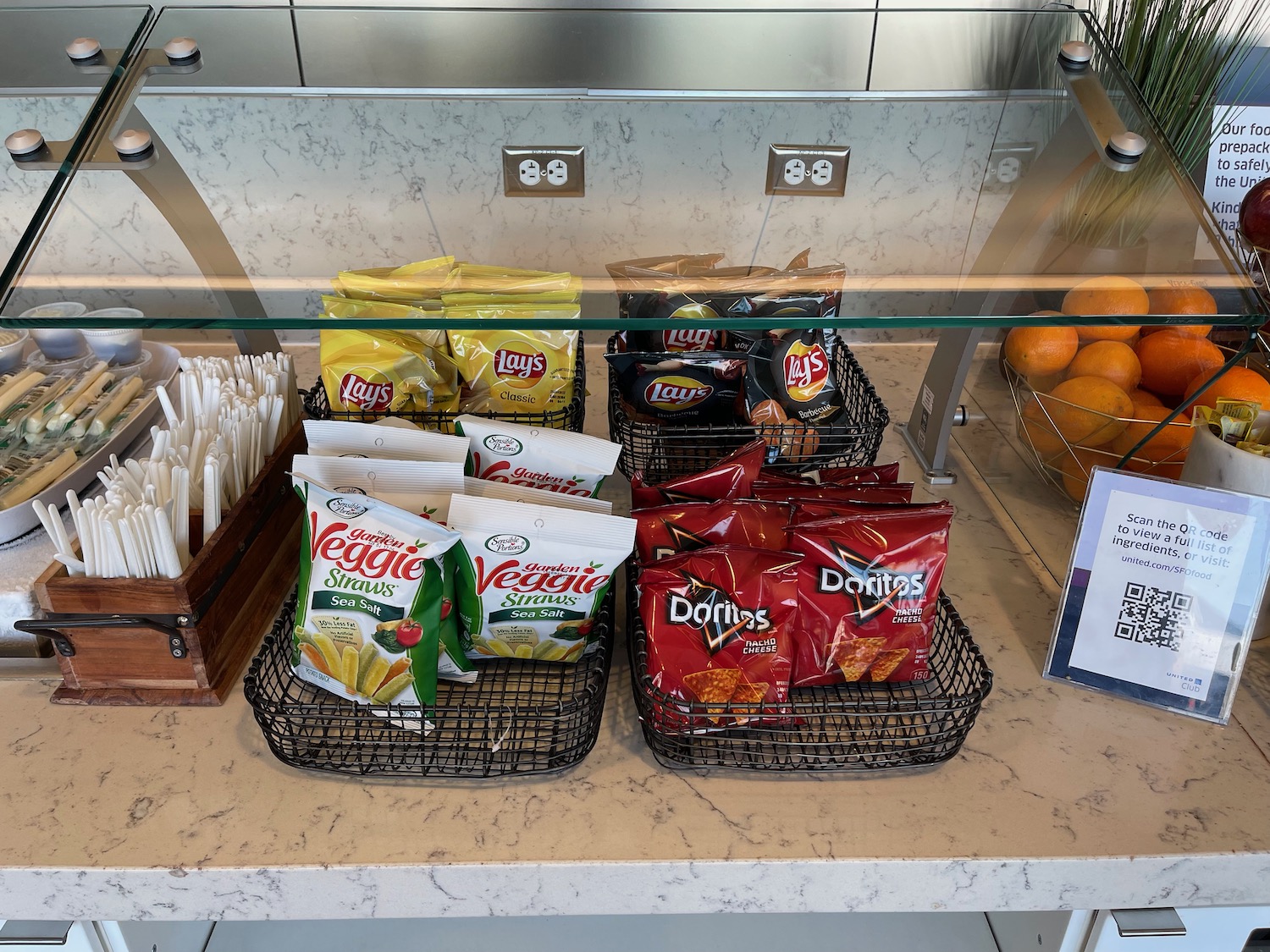 Soft drinks, water, milk, coffee, tea, and juices are self-serve.
I was excited to see a new coffee machine in the lounge – might this one actually create better cappuccinos? Sadly, no. I stick to plain espresso in United Clubs.
A full-service bar is also available. Beer, wine, and select spirits are complimentary while premium beer, wine, and spirits do carry a charge.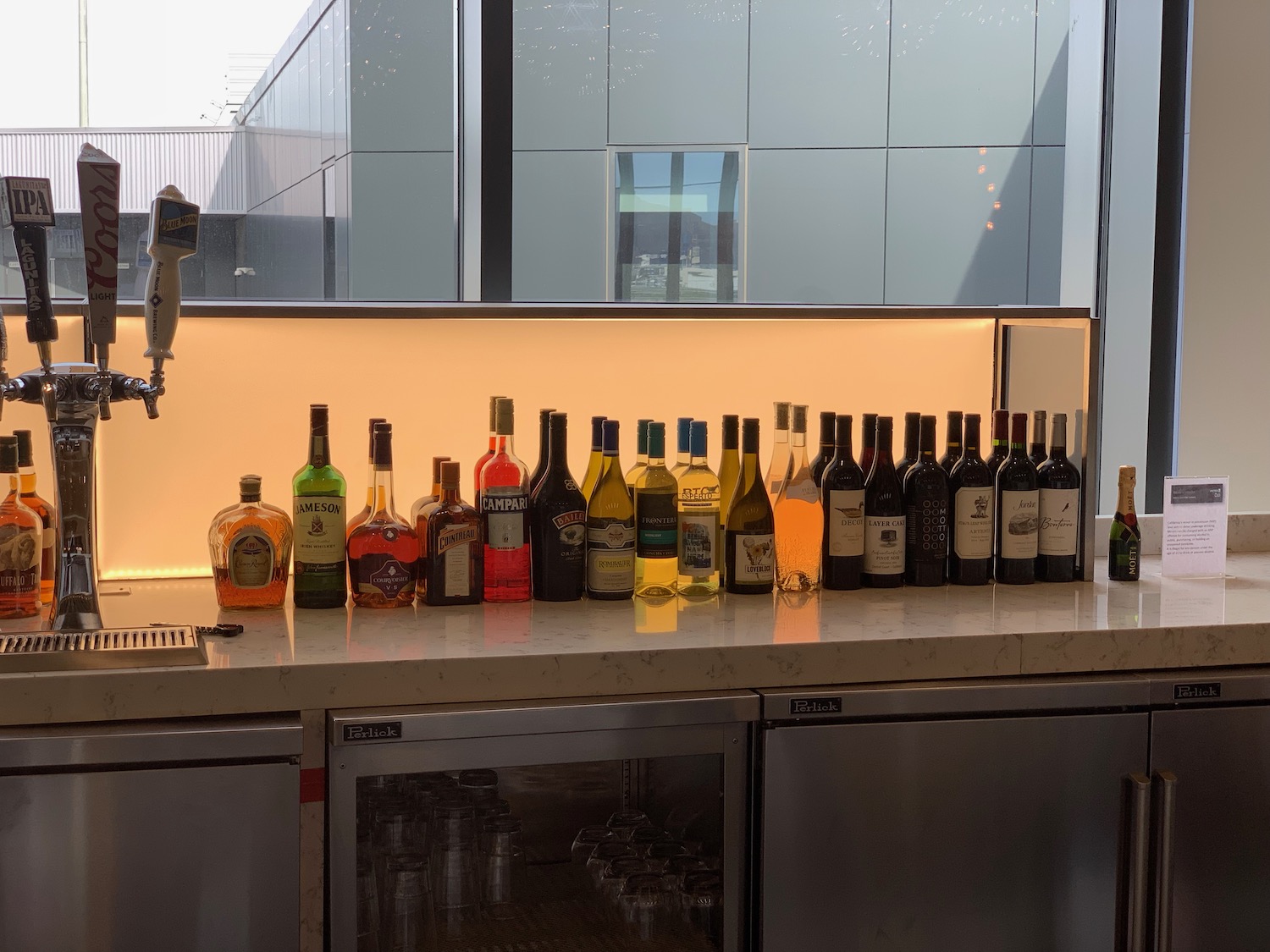 Service
It seems that staff rotate between lounges so I'm not sure if you'l find the same people in this lounge as I did, but I appreciated how friendly the agents were a the front desk and at the service counter, which comes in handy in case you run into a flight delay or cancellation and need assistance.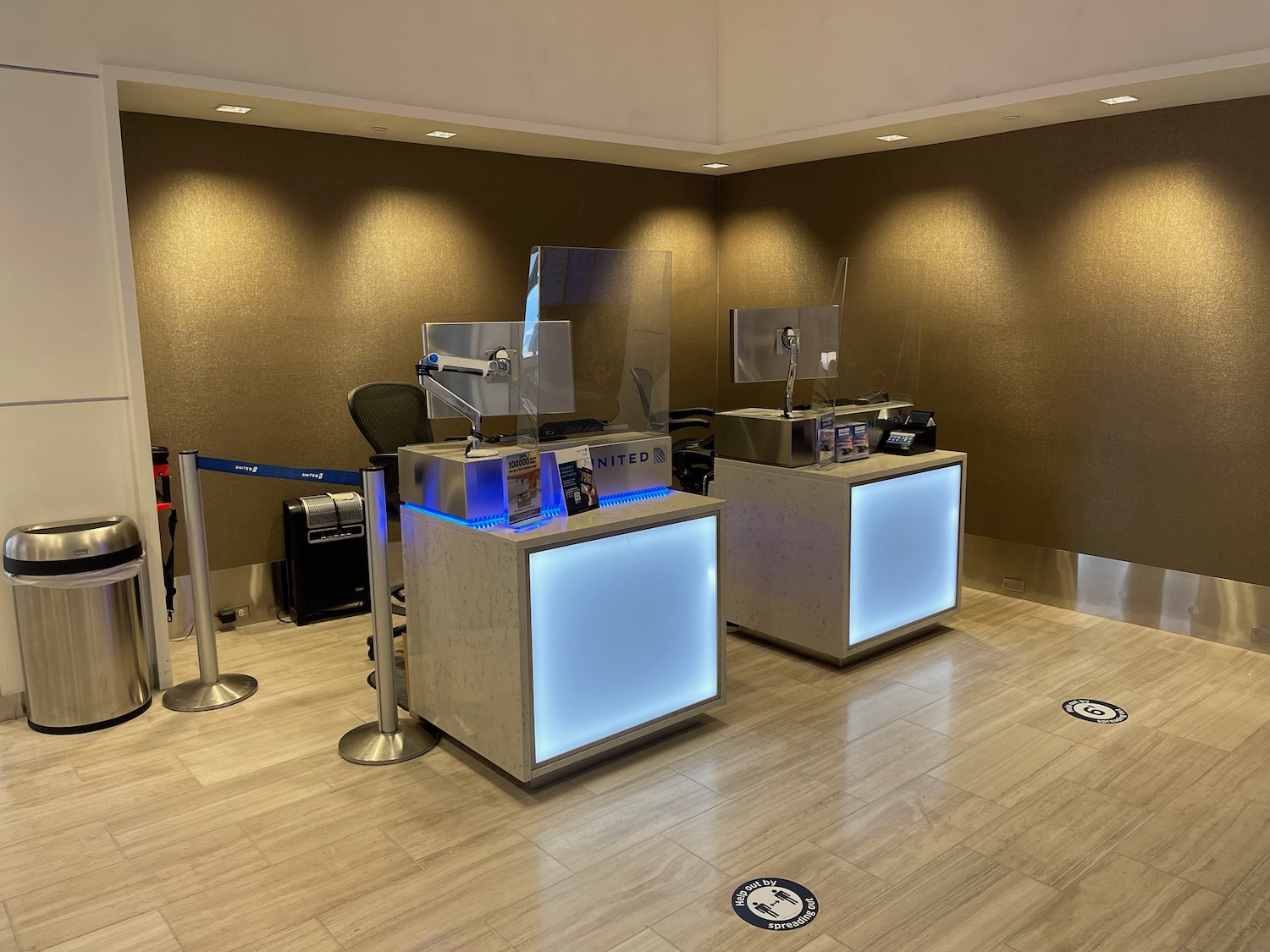 CONCLUSION
I must admit, this is my least favorite of the three United Clubs in SFO (purely for design reasons). That said, I've never had trouble finding a seat here and love both the tarmac views and the kind staff.