To begin my trip, I flew from Los Angeles to Dallas in business class on the American Airlines 787-9, my first time on that particular jet in the AA fleet. The seat was fine, the food not so much, and the service just epitomized why I generally stay away from American Airlines.
American Airlines 787-9 Business Class Review
The ticket cost $596.59 or 50,000 miles. I still held Advantage Executive Platinum at the time of the flight, but when I booked it (three weeks before), there was only one premium cabin seat left. In my experience on AA, you can kiss upgrades goodbye on domestic widebody routes. At that rate, if you value your miles as I do at two cents each, you will pay for a ticket with cash instead of using miles (especially when you consider I flew from Dallas to Doha a few days later in business class on Qatar Airways for only 70,000 miles…).
Check-In
I checked-in online and bypassed the check-in desk at Terminal 4 at LAX. Checking my app, I saw that my flight was leaving from the Tom Bradley International Terminal, which is next door to T4. With Clear and Pre-Check I quickly breezed through security and made my way over to the boarding gate.
Boarding began at 3:22 pm, 38 minutes prior to departure.
American Airlines (AA) 751
Los Angeles (LAX) – Dallas/Fort Worth (DFW)
Sunday, February 27
Depart: 4:00 PM
Arrive: 08:49 PM
Duration: 02 hr, 49 min
Distance: 1,235 miles
Aircraft: Boeing 787-9
Seat: 7H (Business Class)
Onboard, the glare of the afternoon sun made it difficult to take pictures but I managed a few before others boarded.
Seat
I generally prefer window seats toward the front, but when I booked the only available seat was an aisle seat in the last row center section, 7H. No windows opened between booking and flight time.
Business class on the AA 787-9 is in one large cabin featuring eight rows of seats (seven in the center section) in a 1-2-1 configuration, for a total of 30 seats. American uses the Collins Aerospace Super Diamond seats, a reverse-herringbone seats which provides excellent levels of comfort and privacy.
Seats controls are digital:
Reading light above the seat:
One thing I love about these seats is that there is plenty of personal storage, including in a pair of compartments on the armrest plus in seat-level compartments on either side.
Inside one compartment was an IFE remote, universal power port, USB-A port, and headphones jack.
However, when I reclined my seat I noticed a prominent (and quite uncomfortable) gap between cushions. I asked a flight attendant about it and was told, "It happens. We'll file a report." It is not clear what causes this, but it was not as simple as just pushing the cushions together.
There are no blankets or pillows provided on these shorter domestic flights.
A bi-fold tray table extends from just below the video monitor. When I unfolded the tray table, I found a napkin and crumbs on it…
Meal Service
Prior to departure, flight attendants offered a pre-departure beverage…anything we wanted, not just water or sparkling wine.
Lunch was served after takeoff. I was impressed that hot towels and warmed mixed nuts were offered (those still have not returned to United at the end of 2022 and this AA flight was in February).
Choices for lunch were a Greek salad or American's (in)famous turkey pastrami sandwich. Sadly, the salad ran out after a few rows and I was left with a choice of a sandwich or nothing, which I wrote about here. Let me use this moment to say that I recognize that American Airlines now offers meal pre-orders on shorter routes like this, but I still believe rather than going front to back or back to front, everyone should be asked their first and second choice and meal preference sorted by AAdvantage status.
In theory, I am not opposed to turkey pastrami, but this sandwich was ice cold and simply inedible. First off, it was mostly bread, with a huge thick roll on both the top and bottom. Worst of all, the bread was ice cold. Are you serious? There was some arugula and some type of spread over the turkey pastrami. And just so we would not forget, a big sticker confirmed what the sandwich was. It was served with potato salad and a brownie.
---
> Read More: Infamous Pastrami Sandwich On American Airlines Still Being Served In First Class
---
There's a twist…see the service section below.
For the remainder of the flight, beverage refills were offered.
Lavatory
The aircraft featured standard-type 787 lavatories, though AA added woodgrain accents. The soap was from CO Bieglow.
Service
Service was hard to sum up in a "good" or "bad" catch-all, so I will describe it instead. The male flight attendant working my side of the plane was excellent. He was attentive and kind, calling passengers by name, offering frequent beverage refills, and was simply all you could ask for.
So what's wrong? Well, perhaps I was pushing my luck, but when the sandwich arrived literally ice cold, I asked if he could place it in the oven. He asked his colleague who was working in the kitchen and she loudly complained, "If we do it for him, we have to do it for everyone!" (as if I that is such a bad thing…).
I thought it was totally unprofessional she would say that in front of me. Nevertheless, she sighed, grabbed it, and took it away. She brought it back five minutes later. It was still cold, but no longer ice cold. Would it have hurt to leave it in for 20 minutes and actually make it warm? Nevertheless, I thanked her profusely which seemed to warm her up to me. She explained that, "I can't do that for everyone, but was happy to do it for you." Again, I just don't understand why, in theory at least, she could not do it for anyone who asked…or perhaps proactively considering the sandwich was almost frozen.
So was the service good or bad on the flight? Well, I will leave that up to you.
Wi-Fi + IFE
The full in-flight-entertainment system was available plus wi-fi, though no noice-cancelling headphones. Disposable headphones were provided. Selections include movies, games, music, and TV shows.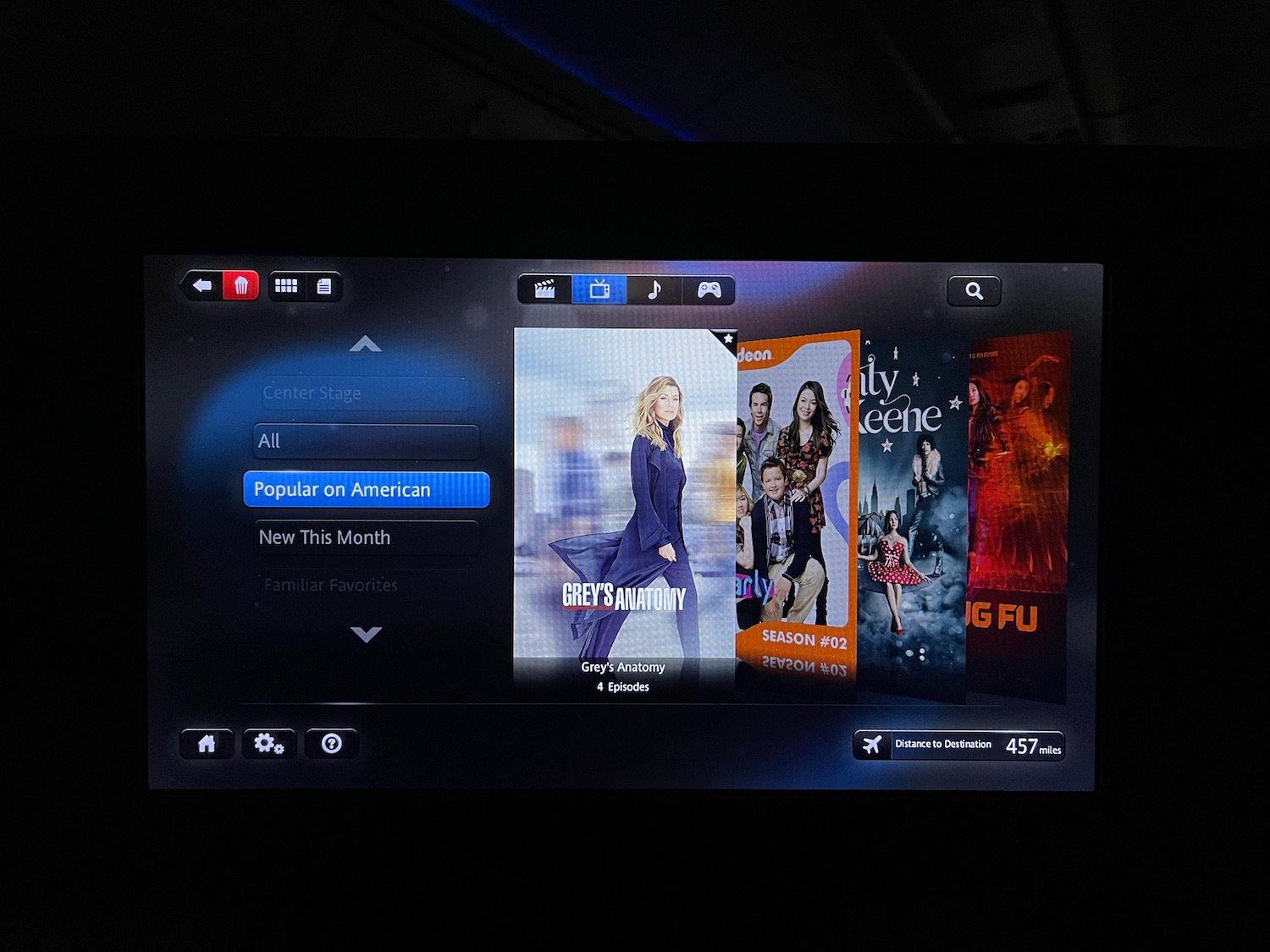 AA also offers seat-to-seat chatting, which I did not take advantage of.
Wi-Fi was $19.99 for the flight, which I thought was steep for the sub-three hour flight on a Sunday afternoon.
CONCLUSION
We landed on time in Dallas where an adventure on the Dallas Dart awaited. Overall, I loved the seat on AA and after this flight and my more recent 777-200 journey would certainly travel AA again. But the seat, service, and food issue did not make this my favorite AA flight…