I will be leaving for South America from Los Angeles Monday morning and needed to get from Philadelphia to Los Angeles this weekend. Naturally, I wasn't going to fly PHL-LAX!
Last night I was scheduled to fly from PHL-IAD-TPA to position me for a long day of flying today. After spending some time in the newly refreshed RCC at PHL, I hopped on a United Express flight down to IAD operated by Trans State. I am not much of a drinker, but Trans States is one of the few UX carriers that stocks Crown Royal and I like to keep a supply of airline-sized liquor at my house just in case a need for it ever arises. Plus, alcohol is free for UA elites on Trans States (though I had some chits just in case). About ten minutes after we were airborne, the flight attendant announced that due to the short duration of the flight, there would be no beverage service. Tell that to Austrian Airways, who manage to serve a meal on a flight of that length…
Anyway, the FA sat and read a magazine for the entire flight. Only when the Captain stated "prepare for landing" over the intercom did she drag herself out of the seat and do a quick walk-through with a trash bag. I thought about asking her then, but we were only about five minutes from landing so I decided not to.
After landing, I asked her if I could get a couple bottles to go. She peered into the flight deck where the Captain snapped back that the airline was prohibited from selling alcohol on the ground. Fair enough.
Next time I'll use the FA call button, but thumbs down for not doing a beverage service. The flight wasn't full and there was sufficient time. 40 minutes on a ERJ-145? Please.
After hanging out in the RCC for a little while at IAD, I trekked over the gate for my IAD-TPA flight. Upon arrival, I witnessed a large crowd and to my delight, about 25 people on the standby list with zero seats remaining. Now that doesn't always mean volunteers are needed, but it is often a good indication.
I approached the gate agent and asked if any volunteers were needed. She said one volunteer may be needed and she was willing to take care of it now. I had to think about it a moment when she refused to offer travel credits (which can be used toward the purchase of any UA flight and earn miles) but I told her I would accept the standard r/t voucher for the lower 48.
I proceeded to the Customer Service desk where I was was given $600 in travel credits with no hassle, a hotel voucher, and a meal voucher. There was still a problem though: I would now miss my flight out of Tampa in the morning. After working with an angel of an agent for about 15 minutes, we re-organized my itinerary for today and I was on my way–a happy camper.
United placed me at the Lansdowne Resort in Leesburg, Virgina so I called the hotel at about 11:25p and asked them to send a shuttle over. They told me that one was already on its way and would arrive in about ten minutes. I was in the C Concourse at the time (requiring a trip on the moon buggy over to the main terminal) and told them that the shuttle better not leave without Matthew. I was transferred to the shuttle dispatch and again confirmed that the shuttle would wait for me. You know what's coming next…
I waited outside for 10 minutes. 20 minutes. 30 minutes. Finally, I called the hotel and they said I must have missed the shuttle and that was the last one for the day. I explained to them I spoke to two people that promised me the shuttle would wait, but the manager (as it turned out I was talking to) was unsympathetic and told me I would have to take a cab.
I went back inside and found a UA agent in the baggage claim office. After hearing my story, he called over a service director and asked me to repeat my story. Apparently, this wasn't the first time the Lansdowne resort had stranded passengers.
I asked him to check for other hotels, but Lansdowne was all that was available, so I was given a taxi voucher. It made me angry that UA would have to shell out more money for a cab driver because of the Lansdowne's poor shuttle service.
I hopped in a cab and the driver took off, entering I-495, where his engrossment with his mobile phone nearly got us killed. I don't know if he was texting or playing a game, but he certainly was not paying attention to the road in front of him. Cars had slowed ahead and he failed to notice until the last second, when he slammed on his brakes. We came to a screeching halt just inches from the car in front.
We finally made it to the hotel. I handed him the voucher, signed the receipt, when he said, "This doesn't cover gratuity." I slammed the door and walked away without answering him.
The "resort" looked nice, but upon examination of the room I found hair in the sheets (and no down or faux down comforter, which I consider a worse offense). At 1:15a, I wasn't in the mood to have the sheets changed so I just went to sleep after a quick check of my e-mails. At least the hotel had free wi-fi.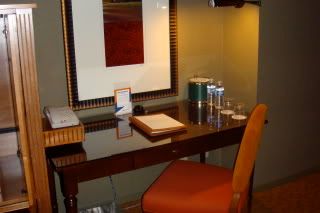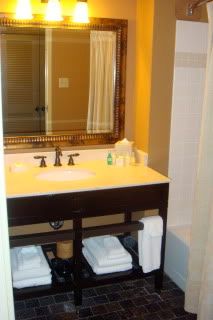 I woke-up at 5:45a this morning and took the 6:00a shuttle to IAD. To my surprise, I found that I had been upgraded to First Class! The IAD-TPA flight was full in Economy with seats avaialble in First so I suspect my "full Y" re-book led to the upgrade.
At around 7:30a I proceeded to the gate and found that the gate area was even more crowded and chaotic than last night. Volunteers were needed and I quickly approached the podium to check my options.
Since I need to get back to Los Angeles tonight and also need the full mileage from this trip to re-qualify for BD Gold, I decided not to bump. There was an option that may have worked: IAD-CLT-TPA on RJs in Coach, but I would have had only 31 minute to change terminals in TPA and I did not want to risk screwing up my flight plans for today. Sadly, I declined the bump–which was either a r/t voucher or $200 travel credit.
I had a great flight down to TPA, a good breakfast (omelet, potatoes, sausage, fruit, and croissant–the usual), and now am sitting here in the E-Terminal waiting for my flight back to Dulles.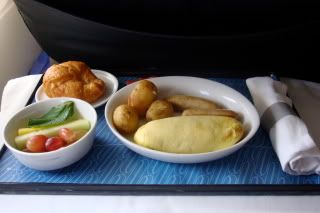 The A320 I was on featured UA's new "leather" seats in First and Coach. I have always preferred cloth to leather and from the looks of the seat, I bet UA is going to regret making the change. Already, the "leather" was torn in some areas of the seat. Refurbishment began earlier this year so the seat could not have been recovered more than a few months ago.
A rather hectic 24 hours, but I'm enjoying it! More details when I get to LAX. I'll have some time to visit the LH Senator's Lounge at IAD and then am flying from IAD-LAX this evening.