After getting some work done at TPA, I boarded my flight back to IAD, this time a 757. First Class was only about 80% full and although the purser said this was a "completely full" (don't you love the redundancy?) flight, there were plenty of middle seats open in the back.
The flight departed at 1:47p and was less than 2.5 hours so there was no meal service. I did ask for a snack box and was obliged. I decided to try "Active" and the contents were less than satisfying–especially whatever that turkey stick is. It was like tasting a cold hot dog…
Upon arrival at IAD, I headed over to the Lufthansa lounge in the B Concourse. Although it has been open for a number of months, this was my first visit and I was very impressed. In fact, next time I have an evening flight out of IAD, I plan on returning for dinner. The lounge was crowded, but the excellent selection of hot and cold food allayed any qualms about the shortage of seating. In addition, the bathrooms were clean and fresh, putting to shame the RCCs at IAD and across the system.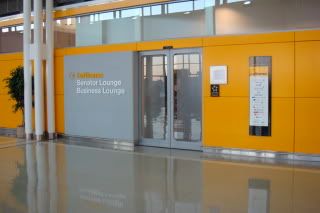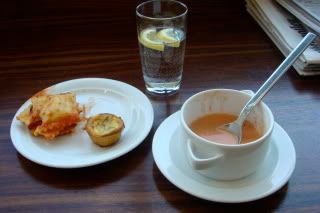 [Delicious tomato soup]
The fun started when I returned to C14 (same gate as my TPA flight earlier in the day) about five minutes after boarding was scheduled to begin for my flight and saw a giant crowd of people standing in the gate area. I walked up to one of the gate agents and asked what the delay was about. He hesitated to tell me, but admitted that the pilot had walked into the flight deck and found an American flag sitting in it and decided the flag might constitute a warning from "the terrorists."
In the meantime, I started chatting with some FA's in the gate area who would be deadheading to Los Angeles. Between making jabs at the average age of a SEA flight attendant and talking about life as an international purser, we shared many laughs. Turns out I was seated right next to one of them and the conversation continued onboard.
The captain calmed down and boarding began about 30 minutes behind schedule. I settled into my suite in 3E and picked up the conversation with the FA. It was so refreshing to talk to a purser who loved his job, loved United (and he also loved my Glenn's Gotta Go bracelet), and zealously shared about the pride he took in serving others and winning return customers for UA. I learned quite a bit about the duties of a purser, how the seniority system works at UA, and other tidbits that I will share about on a future podcast.
I was looking forward to this flight because most of the time I am seated in 8A (first row of Business Class) on UA 947 and only get to look into First Class. I was specifically interested to see if service would resemble two-cabin First Class service or if it would resemble International First service. I knew the meal would be a typical domestic offering, but I was hoping that it would be served course by course without a tray, as I have observed on this flight in the past.
Water or OJ was offered prior to takeoff. In my opinion, a choice of beverage should have been offered. I was not even thirsty, but there are 12 seats in First Class and only 7 were occupied. There was more than enough time for custom beverage orders.
Once airborne, the purser took meal orders from front to back. He addressed me by name, but simply asked, "Chicken or pasta?" Is it too hard to say, "Mr. Matthew, tonight we have a three-cheese ravioli dish or a chicken breast covered in marinara sauce with green beans and couscous. Both entrees are served with a fruit and vegetable appetizer and a garden salad. Which would you prefer?" See the difference?
I went with the chicken dish and it was very tasty.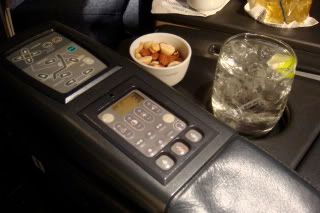 [The nuts were warm]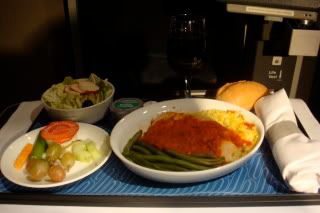 I asked for a glass of wine with dinner and instead of explaining my options, the purser simply stated, "Red or white?" Why not say, "Mr. Matthew, may I suggest the 2007 Australian Shiraz with your chicken tonight?" And why not serve the meal course by course directly on the white tablecloth? The tray and paper lining doesn't cut it on a five-hour flight in three-cabin First.
Okay, I suppose I am nitpicking–but I think if UA made these small modifications to service, customers would have a much better lasting impression of service on UA and be more likely to book with UA in the future.
I had a nice chat with the purser after dinner and he was a good guy—I just wish UA would better train their pursers to polish up service on domestic flights.
After talking some more with my seatmate, another FA seated nearby, and the other FA working the cabin, I realized that this was not at all what I thought the flight would be like. But, despite the service issues discussed above, I must admit I was thoroughly enjoying the flight. I felt like one of the team, and although I felt like I was treated more like a non-rev than a revenue passenger (and I was booked into "A"), I wasn't crestfallen. In fact, I was impressed at how friendly the FA's were toward me, especially when they learned about my unique flying habits and love for UA.
The captain decided to explain on the intercom, as we began our descent into LAX, the reason for the delay. We were scheduled to arrive a half-hour early, so I did not think an explanation was necessary, but was interested to hear the Captain's side of the story. Sadly, he wasted his breath. His statement went something like this, "Ladies and gentlemen, I owe you and explanation about why we were late in departing from Dulles. We found an object in the cockpit that wasn't supposed to be there and had to decide how to handle the situation. We should have you on the ground in Los Angeles 30 minutes ahead of schedule, though. Thanks for flying United." Was that necessary?
Shortly before landing, warm cookies and milk were served. My favorite way to end a flight! A couple of the FA's from Business Class came up to chat and stated that Kenneth Starr was seated a couple rows behind. One FA stated that she wanted to "mix something bad" into his food. That's not cool.
As I bid adieu to my new friends upon arrival at LAX, I smiled as I recalled the last 48 hours. A $600 bump, op-up to F from IAD-TPA, and a great flight home in First on UA947. I can't think of a better way to start a weekend!