I visited the new Capital One Lounge in Denver (DEN) twice this week and was very impressed by the food, service, and amenities in this lounge. I am concerned, however, that the small size of the lounge and high demand for it will lead to trouble.
Capital One Lounge Denver Review (DEN)
I visited this lounge on my way out to Milwaukee on Frontier Airlines, then again on my return to Southern California on United Airlines. It was conveniently located just a short distance from the Frontier and United A gates at Denver.
Hours + Access + Location
The lounge opened on November 3, 2023 and is located in the A Concourse near Gate A34 on the mezzanine level (up the escalator). It is open daily from 5:00 am to 9:00 pm.
Venture X and Venture X Business cardholders enjoy unlimited complimentary access. Venture and Spark Miles cardholders get two complimentary visits per year. All other travelers are welcome at the standard rate of $65. No reservations are accepted. You can create a lounge pass (QR code) in the Capital One app that is always available in your Apple Wallet.
On my way out, I arrived at 8:30 am, I had no wait to get in, and over the next three hours the lounge never got more than halfway full. However, on my return journey, I found a line out the door and a waiting list to get in at 4:50 pm. When I left around 6:30 pm there was still a waiting list to get in. More on that below.
Seating
This is a small lounge. At only 10,800-square-foot (in a design to the American Express Lounge), the lounge is essentially divided into four different areas. As you enter, there is a to-go area and beverage station. Then turn right for the buffet and bar, with seating including tables and chairs a couch running along one wall, and great views of the apron below and Jeppesen Terminal.
Around the corner is an area intended to be a family area, but open to all passengers with more tables and chairs and a planter in the center with stools around it.
Around the next corner is more seating (larger chairs and mini-couches) as well as a number of glass-enclosed work rooms intended for phone calls or meetings. The smaller phone rooms are first-come, first-served while the larger meeting rooms are available for use in 20-30 increments by request at the front desk.
There are the most comfortable chairs in the lounge, but the plugs are sparse here. Everywhere else in the lounge you can typically find a plug within reach.
Relaxation Room
Also in this area are a pair of relaxation rooms. These are not quite sleep rooms, but do have room to stretch or relax and have lights (twinkling stars on the ceiling) and music that are supposed to prompt relaxation.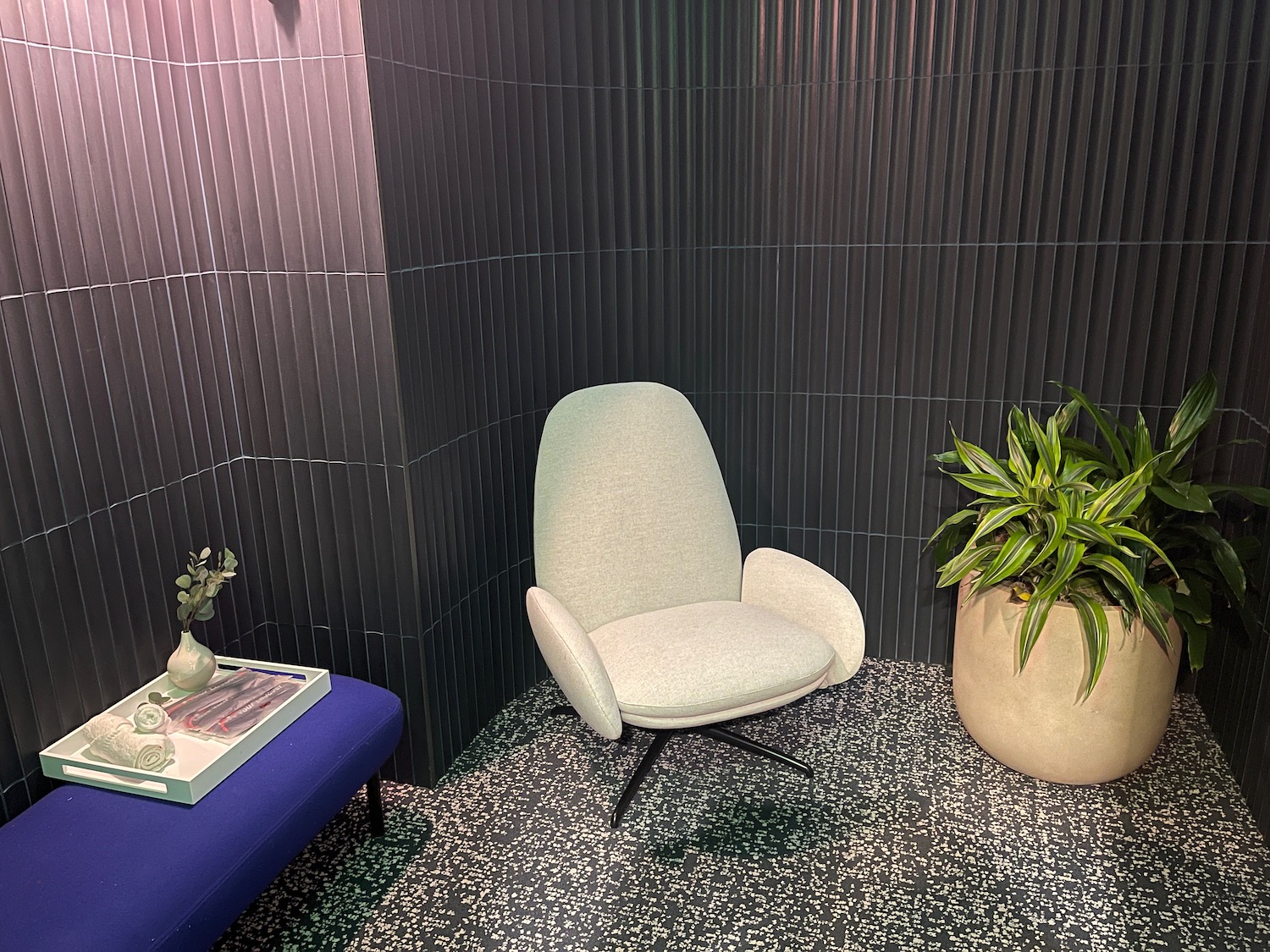 As an aside, this lounge has no Peloton Room like the DFW lounge has.
Parents Room
I mentioned the larger family area, but there is a specially designated room for toddlers and babies with a play area and diaper changing table.
Service
What surprised me most was how uniformly excellent the service was in this lounge. It was clear that everyone was trained and not just trained to offer a smile or to clear away dishes, but to engage with guests in a genuinely caring way.
I want to give specific praise to Esmeralda, who was so attentive and kind during my morning in the lounge. One example. When I got breakfast, she noticed that I had forgotten to take a napkin. I realized this when I sat down and stood up to get one, but she immediately approached with one before I could say anything at all. She frequently asked if she could bring me anything and while she stood out, her colleagues were also quite attentive.
The check-in and restroom staff were great too.
Food + Drink
I had rather high expectations for the food and drink in this lounge considering the Dallas – Fort Worth (DFW) and Washington (IAD) lounges and I was not disappointed, particularly for breakfast.
Here is the food menu for the lounge:
I tried just about everything on it and can vouch for the quality of food. Honestly, I preferred the taco bar at the American Airlines lounge over any of the lunch/dinner spread…but I loved the corned beef hash and especially the avocado & mixed berry bowl for breakfast.
Breakfast:
Lunch/dinner: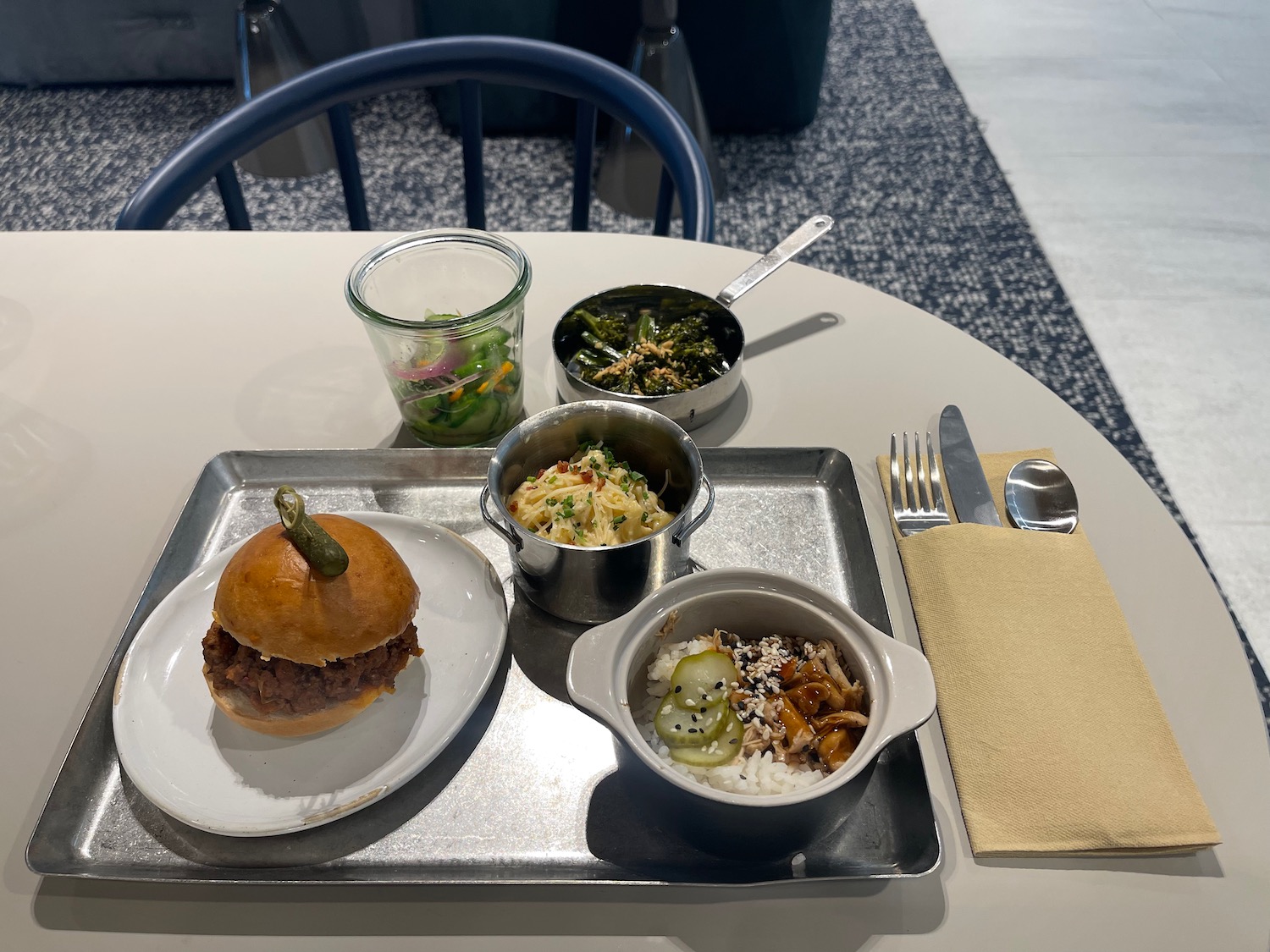 The lounge also has an extensive selection of complimentary beer, wine, and cocktails, plus an additional menu of premium drinks for purchase.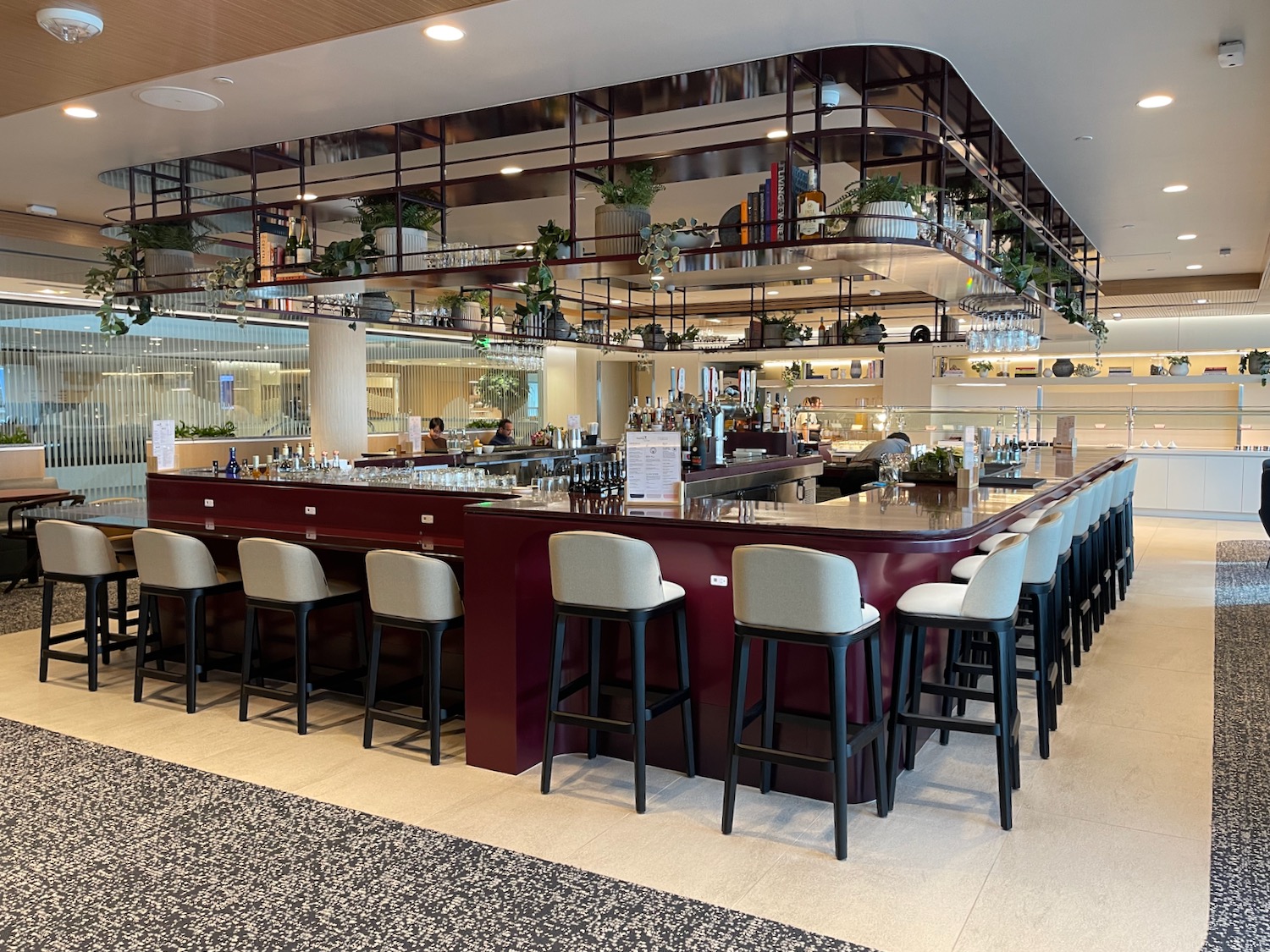 I tried just one cocktail called the Juan Denver (because it had sage in it) and found it light and refreshing.
There's also barista-made coffee at the bar. The machine is automatic, but the barista added the milk and I thought both of my cortados were good.
Self-serve beverages (including soft drinks, coffee, tea, juice, and water) are located in the buffet area.
Near the restrooms, there is a small dessert bar (with bags to take things along) with brownies and cookies and nearby, another beverage station.
I like how this lounge encourages you to take food along. At the lounge entrance you'll find a refrigerator stocked with pre-packaged fresh food items to take with you (like salad, . In the morning, there's also a hot breakfast sandwich available to go.
Restroom + Showers
Multiple private restroom stalls plus a pair of shower suites are available.
I loved that the toilets did not flush automatically…those automatic flushers are the most annoying things and I am convinced they end up wasting significantly more water.
Waiting List
As I mentioned above, I encountered a waiting list to enter this lounge on my second visit. It took only eight minutes to get in, but I am reasonably fearful that as word catches on about this lounge, it will become even more crowded.
A lounge may be superb, but it is of no value if you cannot use it.
CONCLUSION
The new Capital One Lounge in Denver is nice…I don't think there is any way to objectively deny that. The food is great and the service was even better. I appreciated the restrooms and shower suites and the large selection of to-go food.
As a Capital One Venture X cardholder, I will use this lounge when flying through Denver (DEN) as long as there is no waiting list. However, if this lounge becomes so popular that extended waiting lists become the norm, I will use the United Club just a few paces away.