From Fort Lauderdale to Panama City and again from Panama City to San Salvador, I flew on a Copa Airlines 737-800 in business class. This review will cover both flights.
Copa Airlines 737-800 Business Class Review
After landing from Brazil on Azul, I quickly cleared passport control thanks to Global Entry and was soon back upstairs and checking in for my connection on Copa. 
Lines were long and moving slowly in the check-in area, but I was waved the front after an agent inspected my itinerary and saw I was flying in business class.
I was asked to produce a negative COVID-19 test for San Salvador. Thankfully, I had one, but I explained that was not necessary and El Salvador now accepts proof of vaccination in lieu of a negative COVID-19 test.
Despite showing the clearly-defined regulations to the agent, she insisted that I resent a negative test. Fine. I had one and showed it to her…on my phone.
Nope. It had to be printed. I suggested walking over to the Untied Club in the other terminal to print if, but she gave me her email and told me to email it to her. She then disappeared  into the back and came back 10 minutes later with the test printed.
Finally, I received my boarding passes…
After clearing security (Copa now participates in PreCheck) it was time to board my flight.
Copa Airlines 269
Fort Lauderdale (FLL) – Panama City, Panama (PTY)
Wednesday, September 15
Depart: 08:59AM
Arrive: 10:54AM
Duration: 02hr, 55min
Distance: 1,170 miles
Aircraft: Boeing 737-800
Seat: 2A (Business Class)
I was welcomed onboard and found my seat. I figured other passengers would follow, but as the plane continued to board not a single passenger joined me in business class.
Then the door closed.
Yes, on this flight I would have the business class cabin to myself.
And I soon found out why.
The captain announced a flight time of 2 hours, 35 minutes to Panama City.
Seat
Think "domestic first class" on the Copa 737-800, a big difference between the 737 MAX which features lie-flat beds in business class.
Granted, these seats feature great recline (11 inches), extended legroom (49 inches), and feature a footrest.
Seat adjustments are manually controlled by a side panel. Power ports and USB ports were available in the center console.
For a pair of 2.5 hour flights, these seats were not only adequate, but quite comfortable.
Food + Drink
Perhaps the problem was in my expectations, but I thought on an international flight blocked at almost three hours, business class passengers would receive a meal. 
After takeoff, the flight attendant offered me a beverage and brought me over some packaged cookies and pretzels.
I sipped my coffee (served in a real cup…that was nice) and waited for her to mention breakfast.
But she didn't. And I suddenly realized why most folks probably did not want to shell out the extra money for a slightly more comfortable seat but very limited service onboard.
When I asked her about breakfast she sheepishly blamed the pandemic and encouraged me to write into COPA. 
Service
While there was no meal served, the flight attendant working business class was quite attentive and offered me beverage refills several times during the first 30 minutes of the flight.
Then she disappeared and I did not see her again until landing.
It really felt like a private jet experience to have the business class cabin to myself with the curtain closed and mood lighting.
I'd actually give the service a fairly high score because the flight attendant was very kind and I'm sure I could have summoned her with the call button…but she probably should have checked in on me a couple times.
IFE + Wi-Fi
Individual screens flipped out from the center console. Disposable headphones were provided, which I did not bother to open (I used the quiet cabin and lack of service on the flight to get work done). Movies, TV shows, and audio was available on-demand, but I did not count more than two dozen movies, many of them not recent. Connecting gate information was also available in the system.
For most of the flight, I simply left on the moving flight map.
But the views were also gorgeous flying out of FLL: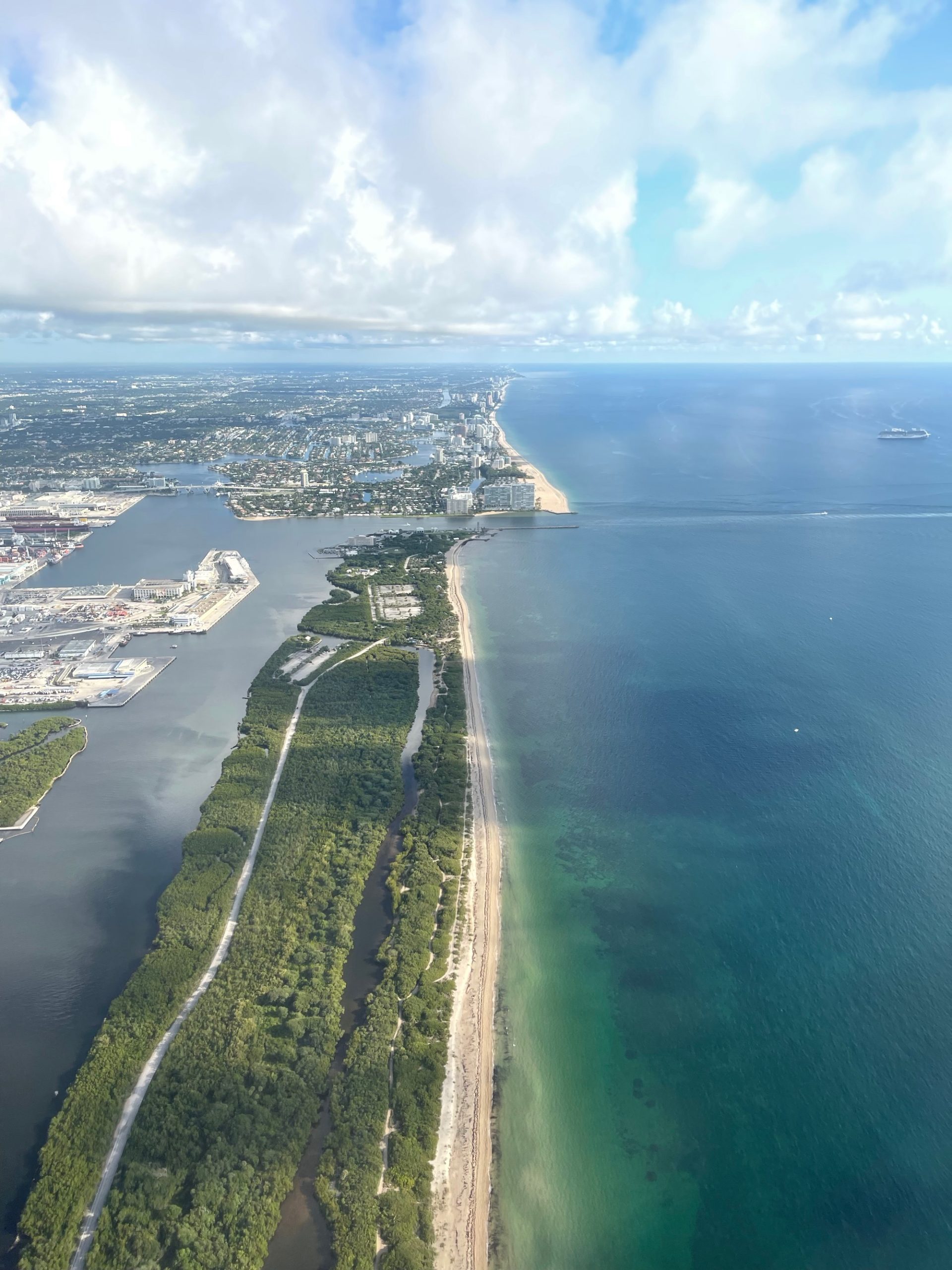 Wi-Fi is not available.
Lavatory
A lavatory in the front of the cabin was clean, but no additional amenities were offered.
*     *     *
After a short layover in Panama City, I boarded my two-hour flight to San Salvador.
Copa Airlines 870
Panama City (PTY) – San Salvador (SAL)
Wednesday, September 15
Depart: 11:39AM
Arrive: 12:51PM
Duration: 02hr, 12min
Distance: 722 miles
Aircraft: Boeing 737-800
Seat: 2A (Business Class)
In the air, I was offered a package of almonds and the beverage of my choice. That was it and the flight attendant again disappeared.
Unlike my empty business class cabin on the flight to Panama City, this flight was full upfront.
We landed on time in SAL, where I was questioned by U.S. agents on the jet bridge.
---
> Read More: Interrogated At El Salvador International Airport…By U.S. Federal Agents
---
CONCLUSION
These were disappointing flights considering they spanned over six hours, including the layover time in PTY. While no food in-flight may be okay for one flight, when you throw consecutive flights without food and a lounge without food, you really find yourself hungry. It's time for Copa to bring back meal service on shorter flights.
Other than that, the 737-800 seat is comfortable and the flight attendants, when present, were friendly.