My Meal of the Week feature examines an airline meal from my travels over the years. This may be a meal from earlier in the week or it may be a meal served over a decade ago.
---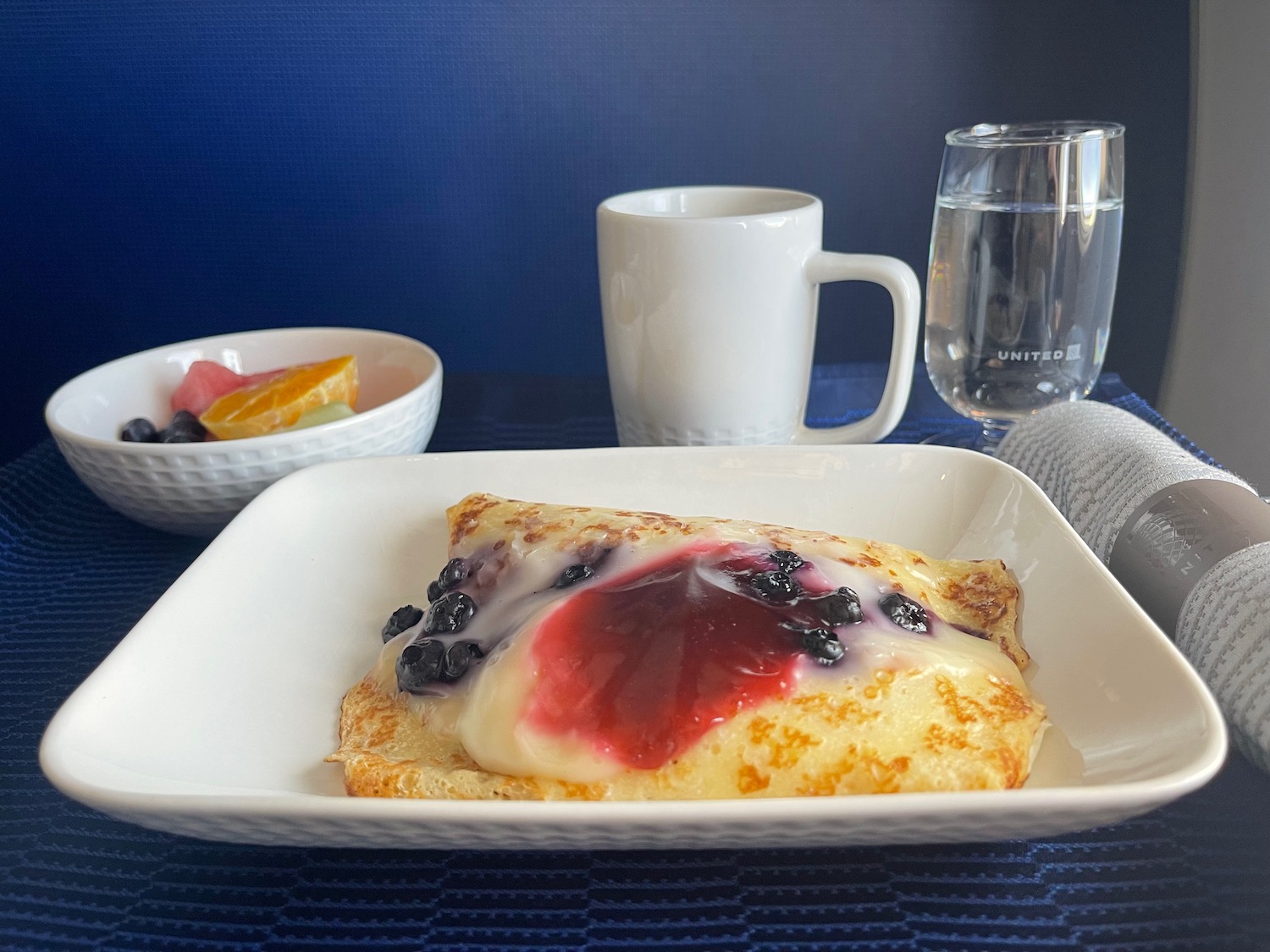 Right off the bat, I will say that I loved this breakfast perhaps more than any other breakfast I have had in years on United Airlines. On the other hand, the ricotta-filled crepes strike me as the sort of first class breakfast that is both delicious but injurious at the same time…but talk about a carb and sugar bomb!
A Hot, Gooey, Sumptuous Mess: Ricotta-Filled Crepes In United Airlines First Class
I generally stick to eggs for breakfast on the road or at home, but diverted from my usual choice to give the ricotta-filled crepes a try on a recent United breakfast flight in first class.
Ricotta-filled crepe
Ricotta-filled crepe with vanilla cream, cherry sauce, and blueberries
The crepes were buttery and the ricotta inside mild and slightly nutty. The true richness came in the thick vanilla cream each crepe was covered in. That was covered by a sweet cherry sauce and then topped with blueberries (pre-frozen, not fresh).
When you cover an already-sweet dish in layer after layer of sugar, you darn well expect it will be delicious…and it was. Unfortunately, I still have not trained my body not to crave these sweet dishes. The key ingredient is really the vanilla cream.
While I will not make a habit of ordering these (not good for my nutrition plan), I am really glad I did, because this is the sort of dish that I can strongly recommend…if you don't give a you know what about your waistline.
Then again, it's not like any airline meal is going to be healthy and I am going simply based upon my own tastes and perceptions…perhaps the shakshuka is even worse (though I strongly doubt it…).
I guess if you order this at least skip the sugary yogurt and croissant? In any case, I do think you will enjoy this dish. I certainly did.