I have reviewed the Hyatt Regency Zurich Airport The Circle before and note that review remains timely, but wanted to offer a brief review on what a suite is like here as well as provide an update on the Regency Club.
Hyatt Regency Zurich Airport Suite Review
Of course, it is always when I am traveling alone that I receive the complimentary suite upgrades. Here, I already knew before I arrived via the World of Hyatt app that I had ben upgraded from a base room to a king bed suite (thanks to my Globalist status).
I checked in after arriving from Boston on SWISS and although it was just before noon, I was invited to wait in lounge and promised my room would be ready "soon." It took about two hours, but by 1:45 pm I had my room key and I used the time in the lounge to get my work done for the day. It was a cold but beautiful day in Zurich:
Suite
My room, room 814, included a guest restroom, living room with L-shaped couch, two chairs, and a round table with two more chairs, and a small bedroom in which the king size bed took up almost the entire room. However, the bathroom was quite spacious with a closet area, walk-in shower, toilet, and bathtub.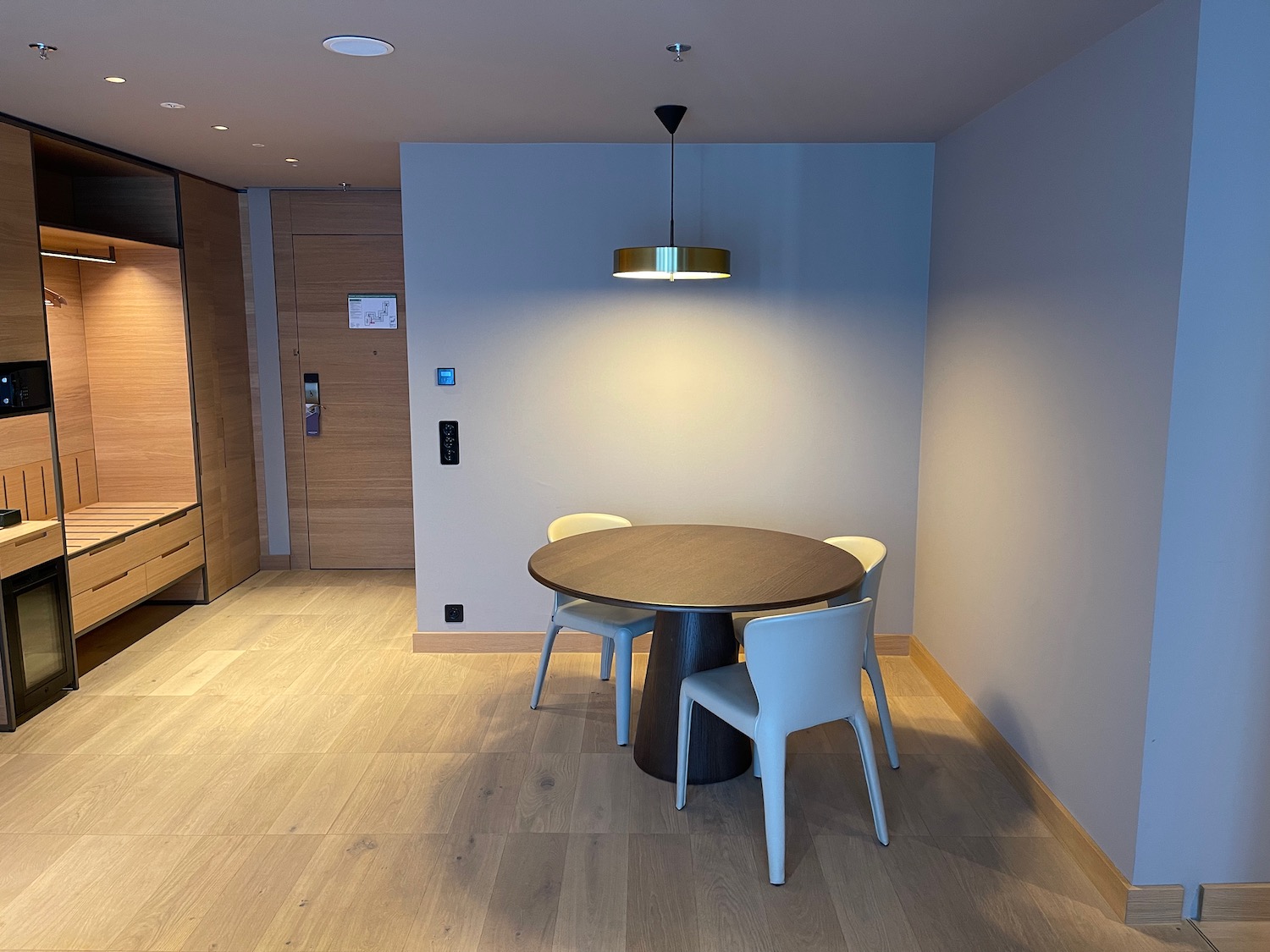 The coffee machine had espresso pods from Austrian coffee company Julius Meinl.
This room would be perfect if traveling my wife and children, but went rather underutilized by me. Still, the suite upgrade was greatly appreciated (I'm now 1/4 at this hotel in terms of upgrades).
Regency Club Lounge
When this lounge first opened during the pandemic, there were not sufficient guests to offer breakfast and happy hour in the Regency Club. Instead, evening snacks were offered in Babel, the hotel's delicious Lebanese fusion restaurant. While breakfast is still served in Babel, evening drinks and hors d'oeuvres are now offered from 6:00 pm to 8:00 pm in the lounge.
I thought the spread of food and drink was very nice, including smoked salmon, hummus, labneh, vegetable sticks, shrimp, stuffed grape leaves, and duck.
There was also a wide assortment of desserts.
Beverage options included beer, wine, soft drinks, tea, and coffee.
Breakfast At Babel
Breakfast remains such a treat at Babel. An expansive buffet is to be expected at any decent airport hotel, but what I really appreciated was the selection of a la carte items including delectable baked halloumi and shakshuka. I highly recommend both items.
Your breakfast include the buffet plus whatever you wish from the a la carte menu.
Coffee is not bad, though it is all dispensed by automatic machine.
Fitness Center + Wellness
I used the workout room followed by the sauna three times. Each time, I had the facilities to myself.
Convenience To ZRH
We had a 7:00 am flight out of Zurich and you cannot beat the convenience of walking of the hotel, though The Circle, and right into the airport, a process which took less than 10 minutes from hotel to SWISS Lounge.
CONLCUSION
The Hyatt Regency Zurich Airport The Circle remains a stellar airport hotel and is particularly convenient if you have an early flight out of ZRH. Of course I only get suite upgrades when traveling alone, but I appreciated the spacious suite on a cheap weekend stay and look forward to returning.
For a full review of the property, see here.