My dear readers, some links on this site pay us referral fees for sending business and sales. We value your time and money and will not waste it. For our complete advertising policy, click
here
. The content on this page is not provided by any companies mentioned, and has not been reviewed, approved or otherwise endorsed by these entities. Opinions expressed here are the author's alone.
My family flew from Munich to Miami on Lufthansa and for the first time, I was able to fly the A340-600 in business class. The design is great, the product needs work – here's how it went. 
---
If you are considering booking travel or signing up for a new credit card please click here. Both support LiveAndLetsFly.com.
---
If you haven't followed us on Facebook or Instagram, add us today.
A Couple of Firsts
This flight was particularly special for a few reasons. It was the first time I had flown an A340, and what's more, it was an A340-600 which is such a unique plane in terms of its range and capacity, the aviation geek loved it. It's also a first type review on LiveAndLetsFly, a rarity.
My wife and daughter had never flown Lufthansa and I only took my first flight with the airline a few months ago so it was a relatively new product for everyone. As many airlines as we've flown, it's always nice to encounter a new brand and compare.
Boarding Scrum
Boarding was the least German experience I can recall. It was kind of a mess and led to a scrum for passengers at the gate. An announcement came through for families, those that need assistance, and group one to board. Group one includes first class, business class, and Star Alliance elites – well over 70 passengers plus those that needed extra time on this particular flight.
It was a mess, and I was shocked to see it.
Getting ready for boarding.
We passed a couple in First that had been scrambing amongst the rest of us. If I had paid (or redeemed) for first class or if I was someone who genuinely needed more time to get set up onboard, I would have been furious with the process.
Seat
One thing that blew my mind with the Airbus A350 I flew a couple of months ago, was the recency of the plane, yet a 2-2-2 configuration. I expected that on this flight, though for a modern business class cabin (and frankly, it's not like we received a discount because we flew an older aircraft) a 1-2-1 where every passenger has direct aisle access is key. My daughter wanted a window seat for the long flight, a girl after my own heart; I took a middle.
Pillows and comforters at the seat were good, but Lufthansa generally trails business class on long haul routes simply by not offering some sort of a "mattress" or seat cover in addition to the blanket.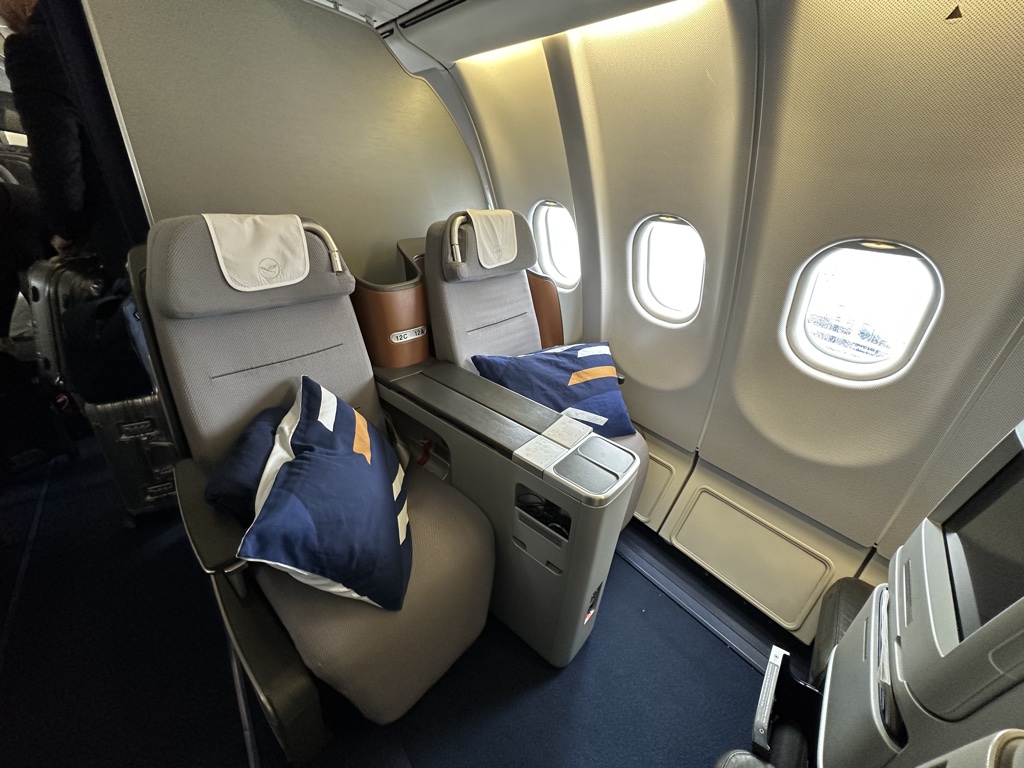 Lie flat seats are a must on long haul flights in premium cabins and the Lufthansa business class seat is comfortable enough, but I am only 5'7″ tall and my feet were still cramped in the footwell. My daughter, by contrast, was plenty comfortable.
Service
The service was threefold: meal service, personal service, and entertainment.
The menu for this flight (included below) offered goose, vegetarian porcini pasta, and grilled salmon. I ordered the beef carpacio for my appetizer but was served shrimp and said nothing because it was delicious and I didn't need to correct the flight attendant for my order. I also selected the salmon and bee sting dessert. First, I was served a dish of (cold) almonds – extra points would have been awarded if they were warmed.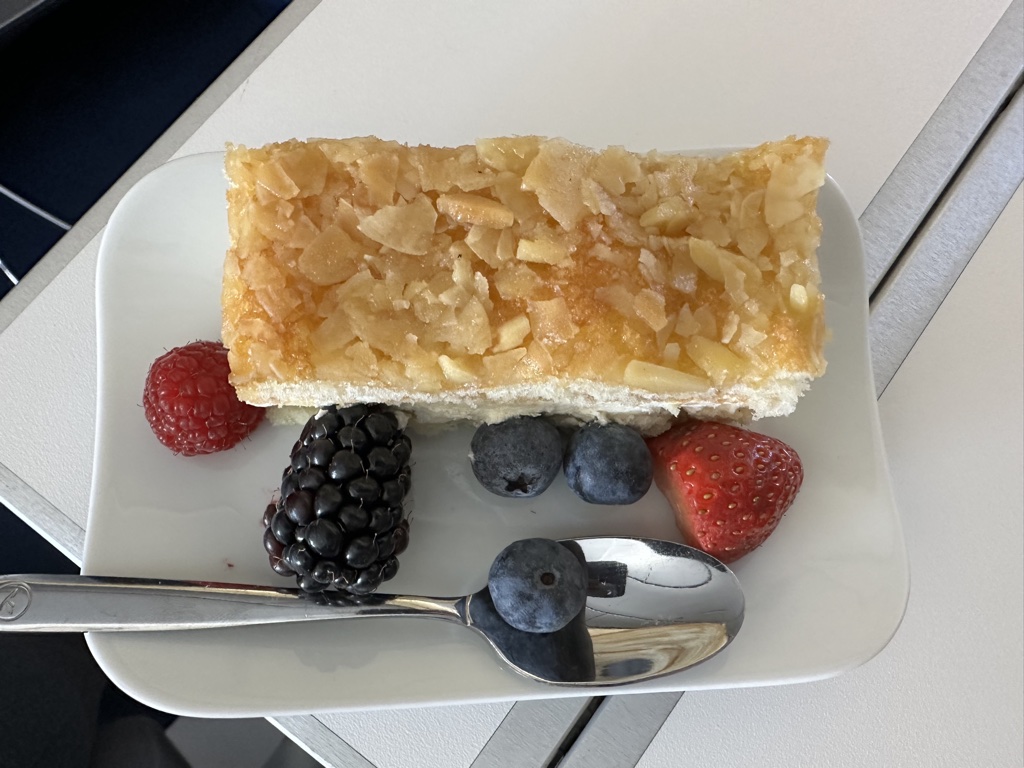 A hallmark of Lufthansa business class and first class products is access to the coffee menu and a very good espresso following my meal.
I had the ravioli prior to arrival. The pretzel was excellent (as expected), but the yogurt was an odd inclusion.
Here's the full menu:
I described in a prior article today the issues onboard the flight with not only my equipment but also that of nearby seatmates. The inflight entertainment system (IFE) offered plenty of choice when the equipment worked properly, but without a fully-enabled touch screen, I was hampered by a broken remote.
Tethering the headphones inside a hard-to-reach compartment felt cheap, though the headphones themselves were of a high quality. It does beat American Airlines approach of collecting headphones an hour prior to landing.
For this Lufthansa flight, a Porsche-designed sunglass case acted as the amenity kit and I couldn't be happier with such a useful takeaway.
A340-600 Design Elements
There are a couple of really clever design elements to this aircraft. A technological control center occupied the space where seats 10A, and 10C would have been. On the opposite side (10H, 10J) was an oversized bathroom with a window looking over the wing and massive powerplants. I had one complaint about this extraordinary feature – with all of that room there was no changing table in a bathroom ideally sized for families (or an adult changing from pajamas to clothes.) Short of an A380 forward restroom with extensive space, this was the largest bathroom I'd seen on an aircraft, and the window was a fantastic, forward-thinking touch. Lufthansa also stocks its premium restrooms with amenity kits items like mouthwash, razors, and eye masks which is helpful as well.
That gorgeous view out the window:
While this four-engined aircraft does not have an upper deck, it still has a lower deck in economy class. From what I understand, the aircraft wasn't fully utilizing the cargo hold so instead, a lower compartment with five restrooms was installed creating more space for passenger seating above. Halfway through the economy seating, there is a galley with stairs and a number of bathrooms for customers to use.
Crew rest areas must also be below because we were asked to move off of a particular square just outside the staircase where a crew rest "escape hatch" was set in the floor.
Conclusion
We were happy to get home, and I loved the quirky design elements of Lufthansa's A340-600. Business class was serviceable but prone to equipment failures and had the flight been fully booked without space to simply move passengers (including myself) to functional seats, the product's performance could have been a larger problem than it was. That said, it's time for a refresh, and I hope Lufthansa does so, without it, we will probably shop for different flights and routes in the future.
What do you think? Have you flown this route or product? How was your experience?