I was able to try United's Polaris business class service from Washington Dulles to Paris (777-200) and had a mixed experience. 
---
If you are considering booking travel or signing up for a new credit card please click here. Both support LiveAndLetsFly.com.
---
If you haven't followed us on Facebook or Instagram, add us today.
Flight Details
As I covered in a prior post, this was part of a nightmare routing, the first leg of the journey. While I was glad to have found the unicorn of a confirmed upgrade from economy using Plus Points, the flight timing of this route was not to my preference. The Air France flight leaves an hour later which isn't a dramatic difference, but for my body clock, a scheduled landing in Paris at 6:55 AM is just before 1 AM EDT and of course there's no sleeping that last hour of the flight no matter what. If you're capable of going to bed at 6:30 at night and sleeping for 5-6 hours, this is the flight for you.
Departure: 5:25 PM
Arrival: 6:55 AM (actual arrival 6:25 AM)
Equipment: Boeing 777-200 Polaris equipped
Seat: 11A
This flight boarded with facial recognition software, something I hadn't seen before. I can understand that airlines are trying to find more secure ways to potentially speed up the boaridng process. I'm not sure if the driver here was security or efficiency (you did not have to remove your passport), but I don't see this as being any faster than scanning a boarding pass and confirming the traveler's identity on their passport.
Cabin
Matthew has a ton of great reviews of Polaris flights (searchable in the top right corner of the page), but I wanted to give my take because we have different opinions. He does a far more extensive job of snapping cabin photos on board, if you'd like more information on the cabin, please select one of his posts to review.
United Polaris offers a zig-zag configuation against the window in its 1-2-1 seating arrangement. For odd numbered rows, the seat is flush against the window with a storage space to the right near the aisle. Evens have the opposite setup, the seat being closer to the aisle, while the storage space is at the window. For my flight, I chose 11A because I find there to be more privacy at the window than on the aisle when sleeping.
The seat is fully-lie flat for rest and offers settings in between for passenger comfort. Travelers have two fans above them available for use at the window sides with a Saks Fifth Avenue comforter, full size pillow and smaller cool pillow. The airline appears to have discontinued its popular Saks blanket, likely too many of them were finding their way into passenger luggage.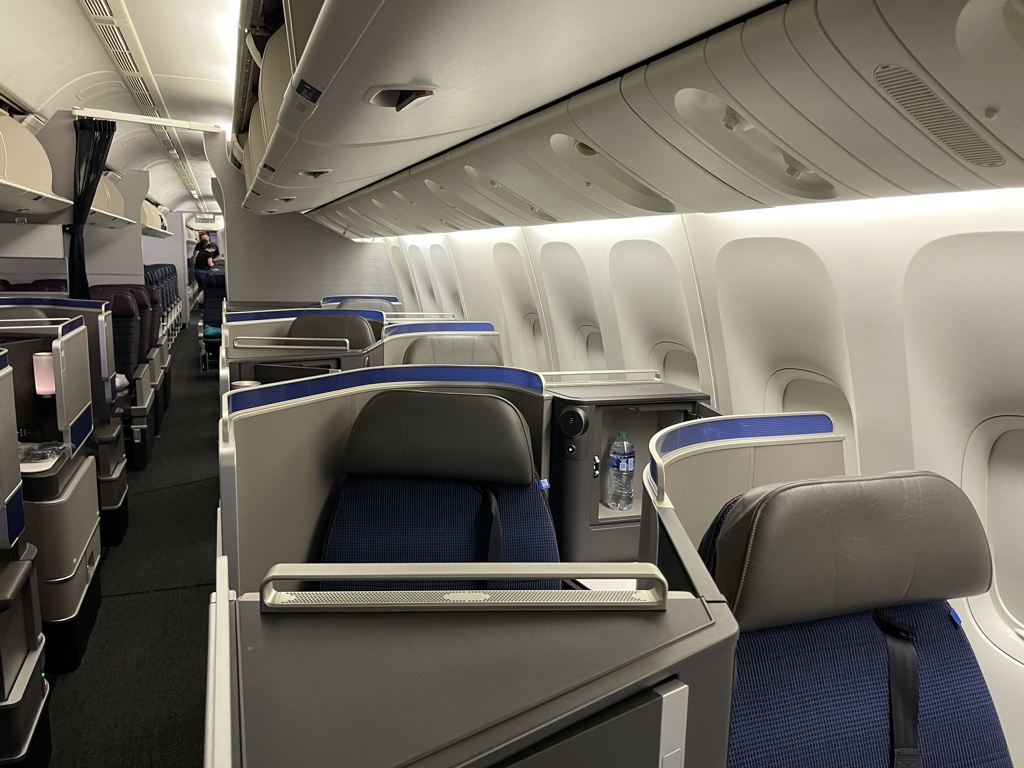 Polaris is a really nice product, even in its reduced form since launch. However, there is a very odd, very real problem with the seat. The entry to the seat is so narrow that travelers can't even roll in a European-sized rollaboard through the narrow opening. Even my backpack had to be lifted over the storage space to get into the seating area so I could change for the flight and prior to arrival. It's kind of an odd design flaw and I forget about it every time until I get on board and am greeted with the problem again.
Amenities
United is distributing Away branded amenity kits in the style of their signature suitcases. I reviewed one of the first iterations of that bag years ago and while I think it's come a long way from the first round, there was one noticeable concern with these kits. Inside you'll find the standard amenities: lotion, tissues, pen, eye mask, socks, and a dental kit. The issue is that the zipper around this case is really, really bad, at least in the example I received. I have zero confidence that it will last more than this one roundtrip, and for those being introduced to the brand, I wonder if this helps or hurts. Will travelers wonder about the quality of Away luggage based on this novelty amenity kit? Maybe and maybe not.
Catering
I had already eaten at the lounge so I didn't really want to have another meal, but the flight had already loaded a meal for me anyway so I thought I would try it anyway. I only intended to order Express Dining (everything comes on one tray at once as soon as possible) so that I could rest longer on the short flight.
I selected the Colorado flat iron steak with chateau potatoes, charred rapini, mustard sauce, green onion and Fresno chili peppers. The food was luke warm, some of which is to be expected given the quick turn. However, the potatoes and vegetables were in a rough state, and the ice cream sundar had freezer burn on the top.
That said, I'd rather a luke warm steak with that temperature than overcooked well done, but piping hot.
Breakfast was a better experience, though the berry sauce on the brioche french toast was clearly applied in advance. It's these tiny little touches (just put the sauce on as you plate the food) that foreign carriers get right and US carriers do not. Chobani strawberry yogurt, and a fruit cup were highlights; the croissant was a disappointment (see my upcoming post about a coissant I had in Paris.)
Due to tremendous 120+ knot tail winds, we landed early, 6:25 AM or to my body clock – 12:25 AM. I am a night owl, usually getting to bed after this time so sleep was limited and made me reconsider whether I would fly this timetable again. It would be better to fly back to Houston to get a better arrival time and some more rest on the flight.
The sun rising over Charles De Gualle was a gorgeous mix of oranges, yellows, pinks, and blues and a gorgeous start to an exhausting day.
Conclusions
I love the Polaris product, especially the soft product (ground services.) The seat is great, but it does feel cramped. The catering experience on Polaris from launch and, frankly, once Scott Kirby took the helm, has really become run of the mill which was a sad deterioration in what was a marked distinction from other US carriers. The flight time on this route was terrible, and while I may fly it again, it won't be my first choice.
What do you think? Have you flown this route? How was your experience?