An evening departure to Los Angeles gave me all day to lounge hop in Terminal 8 at New York. This review covers the Chelsea Lounge, which is the flagship first class lounge for American Airlines and British Airways at JFK.
Chelsea Lounge New York JFK Review
American Airlines and British Airways now both fly out JFK T8 and have opened new lounges to coincide with the joint operations. For those who prefer video, here's a video tour I created of the lounge, which will give you a great overview of the space:
Access + Hours + Location
Just past security in Terminal 8, you will see Bobby Van's Steakhouse on the right side. Around the corner is the entrance to the Chelsea Lounge. Take the elevator up one level then turn left to enter the lounge. It is open from 04:30 AM until 11:00 PM daily.
As this lounge is intended to combine the old American Flagship First Dining facilities with the British Airways Concorde Room in Terminal 7, access is strictly reserved for first class passengers (with a few exceptions).
Access is reserved for:
American Flagship First passengers

This includes premium transcontinental flights to Los Angeles, Orange County ,and San Francisco as well as longhaul first class passengers

British Airways First Class passengers
There are also a few other ways to enter the lounge:
American Flagship "Business Plus" passengers can purchase access to the lounge (during booking) by booking a "premier" fare that will be labeled as "business plus"
American Concierge Key members traveling on select flights in any cabin of service:

Flagship international itinerary
Premium transcon (LAX, SNA, SFO)
British Airways
Select flights to Hawaii

British Airways Gold Guest List members (when traveling on any American Airlines or British Airways flight)
I suspect this lounge is used for high-level VIPs too, regardless of travel, because former Governor Andrew Cuomo was escorted in and out as well (by AA staff).
Seating
This 10,000-foot lounge has seating for 128 passengers, though I spent six hours there and never saw more than 6-7 passengers at a time.
While natural light is always preferred, I liked the ambiance of this lounge. It is quite dark, even with some backlit panels, but is very different than the next-door Greenwich Lounge which has floor-to-ceiling windows. As you walk in your eyes will be drawn to the Champagne bar, but on either side is a combination of couches and chairs that offer comfortable seating.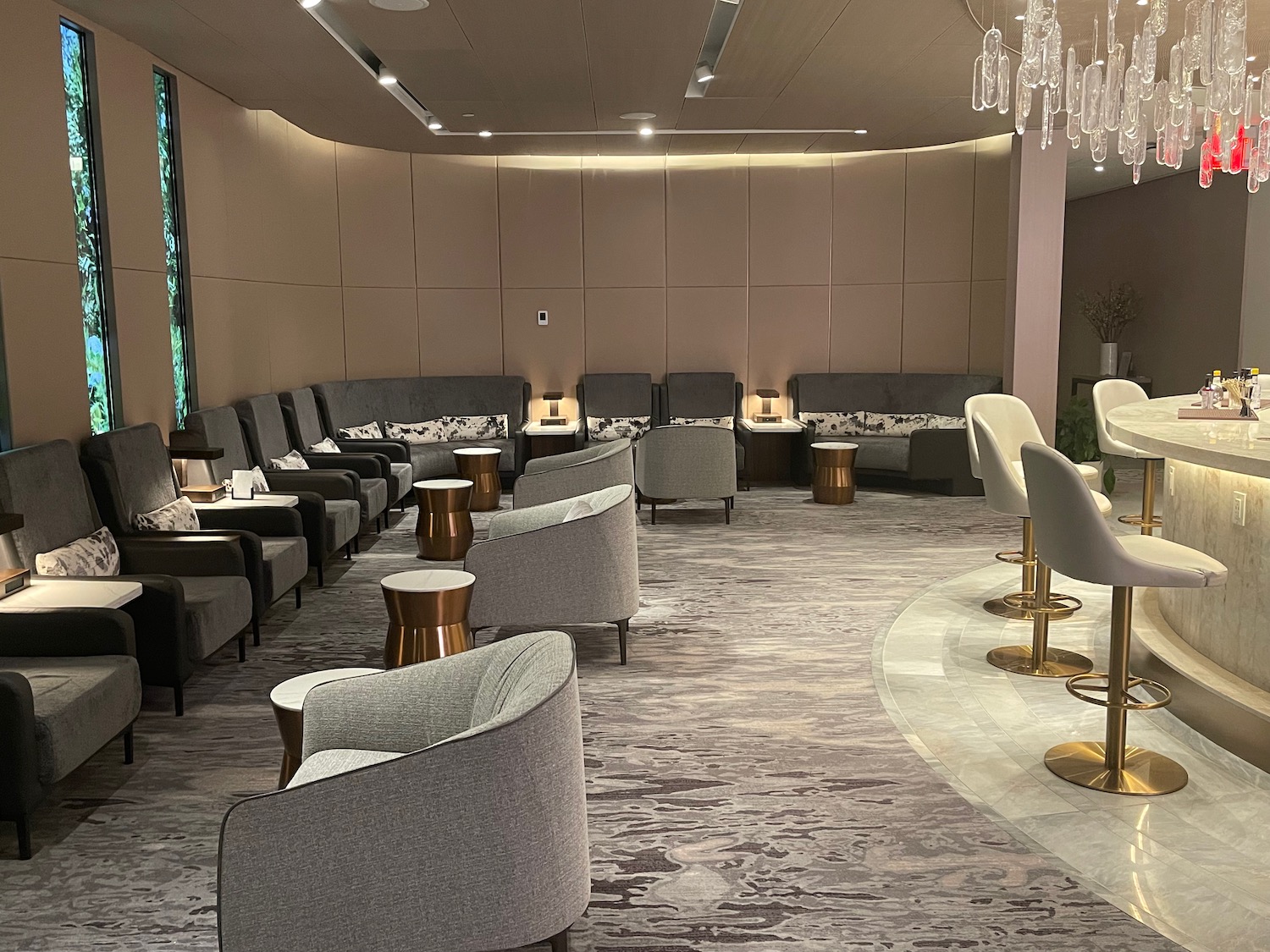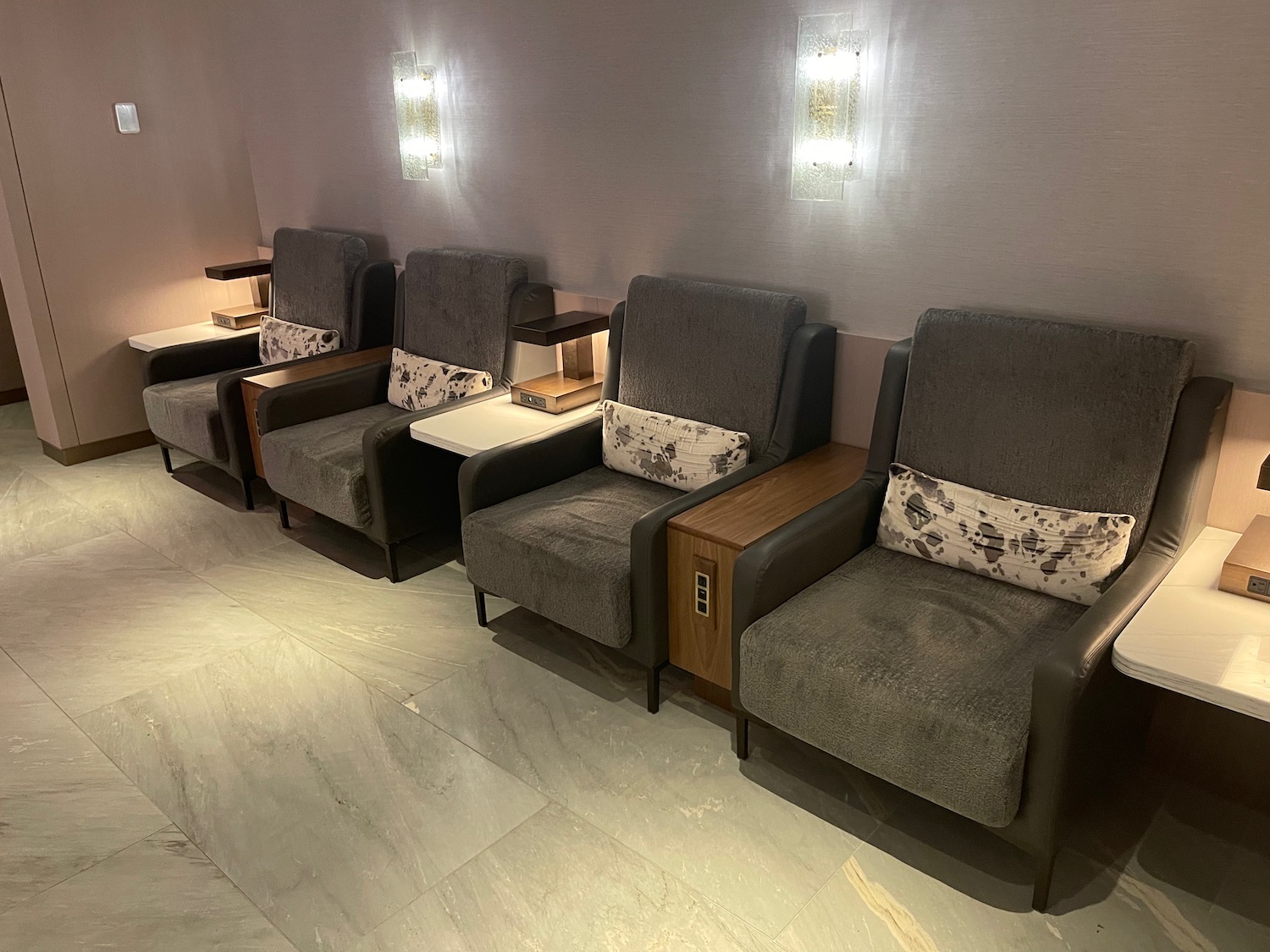 Power ports are always within reach, even in the dining room and there are both USB-A and USB-C outlets available.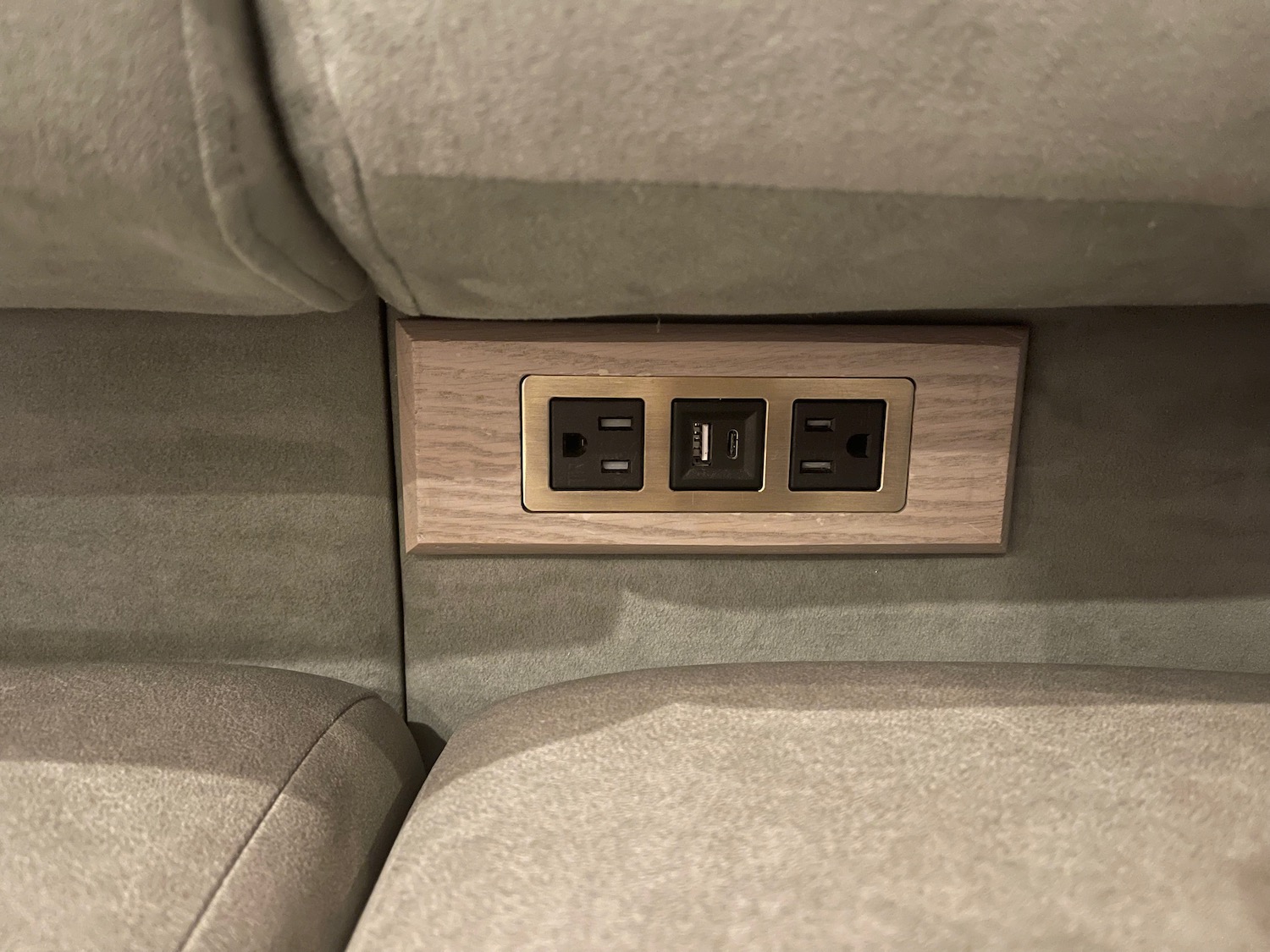 The rear of the lounge includes a large dining area that I find even more stylish than the bar (it reminds me of a Parisian brasserie).
Bar
The centerpiece of the lounge is bar, which offers a number of alcoholic beverages and coffee, but specializes in Champagne.
Here's the drink menu, with Champagne, beer, wine, spirit, and cocktail choices:
My main criticism for this lounge is that the coffee is not great. WMF makes some of the worst coffee machines (in my opinion) and it is a shame that AA and BA did not invest in nice coffee machine for this lounge. Offering barista-made espresso drinks really would have further separated this lounge from others.
Dining
The dining room not only offers a cozy seating area with palm trees, but a very nice all-day dining menu of a la carte items. I love the tableware and the ambiance of this portion of this lounge.
Breakfast
The breakfast menu is available daily until 11:00 am and I enjoyed a light breakfast of avocado toast with fresh berries and coffee.
Lunch
I ate a light breakfast in anticipation of a hearty lunch, and it did not disappoint. The lounge has partnered with Chef Ayesha Nurdjaja to offer a special menu within the menu, which I mostly stuck to for my multi-course lunch.
First, I enjoyed a bowl of roasted tomato soup with English cheddar cheese toast.
Next, I had honey roasted beets with horseradish yogurt, pistachio, orange, and tarragon, providing a sumptuous mix of flavors.
I followed that with a kale salad with whipped feta, rosemary roasted grapes, sumac, and za'atar crisps.
The highlight of the meal was the main course: braised lamb shank with ras al hanout, prunes, almonds, and herbed couscous. Ras al hanout out is mix of salt, cumin, ginger, turmeric, cinnamon, black pepper, white pepper, coriander, cayenne, allspice, nutmeg, and cloves. What a tender, flavorful dish!
I concluded the meal with olive oil cake, topped with whipped yogurt and pomegranate.
Lunch was not just appetizing, but it was delicious. Had I been in a "real" restaurant in New York I would have been very happy to pay $100+ for all of the delicious food.
With my headache, I did not try any of the wine or Champagne, but you can review the menu above.
Afternoon Tea
In a nod toward British Airways, a special afternoon tea menu is available with a wide variety of teas, sandwiches, and clones with clotted cream.
Kosher
A Kosher menu is available throughout the day:
Buffet
While this is very much an a la carte lounge, there is also a very small buffet near the bar with pastries and other nibbles in the morning and chips, whole fruit, and sweets in the afternoon.
Service
I owe a very special shout out to Salma, who took such wonderful care of me not just in the dining room, but while I was sitting. I had a bit of congestion and a particaurly nasty headache during my visit. Early on, I asked Salma if she had any aspirin or ibuprofen, which I had neglected to bring. She promised to look and shortly brought some over:
But feeling bad that I felt bad, she promised to make me a very special blend of tea that would help make me feel better. Presently, she brought it over. It included ginger, cinnamon, and lemon and was not only delicious, but worked well (with the aspirin) to take away my headache.
Throughout my stay she was so attentive and is truly an asset to the lounge. It is this level of service that I found separated this lounge from the other premium lounges at JFK and frankly the United Polaris Lounges too.
Flight Help
Should you need flight help, you can ask one of the reception agents or visit a customer service desk just past the entrance.
Restrooms + Showers
Restroom and shower facilities are available in the rear of the lounge on the left side. Toiletries are available on request and the bathroom products are from DS &Durga.
Relaxation Room
In the rear of the lounge on the right side, you will find a relaxation area with three daybeds. Pillows and blankets are available upon request.
CONCLUSION
I greatly enjoyed my stay in this lounge and enjoyed a tremendous lunch and superb service from Salma. Perhaps what surprised me most of all was how exclusive this lounge was: for nearly two hours I had it all to myself. While I am sure it gets a bit more crowded in the evening when the London flights depart, this lounge is a pleasure to visit and absolutely worth showing up early for. It is lounges like this which make me want to fly American Airlines and British Airways more often. Oneworld first class lounges are the best in the business.