I enjoyed a lovely one night stay at The Chatwal, a historic New York City hotel that is now part of the Hyatt Unbound Collection.
The Chatwal New York Review, Part Of Hyatt Unbound Collection
The Chatwal used to be part of the Starwood and later Marriott family, but switched to Hyatt in early 2023. It is not cheap. At over $900 per night it is one of the pricier hotels in the city. As a Category 8 hotel in the World of Hyatt program, the points cost per night varies from 35,000 (off-peak) to 40,000 (standard) to 45,000 (peak) points per night. I stayed on a standard night.
Location
Located on 130 West 44th Street, the hotel is just a block from Time's Square and a couple blocks from Bryant Park. From Newark Airport, I took an Uber into the city. If using public transport, you can take NJ Transit to NY Penn Station and then connected via subway to Times Square – 42nd Street.
Check-In
I arrived around 2:00 PM and was warmly greeted by at the front desk agent. My room was ready and I was thanked for my Globalist status and told I had been upgraded to a junior suite. The hotel has only 76 rooms, 29 of which are classified as suites.
The lobby is small but swanky, with the check-in desk on one side and a small bar on the other side.
Guest Room
My room, 307, was very cozy; spacious by New York City standards and quite posh with comfortable bedding and furniture. The bedding was soft and light and the couch and chair with coffee table as well as a large desk provided a generous living space.
I liked the suede walls:
and details like the handles on the closet:
The bathroom had mirrors on all sides and a large step-in shower instead of a bathtub. Bath amenities were from Asprey and there was also a heated Toto seat with bidet.
There were amenities under the sink like mouthwash, dental kits, combs, and a loofah.
I'm not much of a minibar person, but the bedroom had a very impressive minibar with both snacks and drinks.
An illy coffee machine offered espresso.
Window treatments could be lowered (both drapes and sheers) via remote control.
An iPad did not work…it could not connect.
Butler
The best part of my stay was my interactions with Sonam, the hotel's chief butler. Like a St. Regis, you are assigned a butler at this hotel. She not only pressed my clothing ahead of my meeting (included for hotel guests), but noted my affinity of berries on my Globalist profile and brought me a beautiful bowl of berries, a box of chocolate truffles, two bottles of sparkling water, and a bottle of apple juice (apparently something noted for Augustine). That kind of personalized service was very appreciated.
I loved all the extras…a lot of chocolate and cookies. Like when I returned from my meeting, there were slippers were waiting and a chocolate-covered graham cracker.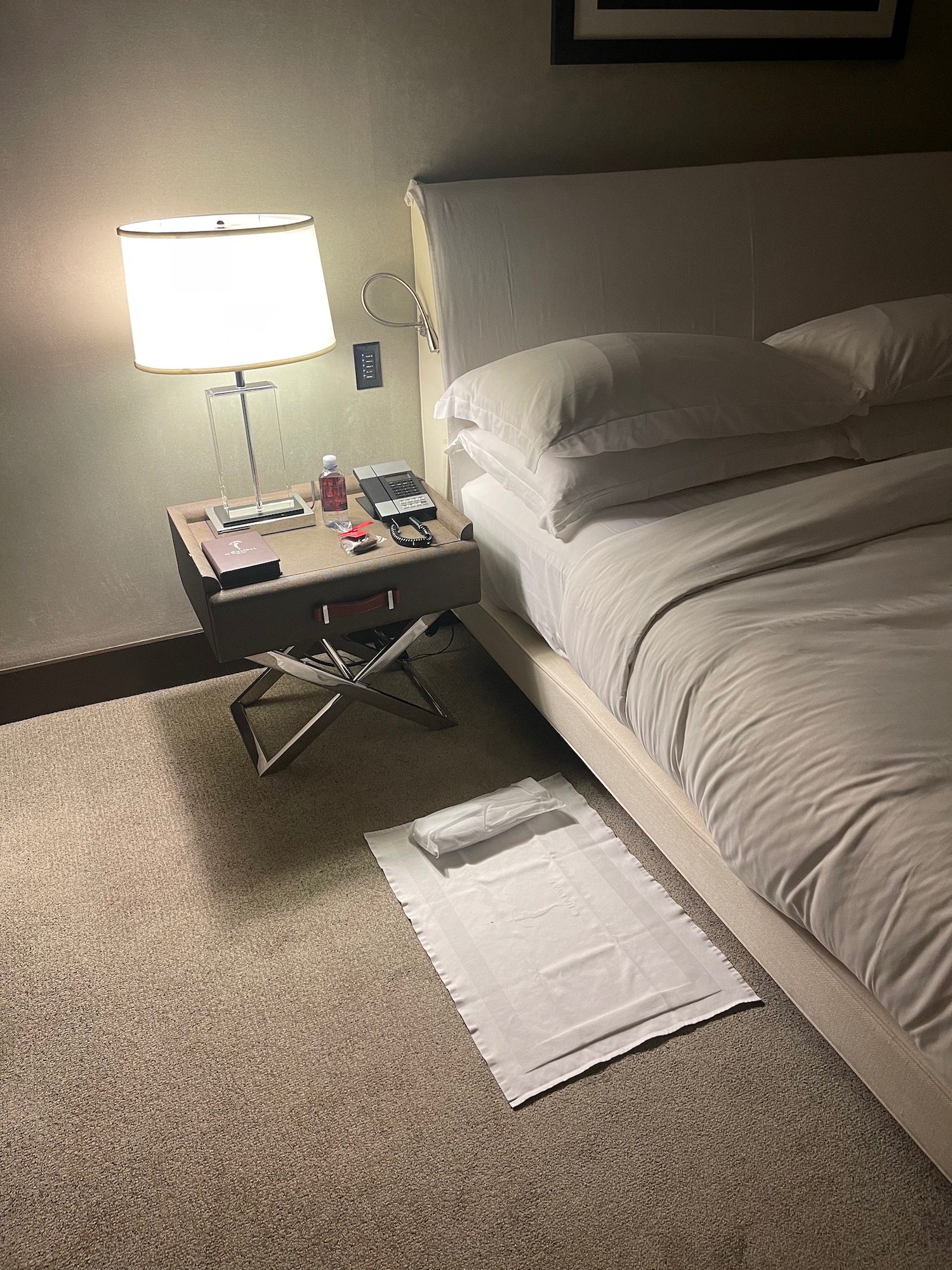 Fitness Center
Shortly after arrival I went downstairs to use the gym. It is located on the basement level and open 24/7. Walk past the (unmanned) wellness center desk and the fitness center is immediately on the left.
The gym includes a collection of late-model TechnoGym equipment including two treadmills, an elliptical machine, and an all-in-one resistance machine. There are also free weights and a Peloton bike.
I appreciated that beyond bottled water, there was coconut water, Kind bars, apples, and "energy chews" available.
Pool
Rather than a full-size pool, the hotel has an infinity saltwater lap pool and a jacuzzi. Its opening hours are limited:
Sunday – Monday: 9:00 am to 6:00 pm
Tuesday – Wednesday: closed
Thursday – Saturday: 12:00 pm pm to 8:00 pm
Spa
A full range of spa services are available. Between the fitness center and pool is a waiting room for spa treatments and two changing rooms. Each changing room has a steam feature in the shower, which I used and appreciated. There is no sauna.
Breakfast At The Lambs Club
As a Globalist, I was entitled to a complimentary breakfast at The Lambs Club, a historical restaurant with red leather seats and portraits on the wall. It opened in 1905 as the home of the prestigious Lambs, the country's first professional theatrical club.
I enjoyed a delicious omelet, bowl of berries, fresh squeezed juices, and strong coffee for breakfast.
Prices are high…$100 for breakfast and I actually did not end up with all that much food. The entire charge was removed, less $15 (I did not protest it because the Globalist benefit includes drink + coffee + main course + gratuity) and so the $15 could have been the tip but also could have been the second coffee.
Room Service
A 24/7 room service menu was available in the room.
Morning Coffee
Free coffee is available near the lobby elevators.
CONCLUSION
Hotels in New York are expensive…it is crazy compared to much of the world. But I prefer to spend a little more for nicer hotel and avoid places like The Mansfield. Overall, I was quite pleased by my stay at The Chatwal and would return. Particular kudos to Sonam for her warm and caring service.