It is not often that I find myself on a United Airlines 737-700 so when the opportunity arose to fly one from Bogota to Houston in business class, I took it.
United Airlines 737-700 Business Class Review
I arrived at 2:45 am from London and did not leave Bogota until 7:30 am, which gave me more than enough time to check out both the Avianca and Copa lounges. This flight was on a separate ticket and I was unable to check in online, but was able to remain on the secure side of the airport and collect my boarding pass at the gate.
I spent too long in the Copa Lounge and was one of the last to board.
United 508
Bogota (BOG) – Houston (IAH)
Saturday, April 9
Depart: 07:30 AM
Arrive: 12:55 PM
Duration: 05hr, 25min
Distance: 2,223 miles
Aircraft: Boeing 737-700 (73G)
Seat: 3A (Business Class)
Stepping onboard, I was greeted by a male purser who could not have been much older than me (you know you're getting old when the pursers are younger than you on a US carrier…) and took my seat in a full cabin.
United brands its front cabin as "business class" (versus "Polaris business class" or "first class") on flights between the US and Canada, Central America, the Caribbean, and northern South America.
Seat
Among the Boeing 737s in the United fleet, the 737-700 is unique in two ways. First, it is only a 12-seat cabin (three rows of 2-2 seating). United has only 40 in its fleet. Second, it has the newer Safran articulated cradle seats (unlike on the 737-800 or 737-900), much like you would on the Airbus A319, A320, or the 737 MAX 9. But unlike those aircraft, the 737-700 has DirectTV installed, making it the only aircraft with a "new" seat and a seatback monitor.
[Note: – this will all change as United installs personal screens in every seat as part of its United Next project]
I like these seats: I find them comfortable and I like the personal storage compartment below the armrest that is large enough for my large laptop computer.
This flight, however, I did not work, but slept…when I am exhausted, I do not need a lie-flat seat to sleep.
IFE
That segues nicely into the IFE portion.  Seatback entertainment includes live satellite TV (in theory), though it only works over the Continental USA, so there was no live TV on this flight. However, there were eight movie channels with looping video as well as a moving flight map.
The screen is controlled by a console in the armrest (no touschreen control).
Furthermore, streaming audio and video were available on demand on your mobile devices. Just ensure you have downloaded the latest United app prior to departure.
Wi-Fi internet is also available for purchase. A flight pass is $8 for MileagePlus members and $10 for non-members (you can join MileagePlus on the spot if you are a non-member).
It was a beautiful day for flying, however, and when I was awake I preferred to look out the window rather than look at my screen: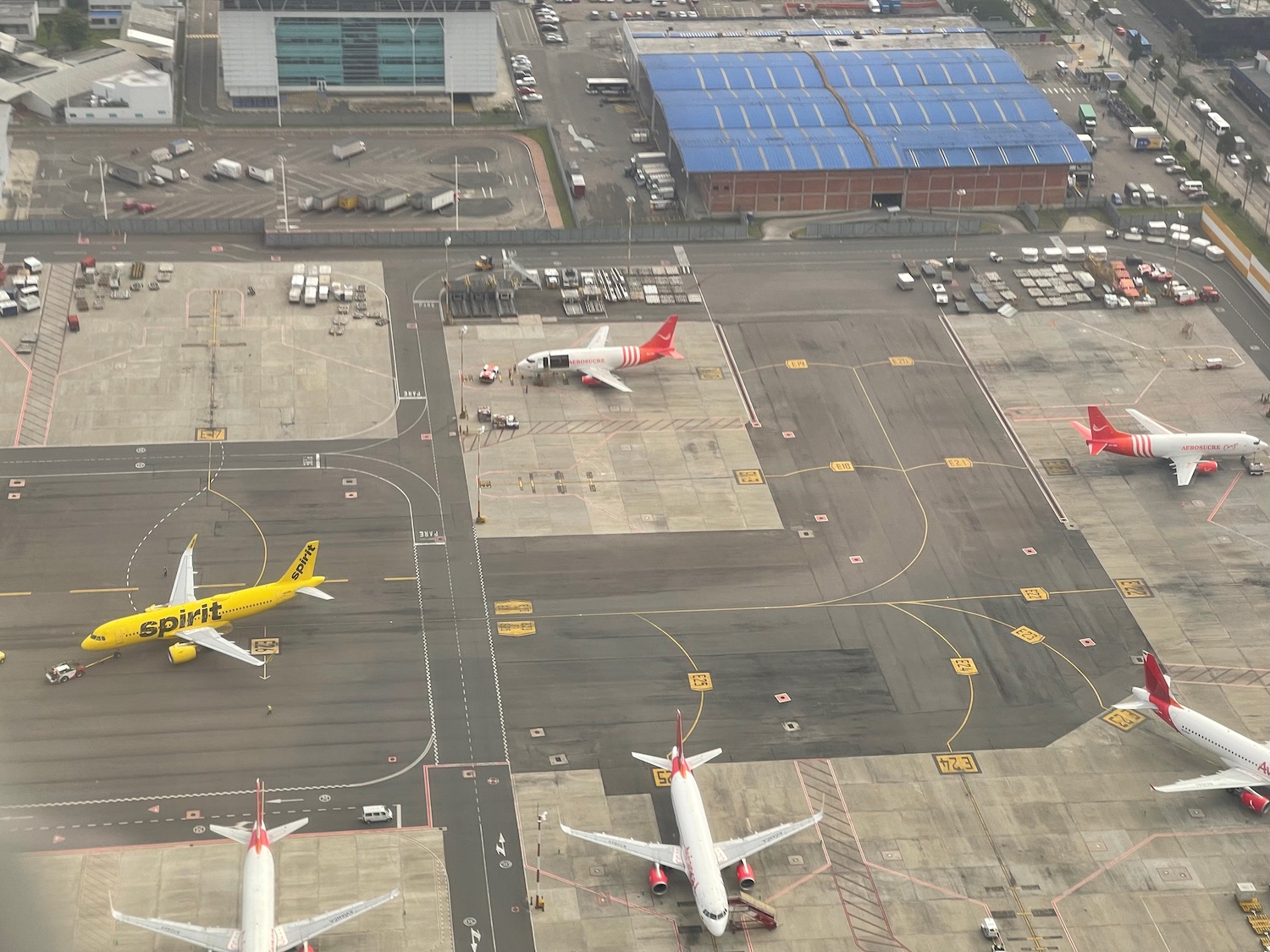 Food + Drink
Water or sparkling wine was offered in plastic blue cups prior to takeoff.
Breakfast was served after takeoff, with a choice between scrambled eggs or pancakes, both served with chorizo, a bowl of fruit, and a cinnamon bun.
Since I had eggs on my Avianca flight and more eggs in the Avianca Lounge, I ordered pancakes, which were certainly not your thin US-style pancakes. These were thick, cake-like pancakes, served with syrup and pineapple on the side.
I was feeling over-caffeinated at this point so I stuck to decaffeinated coffee, which is illy-branded powder on United, but not bad at all for decaf.
Prior to landing, a snack basket was offered and I took some potato chips and Cheez-Its.
Lavatory
Prior to landing I got up to use the lavatory and found it cramped, but clean. The first/business class lavatory is located in the front of the aircraft next to the galley and cockpit.
CONCLUSION
We landed on time in Houston, where I had one more leg to go on my long trip home from Alexandria, Egypt (via Istanbul, Abu Dhabi, Bahrain, London, Bogota, and Houston). By this point, I was filled
Just one note: although Bogota is in South America, it does not qualify for Polaris Lounge access – only Argentina, Brazil, and Chile. Still, I was able to use the United Club by virtue of both flying business class and because of my Star Alliance Gold status.
The 737-700 offers a cozy business class on United Airlines. While a lie-flat is always preferred on a 5+ hour flight, I did just fine, sleeping through much of the flight.