Over the summer, I took a trip to the East Coast and flew home on a United Airlines 757-200 in business class from Newark to Los Angeles. These 757 workhorses are certainly aging, but the flight was very good in terms of service.
United Airlines 757-200 Review – Business Class (EWR-LAX)
I reviewed this exact flight on the same aircraft type in 2021, so you might enjoy reading them side-by-side.
This was a paid business class ticket from Pittsburgh to Los Angeles via Newark for $790. My original connection was via Washington Dulles, but I made a same-day change on the United app to connect in Newark. Sadly, no bumps in Pittsburgh on this trip…
United Club Lounge Access On Premium Transcontinental Flights
When you are traveling in business class on a premium transcontinental flight on United, you have access to United Clubs both upon departure and arrival. This is an important value add for me, as I am not currently a United Club member nor do I hold Star Alliance Gold status with another carrier (which would give me lounge access on purely domestic itineraries).
Boarding began on-time and I ran down the jetbridge to snap some pictures before others boarded.
United Airlines 2403
Newark (EWR) – Los Angeles (LAX)
Saturday, July 22
Depart: 02:40 PM
Arrive: 05:26 PM
Duration: 05hr, 44min
Distance: 2,454 miles
Aircraft: Boeing 757-200
Seat: 1F (Business Class)
Two flight attendants cheerfully greeted me with one offering to take my picture when she saw how many pictures I was taking.
United Airlines 757-200 Business Class Seat
The business class seat onboard the 757-200 is the classic Continental-era B/E (Collins) Diamond seat. Business class includes 16 seats; four rows in a 2-2 configuration. While United sells this cabin as "Polaris" on transatlantic flights, keep in mind it is the only aircraft in the United longhaul fleet that does not have direct aisle access for passengers seated at the window seat.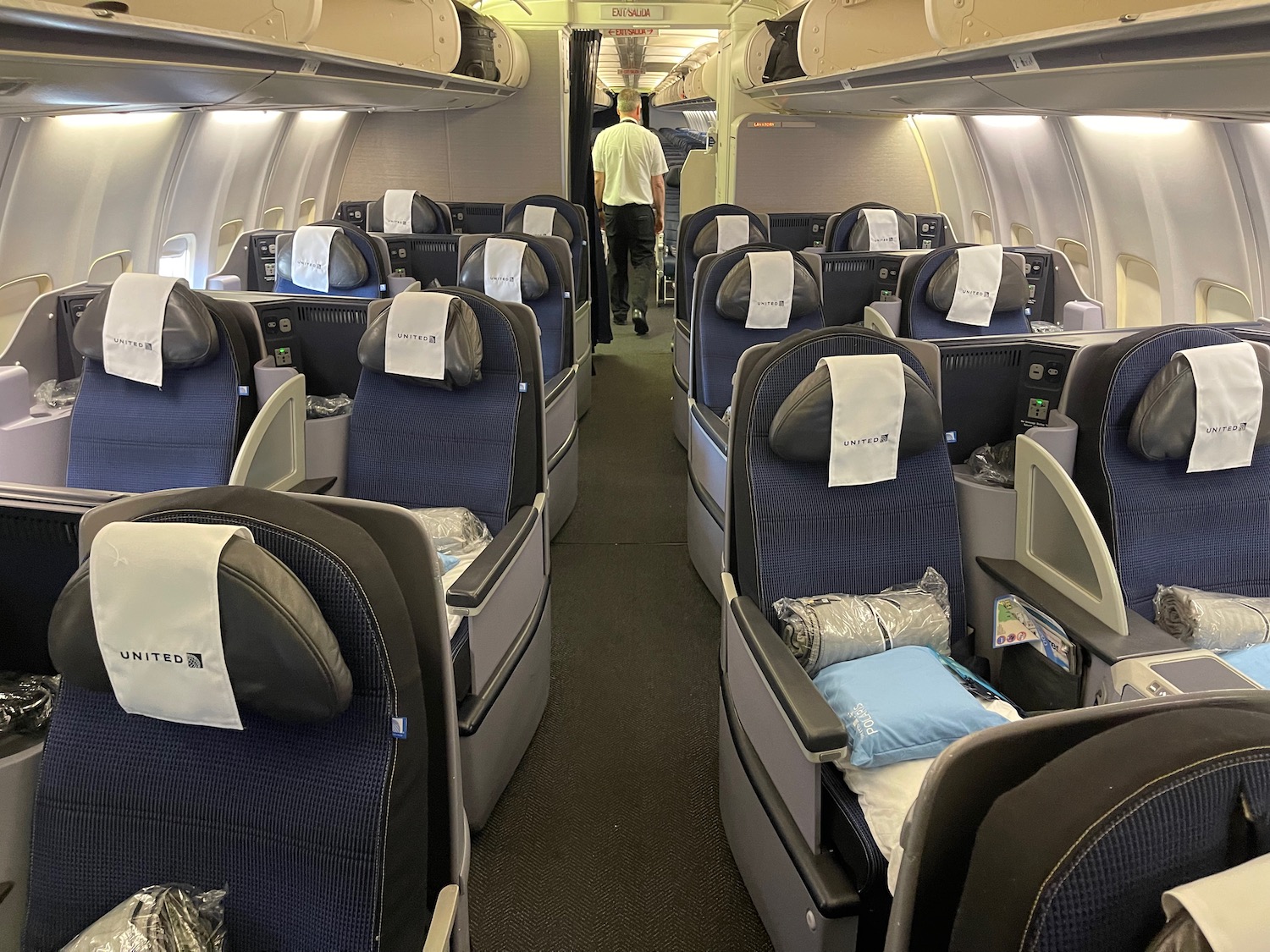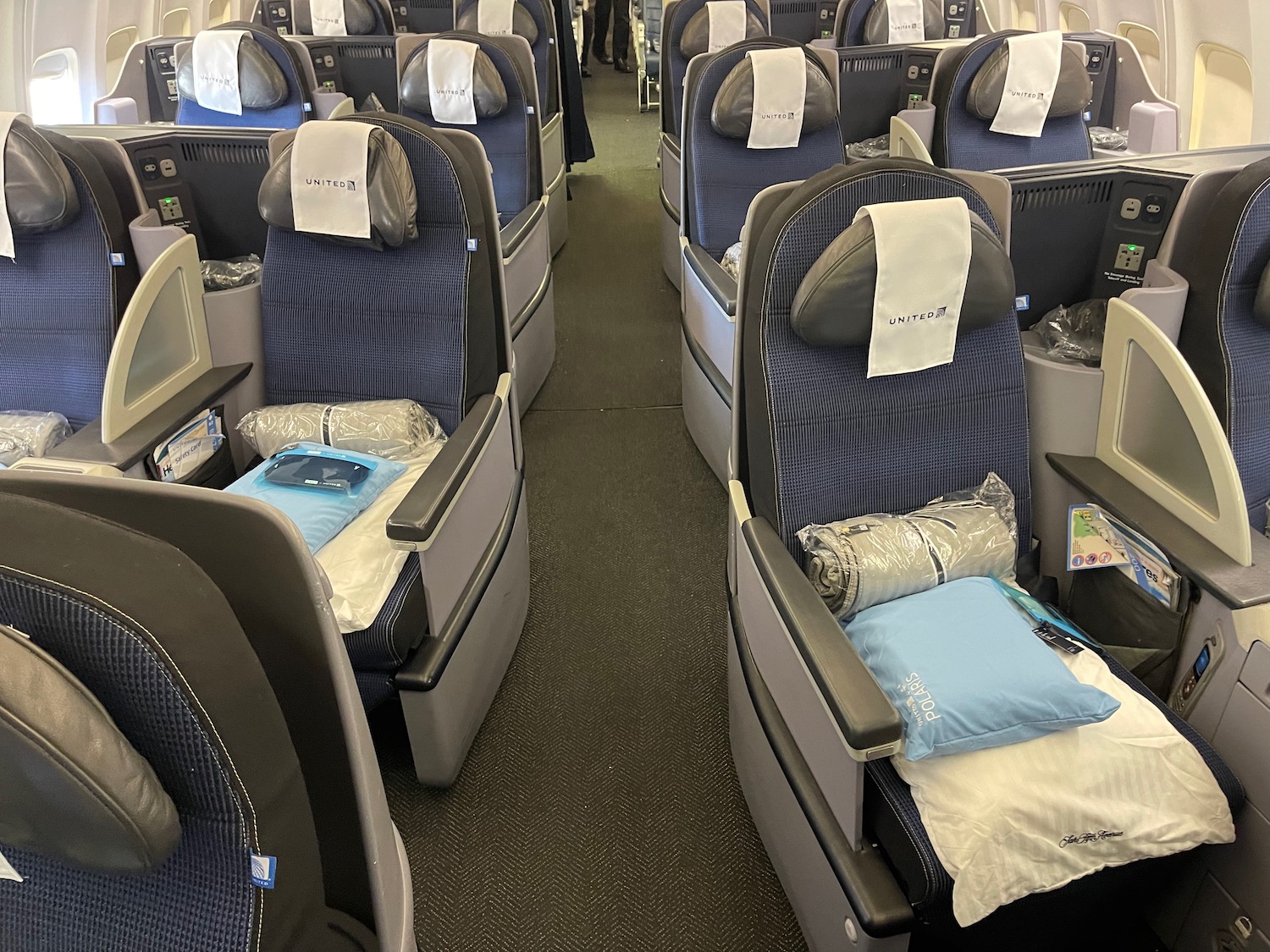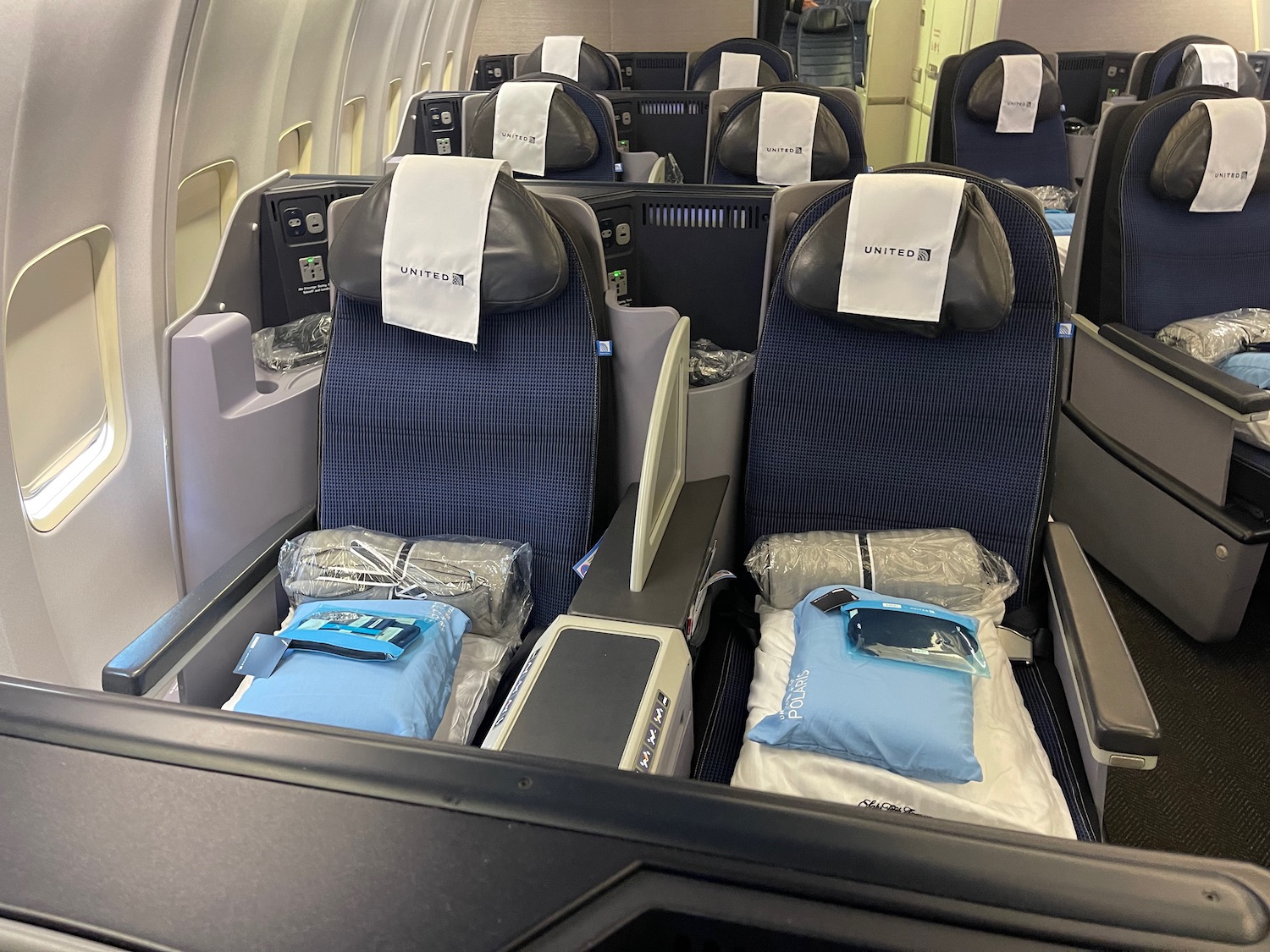 But also keep in mind that on premium transcontinental flights, you may see a "high density" 777-200 with eight seats across in business class which, by some measure at least, are even more tight.
Seats include flat beds and comfortable, but your feet will feel a bit tight unless you choose a seat in row one (the reason I always try to choose row one on this aircraft).
A universal power port and USB-A port are located on a shoulder-level shelf.
Bedding is excellent on premium transcon flights, with a Saks Fifth Avenue duvet, large pillow, and second cooling foam gel pillow.
---
Note: United has just changed its bedding, ever-so-slightly, but you can still expect a duvet, large pillow, and gel pillow onbaord these flights.
> Read More: United Airlines Unveils "Polaris 2.0" With Focus On Sleep Amenities
---
I did not sleep on this flight (I worked instead), but enjoyed getting curled up in the duvet with the overhead air vent on at full blast.
United recently refurbished its 757-200s, replacing the old purple-colored seat coverings with dark blue ones that match the Polaris color scheme. More padding was added, making the seats more comfortable especially when in an upright position.
Even so, there is no doubt this aircraft was showing its age. My window shade was broken and the area between seats looked like it had been repaired without attention to aesthetic detail.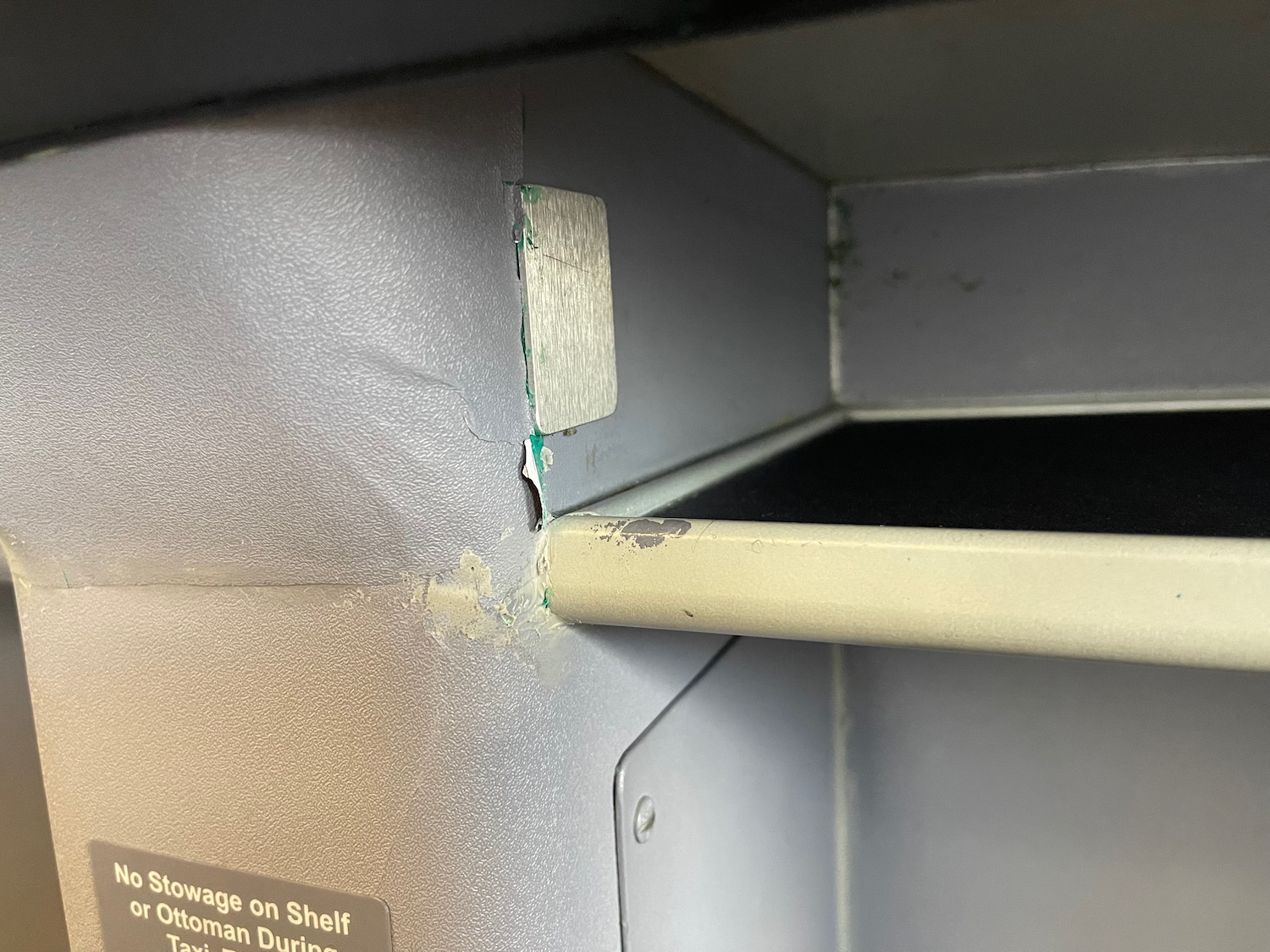 These aircraft are on their way out, but will remain for several years. Hopefully United will do a better job of keeping these planes in a respectable condition.
United Airlines 757-200 Business Class IFE + Wi-Fi
Wi-Fi was available for purchase at a cost of $8 for MileagePlus members or $10 for non-members. This particular flight did not have the complimentary T-Mobile internet option available. I did connect and the internet worked well for most of the flight. At two points it went out for about five minutes, but then kicked back on.
The IFE library included movies, TV shows, games, and a moving flight map.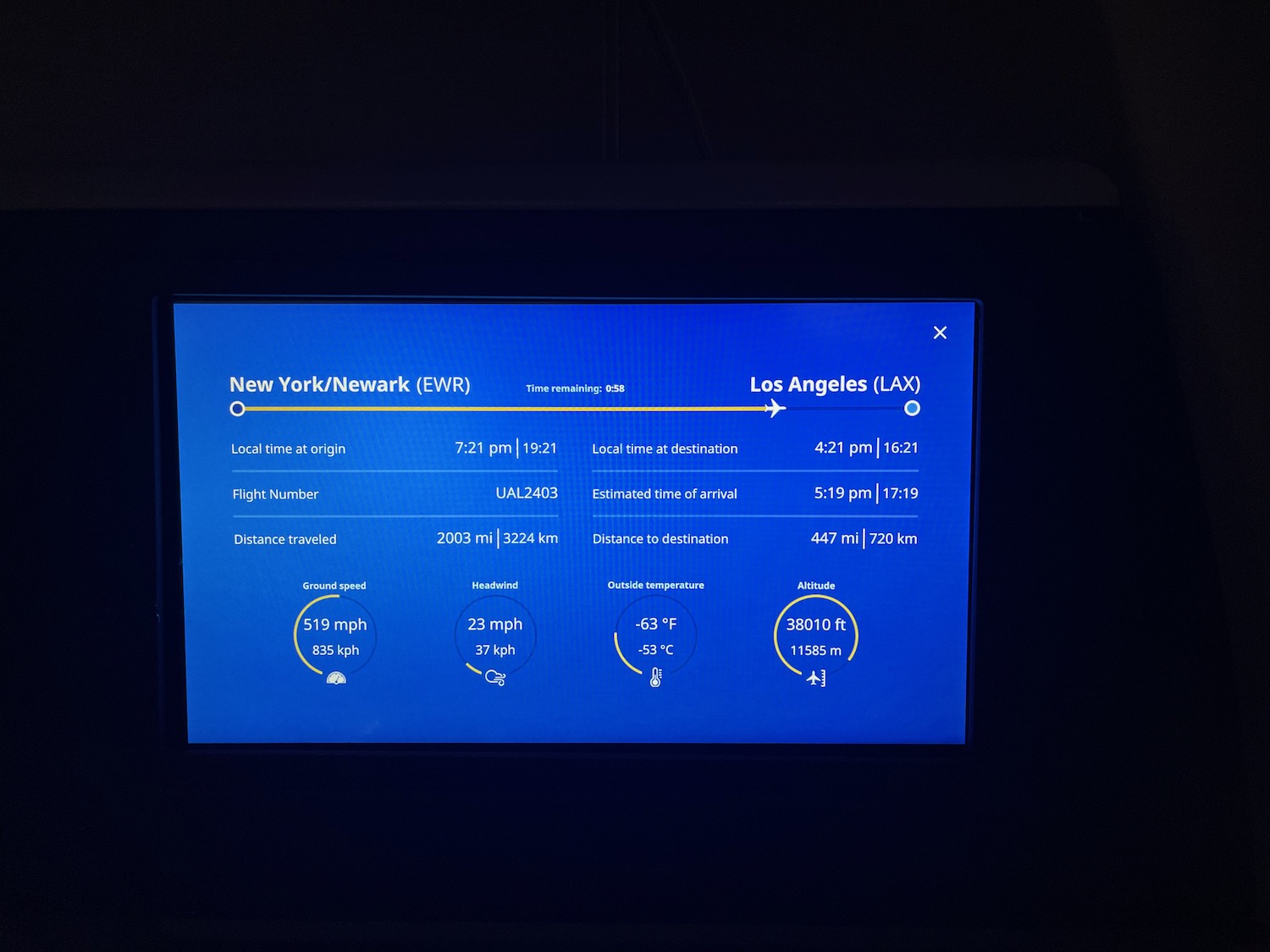 Noise-cancelling headsets were provided.
Channel 9, where you can listen in on Air Traffic Control communications, was theoretically available, but turned off.
It was a strikingly beautiful day outside, both over New York and over Los Angeles. I chose a window specifically to gaze out and capture images like this: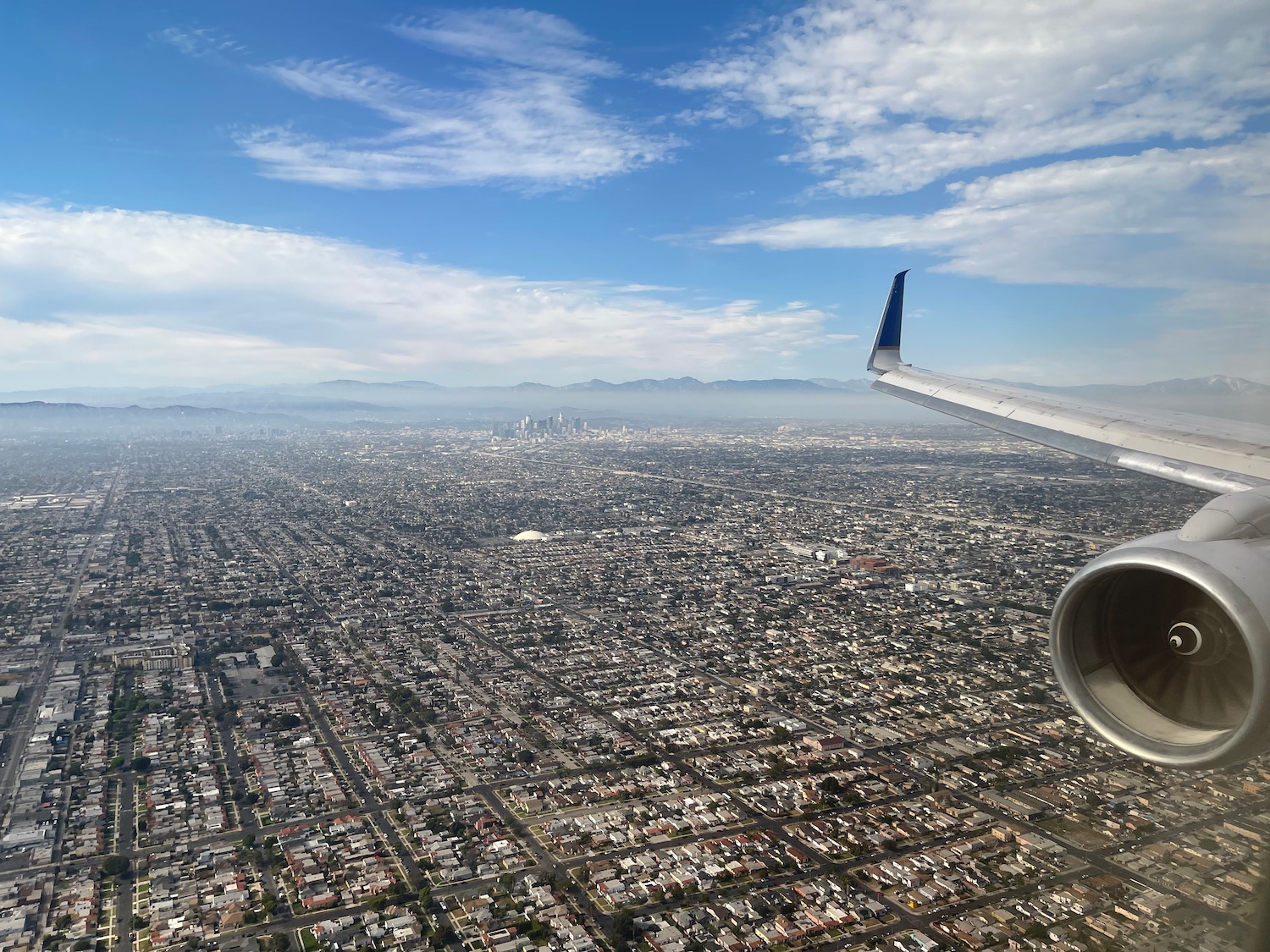 United Airlines 757-200 Business Class Food + Drink
Service began with a hot towel followed by a choice of beverage and warm mixed nuts.
United has tragically not changed its menu on premium transcontinental flights in three years. No menus are offered.
Normally I will order a special meal on this flight (I've tried vegan, Asian vegetarian, gluten-free, and Kosher), but for purposes of this review ordered off the regular menu. The choices were:
Cheese ravioli
Grilled chicken with morel sauce, polenta, and broccolini
Lunch was served with a bread roll and side green salad with balsamic vinaigrette dressing.
I've had both many times, but since I had some chicken in the United Club I ordered the ravioli. It's a good dish…it is simple and therefore hard to mess up and the tomato sauce is respectable. At the same time, it is really unacceptable that United has failed to rotate this menu more often or offer more meaningful choices on one of its most premium domestic routes.
Where United has made progress is with dessert. The dessert cart has returned, with choice of a cheese plate, cake, or ice cream sundae.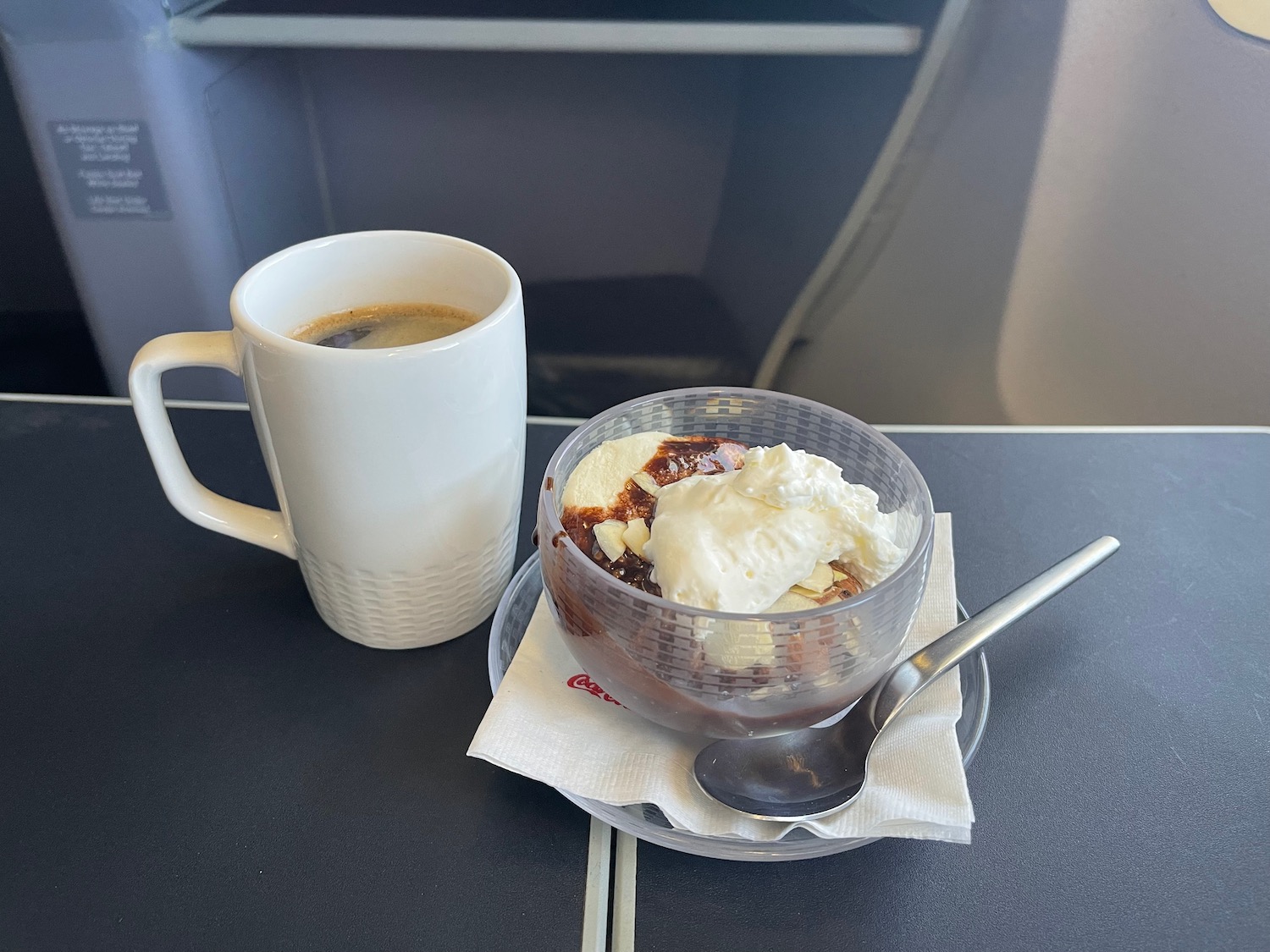 I enjoyed a cheese plate followed by an ice cream sundae. It is nice to see this aspect of the service back…now we just need better plating and more choice for the main course.
An hour prior to landing a light snack was offered, with a choice between:
Hummus, tabouli salad, Kalamata olives, lemon wedge, grapes
Strawberries, grapes, Swiss cheese, Cheddar cheese, sliced roasted turkey breast, Genoa salami
Both are served with crackers. I enjoyed the hummus and thought it was a fitting pre-arrival meal.
United Airlines 757-200 Business Class Service
Service truly shined on this flight. The flight attendants were extremely attentive and friendly. Alicia and Nicole proactively monitored the cabin, addressed passengers by name, and really tried to make the flight as comfortable as possible. Good service makes a huge difference and these two flight attendants really did everything in their power to make the flight as comfortable as possible for each passenger.
United Airlines 757-200 Business Class Amenity Kit
A small amenity kit from Away was sitting on each seats, with contents including lip balm, dental kit, ear plugs and an eye shade.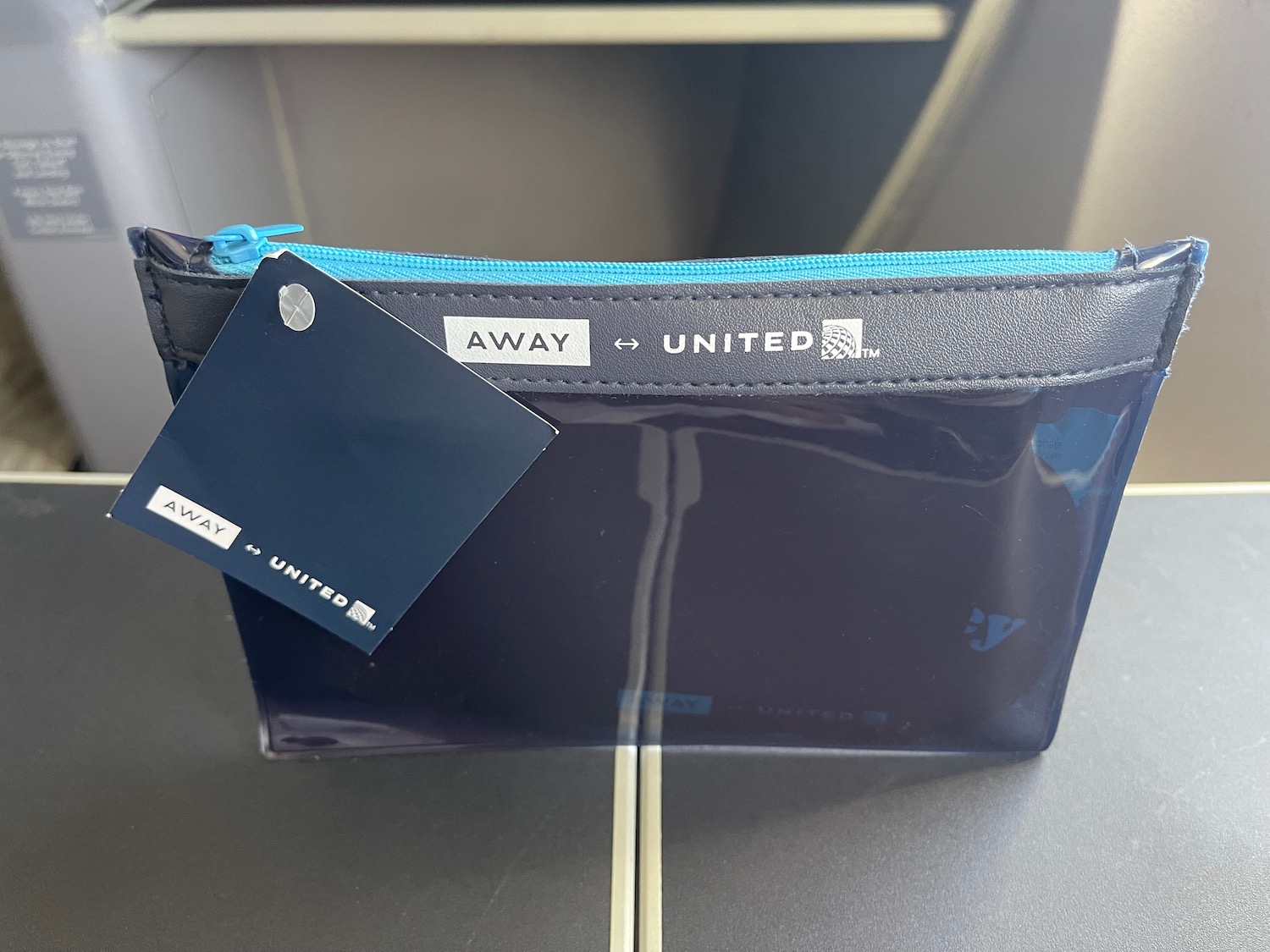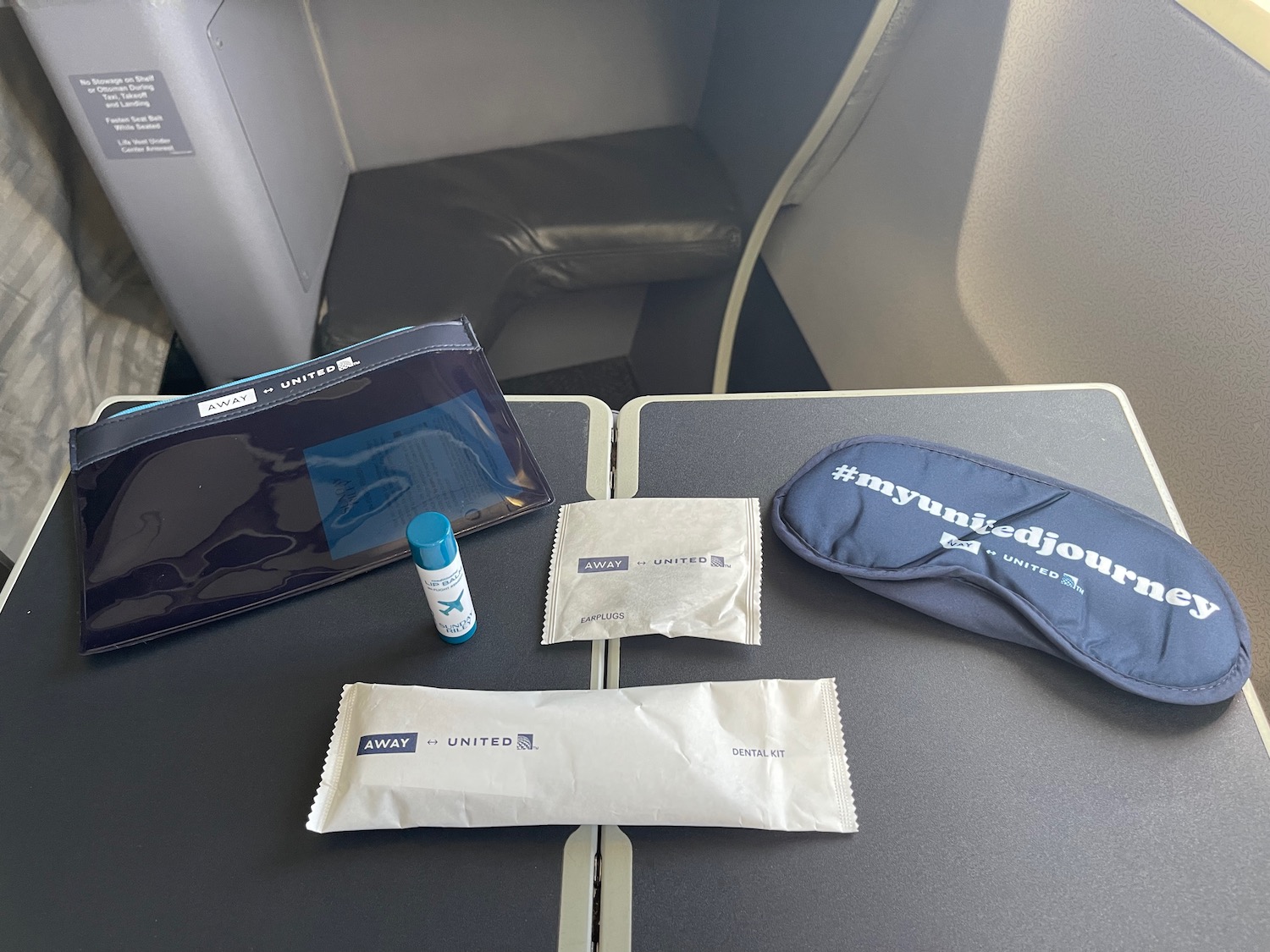 This month, United has transitioned to Therabody-branded amenity kits on premium transcon flights.
United Airlines 757-200 Business Class Lavatory
The lavatory was clean and has been slightly refurbished with new finishes.
CONCLUSION
We landed in Los Angeles over 45 minutes early…the flight went by very quickly and was quite productive. United's meal service still has a ways to go, but the bedding was great and the excellent service was the best part of the flight.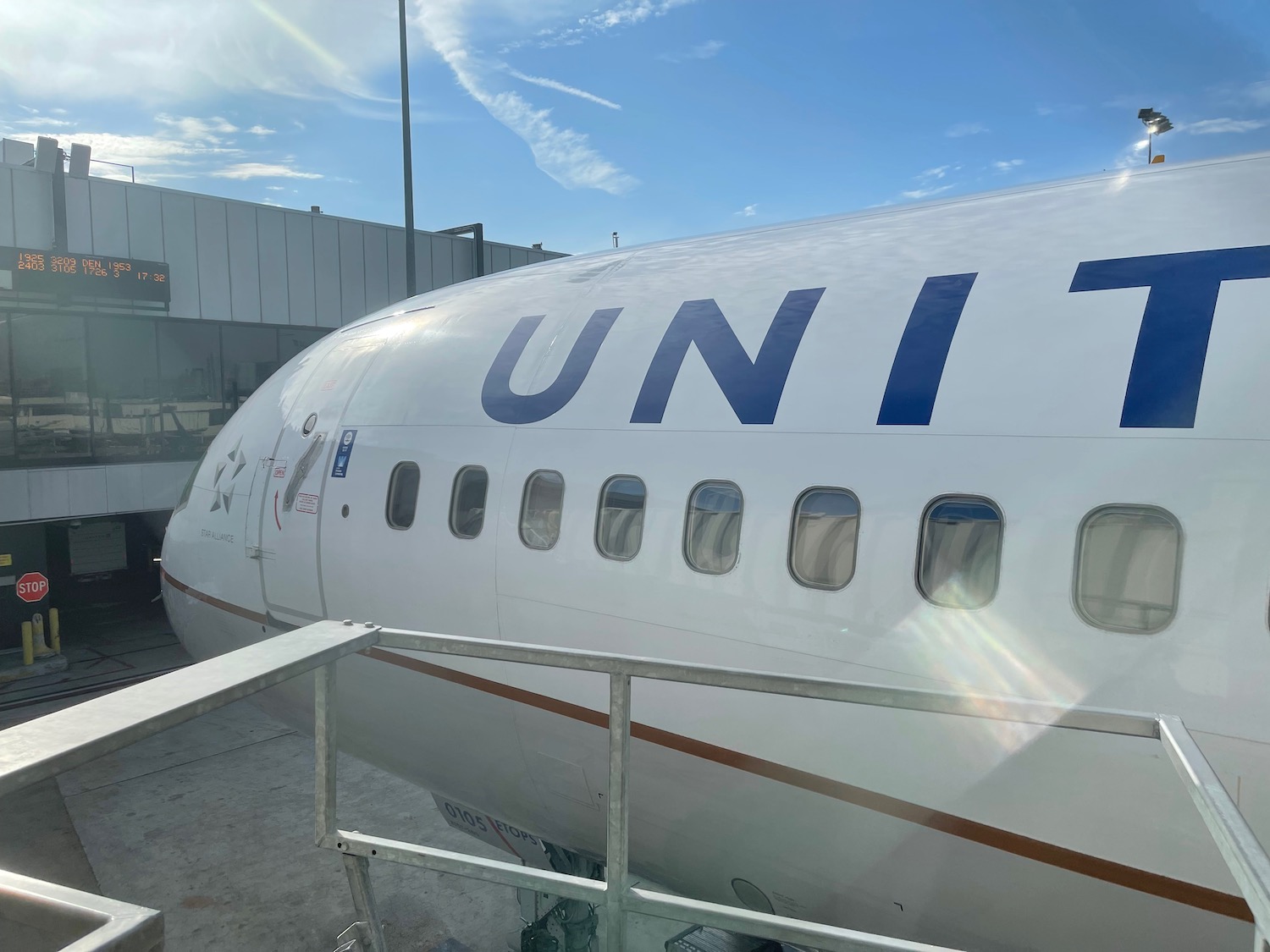 Now that I have recently flown both the Delta 757-200 and United 757-200, I will do a side-by-side comparison of the two products.