After a lovely flight to Honolulu, it was time to head back…this time on a United Airlines 777-300ER in business class. The flight was even lovelier due to one amazing flight attendant and I slept soundly for six hours between a hearty dinner and breakfast.
United Airlines 777-300ER Business Class Honolulu – Chicago Review
For many years, the Chicago – Honolulu flights were numbered UA1 and UA2, signifying their signfancnce in the United route network. Long before United flew around the world, it served Hawaii. Before the flight, I noticed a special display commemorating United's 75 years of service to Hawaii.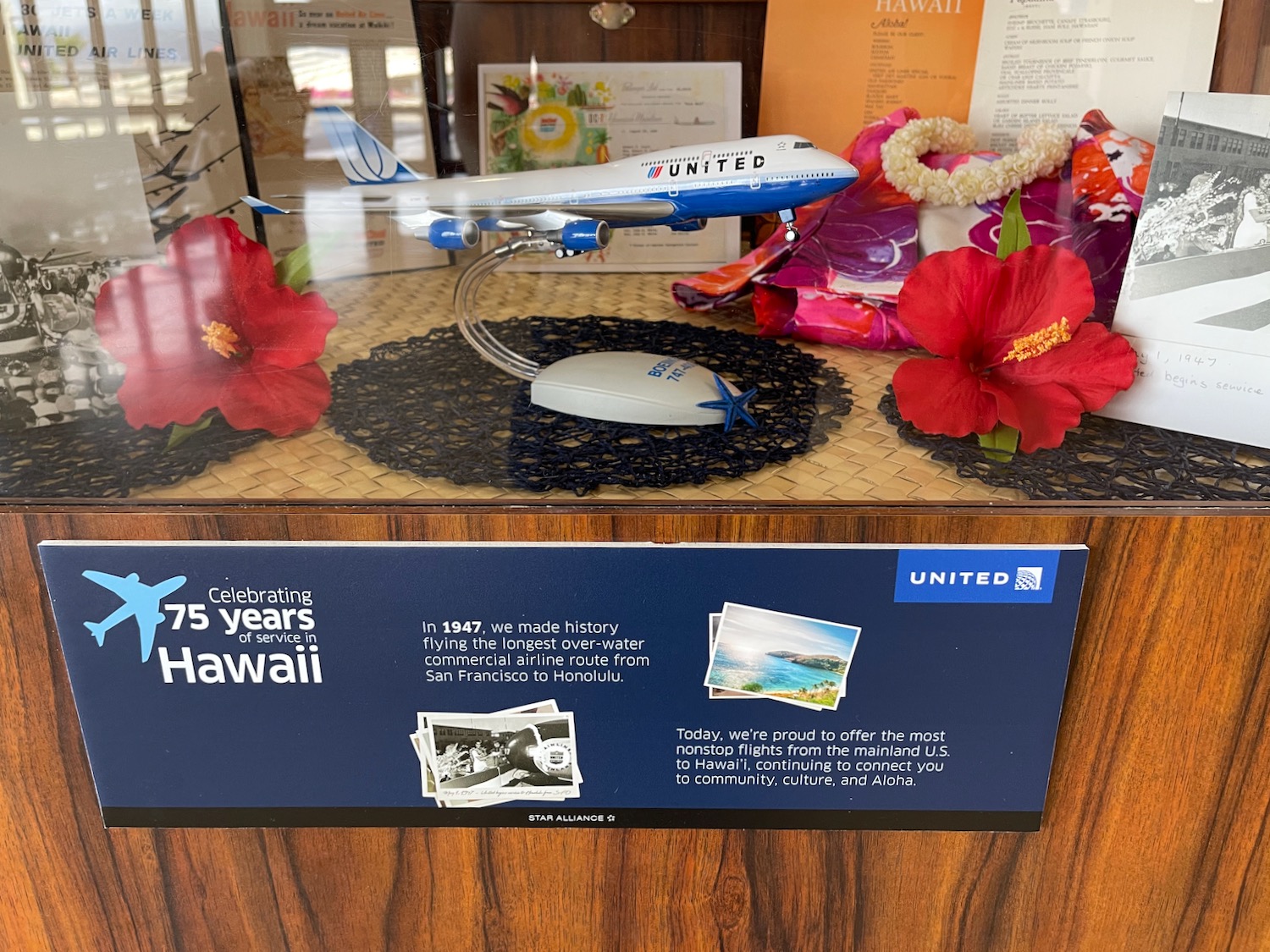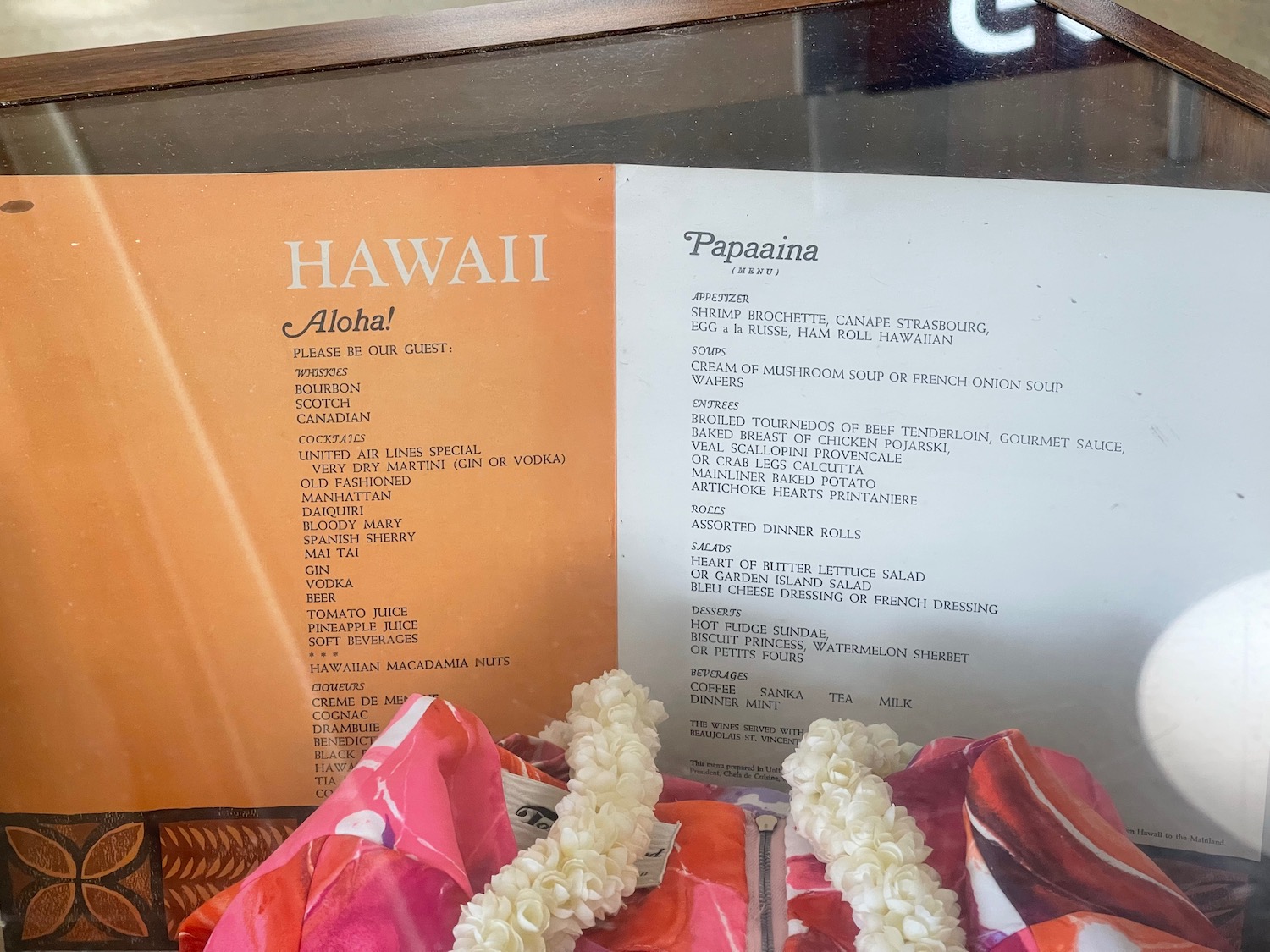 Boarding began 45 minutes before the flight, but Tom Stuker and I were enjoying a mai tai in the United Club and were among the last to board our flight. I love that HNL is also connected to Hickam Air Force Base, meaning you sometimes often see some cool military aircraft, not just commercial aircraft.
United 218
Honolulu (HNL) – Chicago (ORD)
Wednesday, May 4
Depart: 5:10 PM
Arrive: 6:15 AM+1
Duration: 08hr, 05 min
Distance: 4,243 miles
Aircraft: Boeing 777-300ER
Seat: 16G (Business Class)
We faced a wait on the jetbridge and onboard, but finally settled into our seats. Both of us had previously assigned odd-numbered window seats, which are the preferred seat on the 777-300ER and frankly in any Polaris-equipped aircraft, but switched to the center section in row 16 so we could chat during the flight.
Seat
I've reviewed United's 777-300ER business class before and will only note:
seat width is 20 inches
the seat converts into a fully-flat six-foot, six-inch bed
bulkhead seats at rows 1 and 9 have wider footwells and are the best seats on the aircraft
a personal storage compartment is big enough for your wallet and phone, but not much else
use the wheel to recline your seat
a power port is within reach, as are two USB charging ports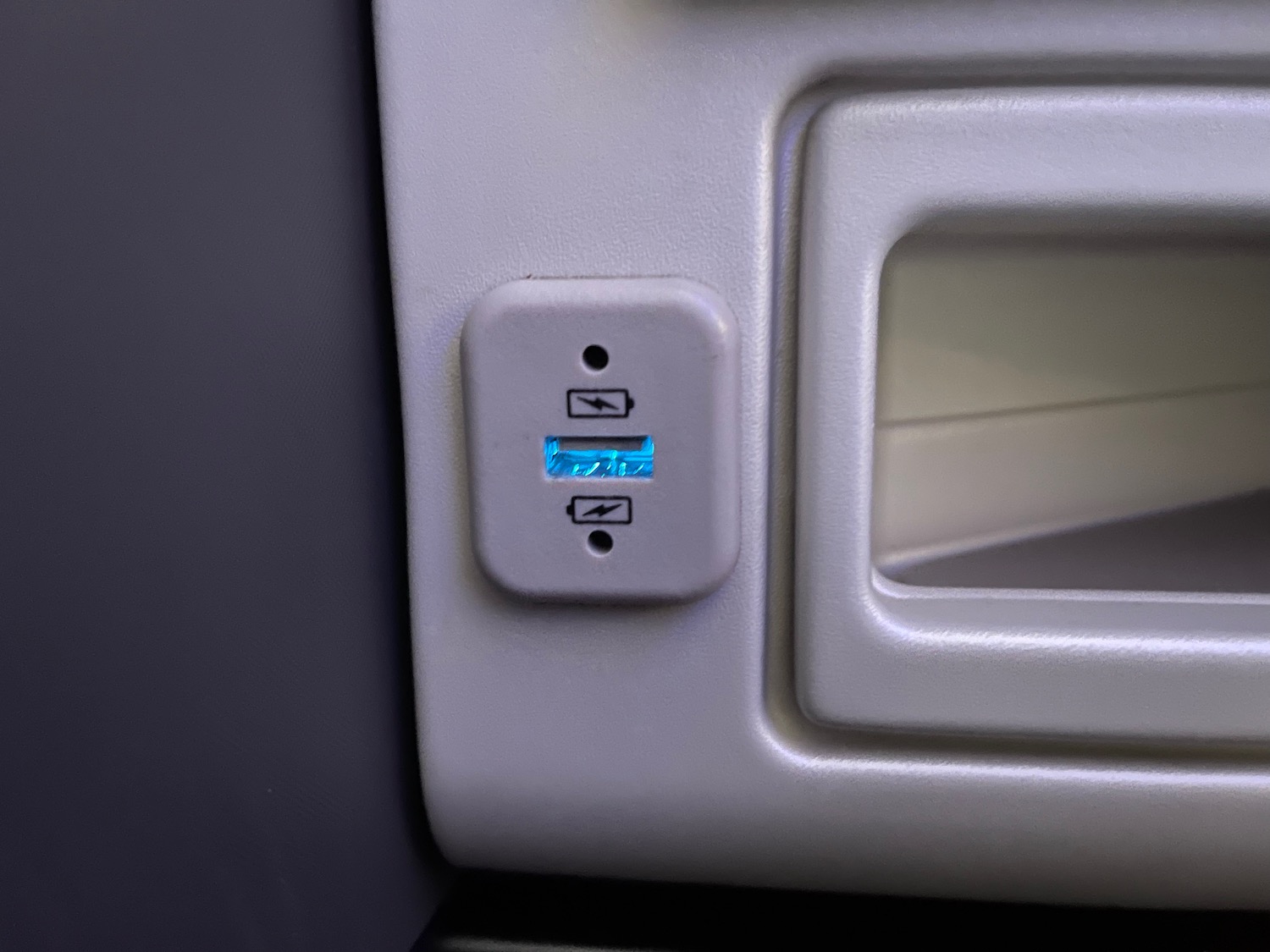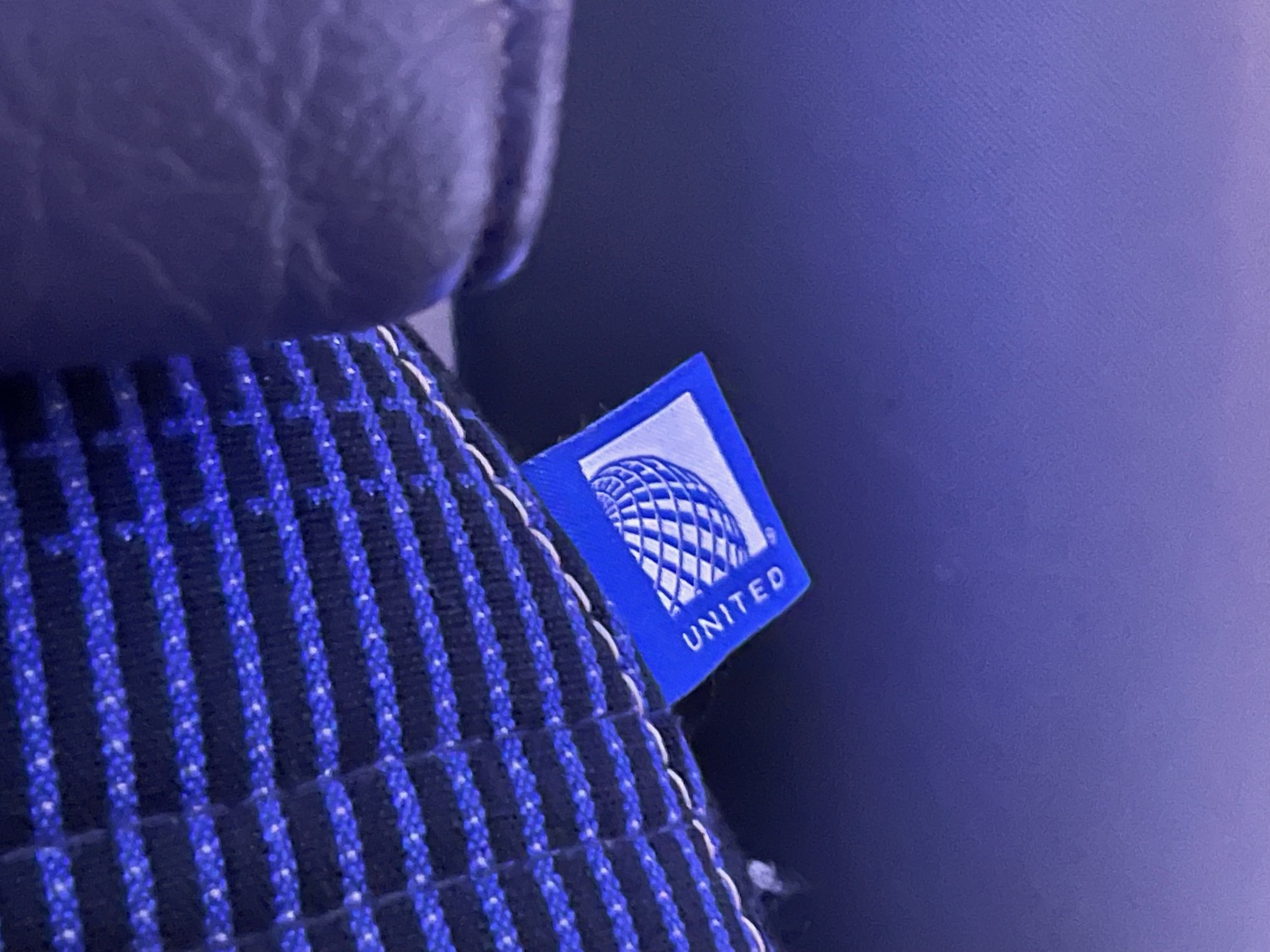 I mentioned that I was in a center section seat. If you're not traveling with a friend or loved one, you can raise a privacy barrier between the two seats and won't even see your seatmate.
One concern I noticed is that my particular seat did not seem to be aging very well:
Simply put, the seat is very comfortable for sleeping and I slept well. Dinner concluded with 6 hours, 19 minutes to go and I slept soundly until about one hour before the flight, awakening briefly at one point and taking the picture below, but then going right back to sleep.
United still offers a small throw blanket to business class passengers, but starting on October 5, 2022, it will offer a duvet, which represents quite an upgrade.
Food + Drink
Dinner was served after takeoff and breakfast before landing. United does not vary its menu much these days but offers a unique menu on its flights to and from Hawaii.
Pre-departure beverages were offered in a plastic cup.
Service began with a choice of beverage and mixed nuts after takeoff.
That was followed by a single-tray service, with a main course choice of chicken katsu with curry sauce, broccolini, and steamed white rice or crispy Hawaiian garlic-tofu with Huli-Huli cauliflower, sesame rice, julienne nori, garlic, Fresno chili and Thai chili sauce with chopped pineapple.
I'm thankful the curry sauce was put on the side, because the chicken katsu was fine without it. While not my favorite dish in the United line-up, it was nice to have something different.
Dinner was served with "mini Korean-style kimbap spam musubi with teriyaki mayonnaise and crispy Maui onion strings. I skipped it. The dessert was Hawaiian guava cake.
As I mentioned, I slept until an hour before landing. When I awakened, somehow Diana noticed and within moments served me breakfast, a choice of eggs with scallions, steamed white rice, Portuguese sausage, and cherry tomatoes or a breakfast protein bowl with Swiss cheese, cheddar cheese, almonds, hard-boiled egg, and a side of chilled coconut chia seed oatmeal with mango. I chose the eggs, which were served with a side of fruit and croissant. Again, a nice breakfast and something different than the usual choices.
Service
The star of the flight was the lovely Diana, who took amazing care of me and all the passengers on my side of the cabin. She addressed me by name the entire flight, was incredibly attentive (like coming over to me as I was waking up). What a testament to United…and want to know something? She had been flying for United since 1968. What an amazing woman…I am going to dedicate a post to her tomorrow.
In my many years of flying United, the Honolulu-based crews are the best in the system.
Lavatory
I changed into my pajamas for this flight and found the lavatory clean. On the 777, there's a larger lavatory (to accommodate handicapped passengers) near door 2L, but I just used the one on my side.
IFE + Wi-Fi
Seatback screens offered movies, TV shows, games, and music.
Channel 9 (air traffic control communications) was available in theory but turned off.
I also noticed there was live news, something I have not seen in the past:
Noise-canceling headphones are not particularly comfortable or uncomfortable, but functional.
Wi-Fi internet was available, again priced at $8 for the entire flight for MileagePlus members or $10 for non-members. Messaging apps were free of charge.
Amenity Kit
A packaged amenity kit featuring lip balm, and eyeshade, and a dental kit was sitting on each seat. To minimize waste, I did not open mine.
CONCLUSION
This was a very solid flight with decent food and excellent service. My one major complaint–the small blanket–will be addressed next month with the return of duvets to this route. Hopefully United will also bring back mai tais onboard at some point. Overall, it's great to step onto a flight in Honolulu, enjoy dinner, and wake up in Chicago the next morning.