Last week I spent an afternoon and evening in Tijuana, Mexico. This border town in Baja California remains open during the pandemic for essential purposes and I want to address what to expect in terms of crossing in both directions. Hopefully this guide will be helpful in your travels across the U.S. – Mexico border.
Guide: Crossing the U.S. – Mexican Border Into Mexico
Last time I entered Tijuana was 2005. Back then, my brother and I simply walked through a turnstile over the border. There were no formal checks. This time, there was an official check.
The main border checkpoint is at the San Ysidro Transit Center. From San Diego, you can take a blue line train (locals call it "the trolley") directly to the border, a journey of roughly 30 minutes. From there, you are directly at the border crossing into Mexico. We drove down and left our car in a nearby parking lot.
You'll go up a very gradual hill, though a small building.
Then you'll walk a bit further down another path in no man's land between the two nations before coming to a final point-of-no-return turnstile with a sign clearly indicating you are entering Mexico: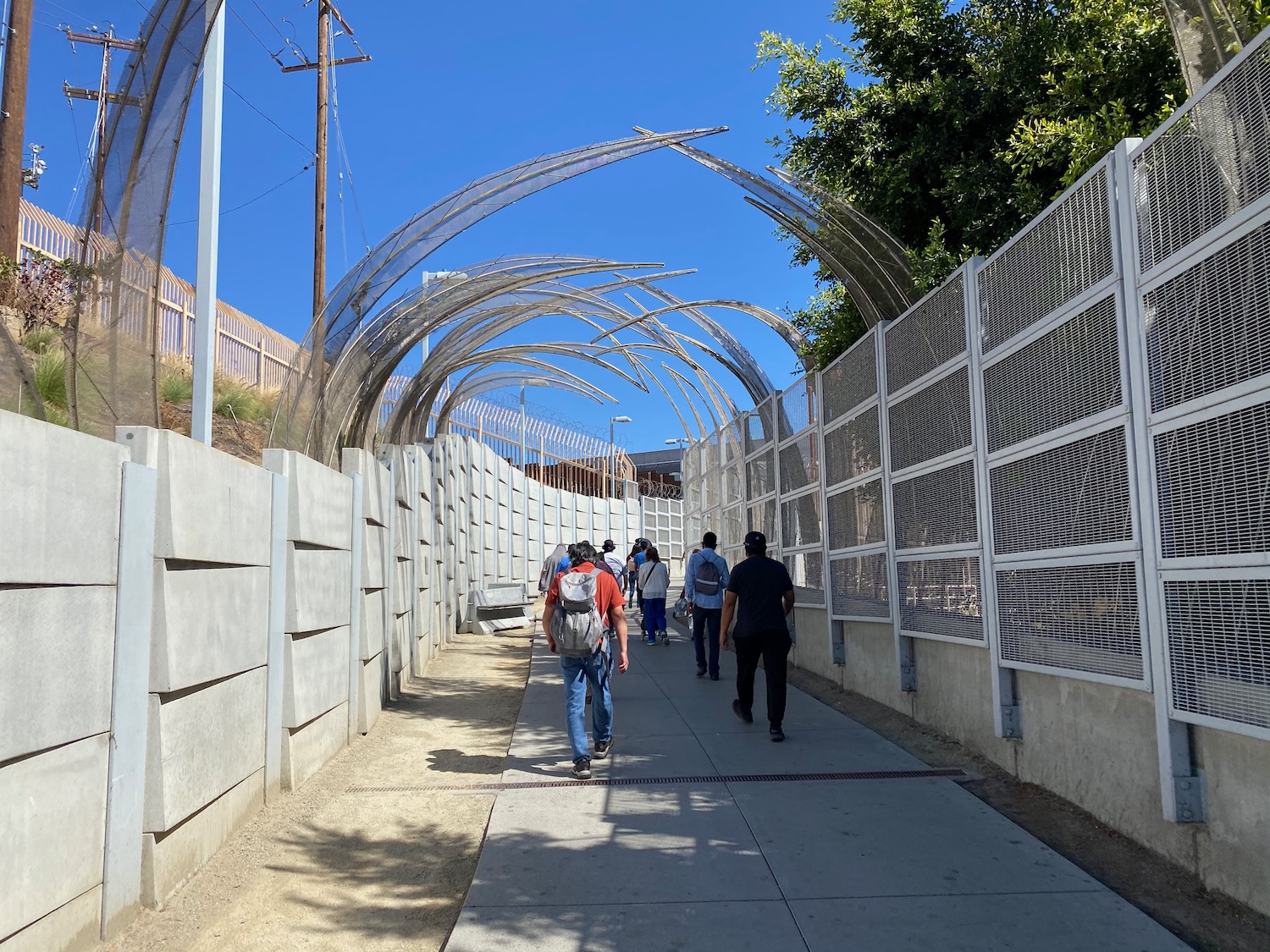 Inside is passport control and customs. Your passport will be examined and you'll be stamped into Mexico. Your luggage will then be examined. Please note tourism is not currently permitted in Mexico.
Once out, you'll come out to a walkway, still in a secure area adjacent to the highway heading back into the United States.
Walk a bit further and you'll come to one more turnstile and then you'll really be out (expect taxi touts). Head right if you want to talk to downtown Tijuana, which is an easy walk and does not require a taxi.
Guide: Crossing the Mexican – U.S. Border Into The United Sates
Typically, there are three pedestrian crossing sections open from Tijuana back into the United States. One is called PedWest and is currently closed. There's also the Cross Border Express which connects Tijuana Airport (TIJ) to the USA, but is only for travelers to/from TIJ. Then there's the San Ysidro Port of Entry adjacent to the car lanes entering the United States.
We got there about 6:30PM and found a huge line. Observing it for several minutes, we saw it was not moving. Not at all. The CBP website indicated only a 55-minute wait, but it looked much longer, snaking back for nearly a mile.
Opportunely, a man approached us (we clearly stood out as gringos).
Señor. You'll wait three hours in this line. I can get you over the border in 10-15 minutes for $20 each. We'll use this special government lane…
I had no desire to wait three hours in line, so we continued to listen.
Let me take you there. You'll be back over the border in no time at all. Just $20 each.
I told him I'd give him $10/each.
He countered at $15.
I inisted upon $10.
He said okay.
Taking our cash, he handed us two shuttle tickets for a company called SDTJ. He then escorted us about two blocks away to a little bus depot where were loaded up unto a shuttle. By the way, the tickets were $7 each there, so I didn't feel too bad…
The Delay
Then we sat there.
And sat.
And waited.
Finally, the shuttle filled up and we took off. Using the far right lane we pulled all the way up to the border gate, then stopped.
And sat.
And waited.
For 25 minutes.
A girl sitting behind us started smoking. The driver let on a guy who was hawking Aguas Frescas.
Meanwhile, the pedestrian line started moving…quickly. 25 people were let in at a time and during our wait at least 125 people were let through the gate.
I also noticed that some people just cut the line by flashing a card.
Little did I know (stupid, stupid me) I just need my Global Entry card.
If you have Global Entry, you can use the SENTRI lanes and simply line-cut.
I would have just hopped out of the bus right then and there, but my wife doesn't have her Global Entry card…yet.
Finally, the bus was cleared to pull through. We pulled up to a parking lot in the no-man's-land between the two nations and were escorted out through prison-like doors into a long corridor leading to the immigration hall.
Again, we waited.
Finally, the line began to move again and we soon found ourselves inside the immigration facility.
Another 10 minutes later and we made it to the front of the line (there were about a dozen lanes and only two were open). After a cursory check of our passports, were were welcomed home and found ourselves back outside in the transit plaza.
CONCLUSION
My biggest mistake on the return: not using the Global Entry line. I'm adding the physical card to my passport case and will be ready for future trips. Even if I only saved us 30 minutes I think that was still worth the $10 each to use the shuttle. Overall, though, the process could have been much worse. Remember, essential travel only right now.