My new favorite lounge at New York (JFK) is the Virgin Atlantic Clubhouse. The lounge may not be what it was prior to the pandemic, but it remains a top notch lounge with superb staff, food, and drinks.
Virgin Atlantic Clubhouse New York JFK Review
Access + Hours + Location
This lounge is located in JFK Terminal 4. After clearing security, head downstairs and walk down the A-Concourse toward gates A4 and A5. There, you'll find stairs or an elevator going upstairs. The lounge is next to lounges from Emirates and Air India.
Currently, the Clubhouse is open from 5:00am to 10:30am and 2:00pm to 10:30pm daily. The website indicates an 8:30am closing time, but the lounge is open later because it is used by EL-AL for its 11:00am departure to Tel Aviv.
It then closes and re-opens promptly at 2:00pm.
Access is reserved for:
Passengers travelling in Virgin Atlantic Upper Class
Flying Club Gold members traveling with Virgin Atlantic
Passengers traveling in Delta One (longhaul business class)
Delta SkyMiles Diamond Medallion card holders*
Delta SkyMiles Platinum Medallion card holders*
Delta SkyMiles Gold Medallion card holders*
Singapore Airlines KrisFlyer Elite Gold members and PPS card holders*
Flying Blue Platinum card holders*
Flying Blue Gold card holders*
Virgin Australia Velocity Club Gold card holders*
Virgin Australia Velocity Club Platinum card holders*
Virgin Australia Velocity The Club card holders*
American Express Platinum or Centurion credit card holders
Capital One Venture X credit card holders
*when traveling on a Virgin Atlantic flight
The lounge is now managed by Plaza Premium, hence the access for AMEX and Capital One cardholders. Simply present your card and scan your boarding pass.
Seating
This is large and stylish lounge with a swanky seating area in the center of the lounge with a mix of chairs and end tables…plus a pool table.
Behind the bar is a dining area and then dozens of tables and chairs which line the windows.
On the other side is more seating, including chairs with small round tables and couches.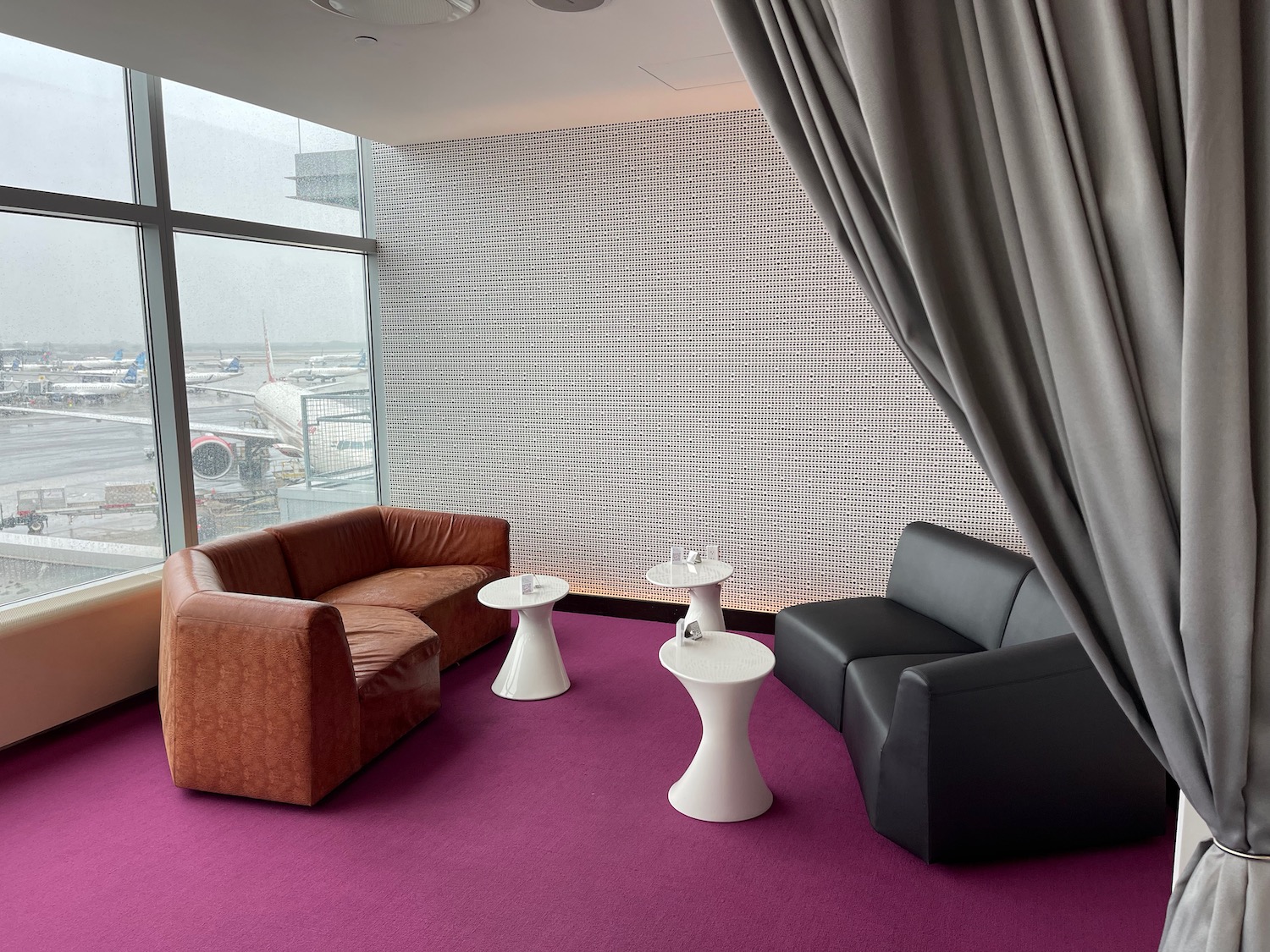 I spent a lot of time in this lounge and the most crowded it got was about 3:30pm, as passenger arrived for the evening services on Delta and Virgin Atlantic.
Food + Drink
The Virgin Clubhouse at JFK lounge offers an extensive a la carte menu for breakfast and for lunch/dinner. Paper menus are available and you can order via a lounge staff member, or you can use a QR code menu and order from your phone. In either case, I found the meal service to be prompt and the food worth eating.
Here's the breakfast menu:
I ordered eggs Benedict and a bowl of fruit for breakfast, with a flat white.
The lounge offers a nice selection of coffee drinks made by a barista.
During  my stay, I enjoyed several flat whites…
I had a long day of work and returned in the afternoon to see if the lounge experience was any different in the afternoon. It wasn't. Here's the lunch menu and drink menu:
I skipped the alcohol and stuck to coffee and water, but did enjoy a multi-course lunch, including a beet salad, pea and mint soup, and Mediterranean cod. All food was superb (I was skeptical when the cod arrived breaded, but it was a nice piece of fish).
I finished lunch with a cheese plate.
Note, there is no buffet in this lounge at JFK and even drinks are not self-serve, with the exception of small self-serve coffee and tea station near the lounge entrance.
Restrooms + Showers
Restrooms and showers are available in the rear of the lounge. Just look for the hallway with mood lighting which changes every few seconds to a new color.
Shower suites include body wash from Ren and shampoo plus conditioner from Aveda. Ask a shower attendant for a towel. While the showers were empty in the morning, there was a waiting list later in the day.
Spa
This lounge once offered a full-service spa with services ranging from massages to manicures to haircuts. Those days are probably over. That part of the lounge was closed off during the pandemic and I was told by one staff member that it is very likely to ever re-open. Currently, the area is just blocked off.
Service
I found the service in this lounge outstanding in the morning…and less so in the afternoon. In the morning, Devina took care of me. What a pleasure she was to interact with. Kind, witty, and attentive, we had a nice conversation and I greatly appreciated her excellent service. Every time she noticed my coffee was getting low, she would make me another one!
In the afternoon, the lounge staff member who delivered food (I ordered off the app) really just put the food down without a word…no smile, no checking back to see how the food was or if she could bring anything else (as Devina had done).
Luggage Storage
If you're staying for awhile, you can leave your luggage in a baggage storage area just past the lounge entrance.
CONCLUSION
In terms of clubhouse lounges, the Virgin lounge in London Heathrow is still my favorite. But the Virgin Atlantic Clubhouse JFK remains a top notch airport lounge and I'm happy to report that the Plaza Premium management may have cut back some amenities, but it is still one of the few lounges worth showing up early for. I look forward to returning.