Last week, JetBlue introduced a new soft product refresh for its Mint business class product. I was already scheduled to travel from Los Angeles to West Palm Beach and was elated to find out that my flight would feature the new product. Here's the review in a nutshell: the new JetBlue Mint soft product is amazing while the suite and service also remains fabulous.
JetBlue A321 Mint Business Class Review
The one-way ticket was $710. Pricing varies from ~$500 to $1400 based upon loads to West Palm Beach. JetBlue tends to reduce pricing at the last-minute if seats remain unsold.
Check-In
I had checked in the night before using the JetBlue app, but proceeded through the check-in lobby on my way to the gate. A dedicated line for Mint and Mosaic passengers was available.
Boarding
It was a beautiful day for travel and I lined up early to board, hoping I could quickly snap a few pictures before others boarded. JetBlue offers wipes upon boarding rather than onboard.
I darted down the jet bridge and onto the aircraft, but ended up having several minutes to myself. Why? The faucet in the forward lavatory was found to be inoperable and maintenance was called onboard to fix it, slightly delaying further boarding.
I took advantage of the time to snap several pictures onboard. The Mint cabin remains a great product for transcontinental travel.
B6 2010
Los Angeles (LAX) – West Palm Beach (PBI)
Friday, November 20
Depart: 08:20AM
Arrive: 04:12PM
Duration: 4hr,48min
Aircraft: Airbus A321
Seat: 4F (Mint Business Class Suite)
Both Angel and Tamika offered a warm greeting upon boarding as I stepped into the cabin. I knew it would a great flight.
Seats
JetBlue's A321 Mint configuration includes 12 flat bed seats plus four suites in five rows (16 seats total). The odd-numbered rows contain two seats on each side while the even numbered rows contain suites with closing doors. The seats themselves are not much larger, but these so-called "throne" seats have additional storage and elbow room. The "suites" have an extra 1.5 inches of width (22 versus 20.5) and the bed is slightly longer.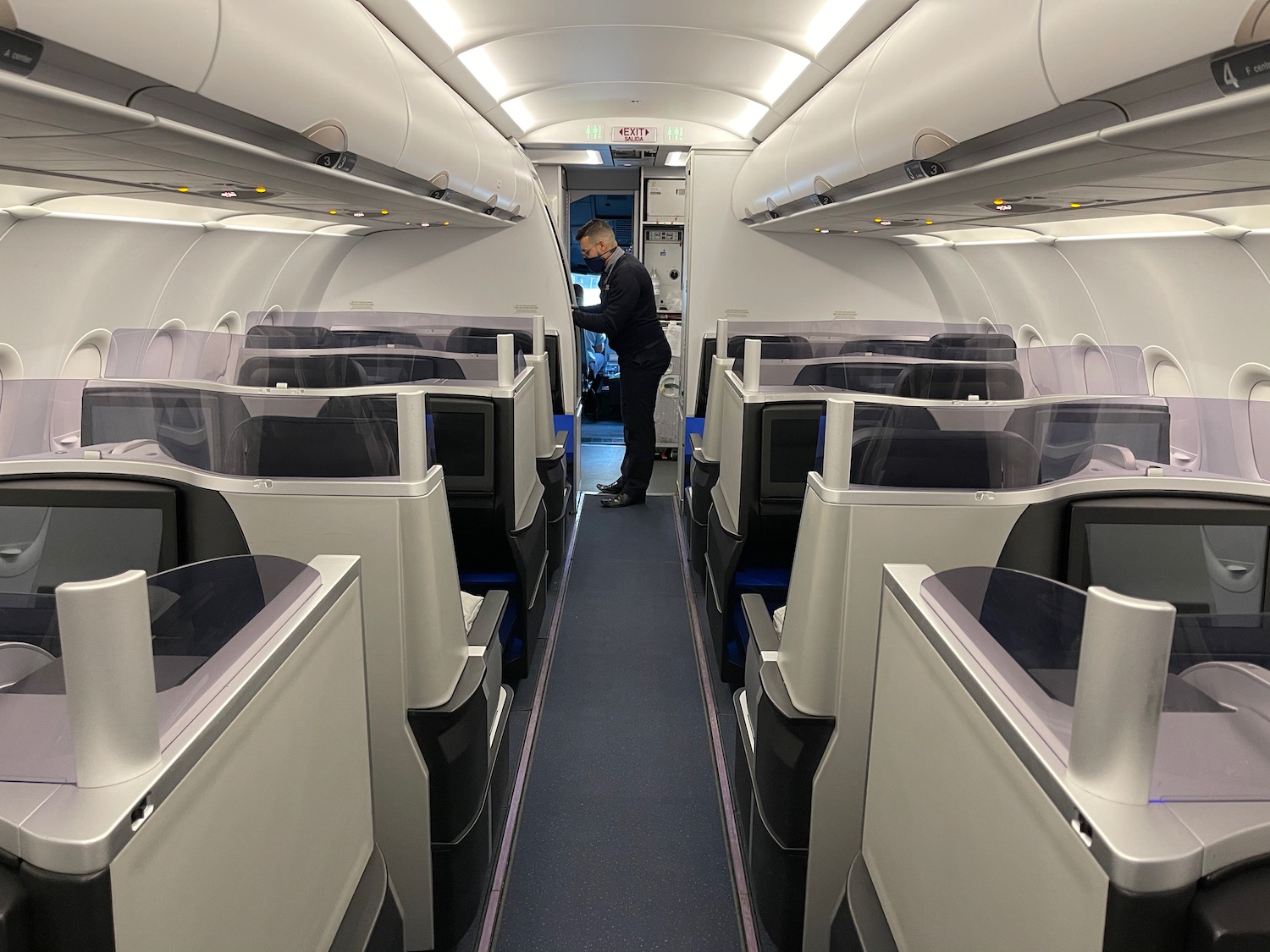 There are many things I love about the JetBlue suites, but I love the personal storage (a closable cabinet large enough for all your electronic items and even a small purse), a special storage pouch for your mobile phone(s), and three electrical outlets, which make charging multiple devices quite easy.
Seats can be adjusted in many ways, including the firmness of the cushion. There's also a massage function.
I also appreciate that the tray table folds out from the side rather than slides down from below the screen, which provides additional knee room. The suite door is activated by pressing a button adjacent to the tray table.
Bedding
Tuft & Needle bedding includes a blanket duvet with a "built-in foot pocket" as well as a memory foam lined pillow. The flight was too short to take an extended nap, but I did set up the bed and snuggled in the bedding for a few moments. The bedding was plush and warm, which should not be an issue because individual air nozzles are available above the seat.
IFE
JetBlue offers complimentary wi-fi internet to all guests, with enhanced speeds for TrueBlue members. All you need is the email address associated with your account to log on.
Live TV, movies, SiriusXM music, and TV programming is also available onboard. I'd say the system is due for a refresh in that resolution is constrained and the map app looks 10+ years old, but what a blessing to have versus nothing at all. I loved being able to get a start on Christmas music on SiriusXM!
New over-ear headphones from Master & Dynamic were offered, though Tamika noted that even better headphones are enroute and will become part of the soft product.
These headphone were collected about 30 minutes before landing and disposables headphones were offered.
Amenity Kit
JetBlue refreshed its amenity kits and now offers one of four depending upon the destination and time of day:
Awake, for breakfast and morning flights
Flow, for lunch and dinner flights
Sleep, for "shuteye" redeye flights
Renewal, for Caribbean flights
My "Awake" kit included:
Ursa Major face wipe
Crushed Tonic anti-aging collagen elixir crush (drinkable)
Scentered citrus + mint aromatherapy balm
Lumion face mist
NeruoMint mints
Food + Drink
The highlight of the flight, for me at least, was the culinary experience. Breakfast is my favorite meal of the day, so I chose to fly Mint on the outbound rather than on the (longer) return, since I love starting my day off with a big breakfast and great coffee.
Pre-flight beverages are currently not available (water bottles were distributed). Neither are hot towels. But everything else onboard concerning service was like pre-pandemic times.
Menus were handed out which listed breakfast options.
A separate drink menu:
To encourage social distancing, Angel instructed us to mark our choices directly on the menu. He collected the menus after takeoff while offering the first round of beverages.
Breakfast began with a flaky, hot, raisin pastry. I ordered a cappuccino with it (coffee from Brooklyn Roasting) and it was strong and hit the spot.
About 25 minutes later, breakfast arrived. I ordered avocado toast (with radish, cilantro, and lime), lemon soufflé pancakes (with raspberries and thyme-infused syrup), and leek & ricotta quiche (with parmigiano and herbs).
Breakfast arrived covered:
Peeling back the covers, my eyes lit up: what a visually appealing breakfast! And it tasted great too.
When clearing my tray, Angel asked me if he could get me anything else and I asked if I could try the macerated strawberries in balsamic vinegar. With a smile, he said "of course" and brought me back a bowl of strawberries on a half-sized tray.
Cocktails
During the flight I tried both cocktails, starting with the black maple old fashioned. That included Jack Daniel's whiskey, maple, bitters, and an orange peel. Lovely.
While using the lavatory, I saw that the cocktails were mixed fresh onboard:
Later on, I also tried the Mint Condition, which included Bombay Sapphire gin, ginger, lime, cucumber, and mint. This was light and refreshing.
Toward landing, I requested coconut yogurt (served with maple pecan ginger granola) and was again cheerfully obliged. I'm not sure how much extra food JetBlue loads, but noticed the pilots and flight attendants consuming it at one point so I figure there is plenty and the leftovers serve as crew meals.
Before landing, a snack basket was also offered that had the same crackers and cookies served in economy class, but also chocolate covered cashews from the Hu Kitchen in New York.
I also enjoyed a wonderful espresso before landing…it was even better than the cappuccino.
One area I think JetBlue could improve would be offering cold pressed juices or at least fresh squeezed orange juice with breakfast. JetBlue offers cold pressed juices only on overnight "shut eye" flights.
But that is a minor quibble…overall, the food is spectacular onboard compared to what you can expect on any competitor (even before the pandemic).
Lavatory
Nothing fancy about the lavatory, though it was clean. I'd love to see JetBlue use cloth towels in Mint class. They could even be mint-scented!
Service
If it was not already evident, Angel and Tamika did a fabulous job working the Mint cabin. Their training was clearly on display and it was also clear they loved their jobs. That sort of care is something that cannot be faked or trained. I appreciated that, without fail, every time I said "thank you" they responded "my pleasure," instead of "you're welcome." It was also great to see them so attentive throughout the flight. I appreciated their warmth and good nature greatly.
A shout out to Captain Brian as well. He cracked me up before the flight when he walked into the passenger cabin (it's always a good sign to have an approachable captain), welcomed passengers onboard, and over the loudspeaker advised people to "keep your hands and feet inside the vehicle at all times."
Inaugural Service
Although I honestly had no idea when booking, this was the inaugural flight of JetBlue's LAX-PBI service. There was no announcement or even balloons at LAX, but we were greeted with a water cannon salute upon landing in Palm Beach…a second for me (the first time being the final United 747 flight).
CONCLUSION
Actual flight time was just over four hours, which was far too quick as far as I am concerned. I would have enjoyed a flight twice as long to fully enjoy the product. But JetBlue's Mint product, driven by the onboard dining and service, remains the best premium product in the United States. I was so thankful for a chance to fly this product again and hope to do so again in the future. JetBlue offers during the pandemic what U.S. legacy carriers failed to offer during the best of times.