The Park Hyatt Paris-Vendôme remains my go-to hotel in Paris and represents an aspirational property that miles and points help to make possible for so many travelers.
Park Hyatt Paris-Vendôme Review (Park Executive Paix View Suite)
My wife Heidi and I chose the Park Hyatt Paris without even looking elsewhere. It's our hotel in Paris. It's where we had our honeymoon and where we I've enjoyed consistently excellent comfort and service over the years as I've returned.
Note that my prior reviews, including of my 2014 stay, are still very much accurate. Not much has changed and that is a wonderful thing.
---
> Read More: Park Hyatt Paris Vendôme Review
> Read More: Park Hyatt Paris (Renovated Room)
---
Booking
The hotel is 35,000 to 45,000 World of Hyatt points per night, depending upon the day. Award space is scarce during this time of year. I used my expiring Globalist free systemwide night that I earned in 2019 and had been extended in 2020. We decided not to use a confirmed suite upgrade since it was just two two of us and we were only staying for one night.
Common areas are on the smaller side, but beautiful.
Suite Upgrade
Ironically, though, we were upgraded to a beautiful suite (room 333), which marked my first ever suite upgrade at the hotel (in five stays), the Park Executive Paix View Suite.
I love the style of the guest rooms at the Park Hyatt Paris-Vendôme and most of all I love the statues in the room from French sculptor Roseline Granet. The suite included a living room with couch, chair, desk, and fireplace (decoration only).
The bedroom included a terrace with a prime view of Rue de la Paix and the Vendôme Column.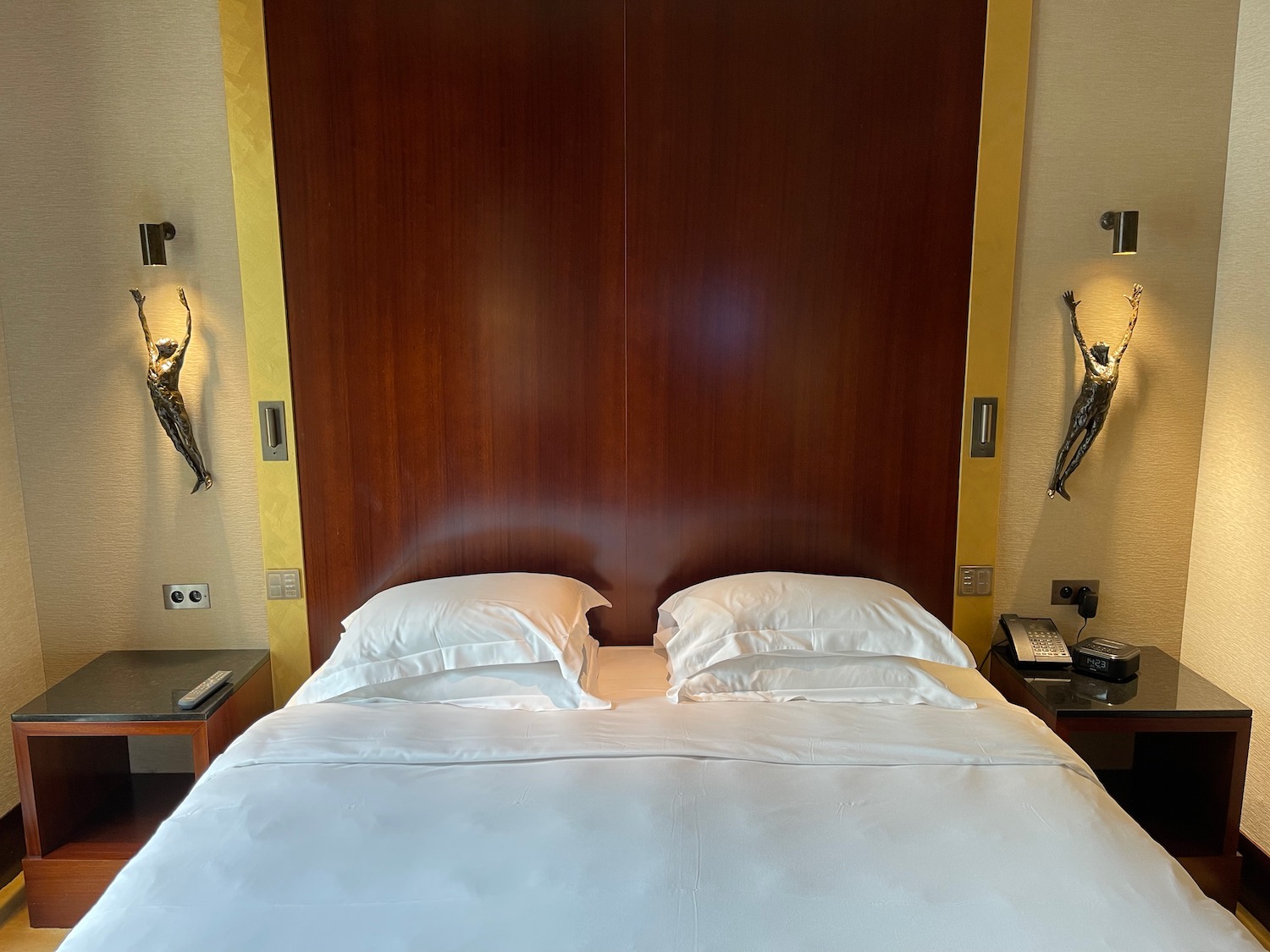 The bathroom was a huge with a large closet area, two sinks, and a separate shower and bathtub. Furthermore, the toilet featured a built-in bidet.
There was also a small guest toilet.
It was a lovely room and now I'm spoiled!
The hotel asked if we were celebrating anything special and I mentioned that we were returning to where we had spent our honeymoon. While we were out the Louvre, the hotel sent up a bottle of red wine, which was a nice touch.
The room featured a fully-stocked minibar as well as a Nespresso espresso machine, which my wife and I took full advantage of.
Great water makes all the difference in terms of coffee and we were provisioned with several bottles of Evian water.
Lights are controlled by push-button and the hotel has added a box to the desk with two USB-A chargers.
Fitness
Heidi and I do not skip workouts and it was great to use the fitness center, which has expanded nicely we first stayed here. It is located on the lower level and features modern TechnoGym equipment. We worked out before dinner our first time and in the morning before breakfast our second day.
Spa
Heidi has embraced the sauna lifestyle thanks to a series of podcasts which convinced her of the health benefits of sitting in the sauna, so it is nice that I no longer have to go to the sauna alone. The sauna, steam room, and whirlpool are located in the spa area, also on the lower level.
You always meet interesting people in the sauna…I like the communal aspect of it as well. I had a nice chat with a Saudi businessman doing work in Paris. You probably won't find a man sitting with a woman in a towel in a sauna in Riyadh!
Breakfast at Café Jeanne
Even after eight years of marriage, my wife and I do not agree on room service. I love it, she doesn't. So instead of taking advantage of the lovely room service breakfast that is included for Globalists at this hotel, we got all dolled up (we were in Paris after all) and went down for breakfast in Café Jeanne.
There was no buffet (I think that is what Heidi was looking for!), perhaps still a pandemic thing, but we had a lovely breakfast by the fireplace and enjoyed excellent coffee, orange juice, fruit, eggs, and of course some French pastries. I just had scrambled eggs with bacon and avocado while Heidi had an egg white frittata with mushrooms inside and smoked salmon on the side. A great breakfast.
La Terrasse du Café Jeanne
The courtyard terrace is perhaps the most beautiful part of the hotel. It was closed for breakfast (and a bit too nippy anyway to eat outdoors), but I love this space and can recall many happy meals here over the years.
Location
Rive gauche ou rive droite? I just stay at the Park Hyatt. Certainly, the Park Hyatt is more convenient for some things more than others, but we found the location unbeatable for strolls through the heart of the City of Lights as well as our visit the Louvre.
CONCLUSION
It's really simple: this hotel is beautiful, comfortable, centrally-located, and recognizes World of Hyatt Globalist members well. While Hyatt has a large footprint of hotels in Paris, there is something very special about this hotel on an objective basis and certainly on a subjective basis for me. As I always say upon leaving, I look forward to returning.
---
This is part of my summer in Germany trip report.