From Houston to Washington I had the chance to fly on a 737 MAX 8 for the first time on United Airlines in first class. The return of seatback screens is a great addition to the aircraft and the mood light, fast wi-fi, and large overhead luggage compartments make this a very modern aircraft.
United Airlines 737 MAX 8 First Class Review
It is quite easy to get your steps in at Bush Intercontinental Airport in Houston. After landing from Los Angeles, we walked over to the KLM Lounge then walked back to our gate and added what seemed like thousands of steps…this is a massive airport that is quite spread out, yet I love that most terminals can be reached by foot.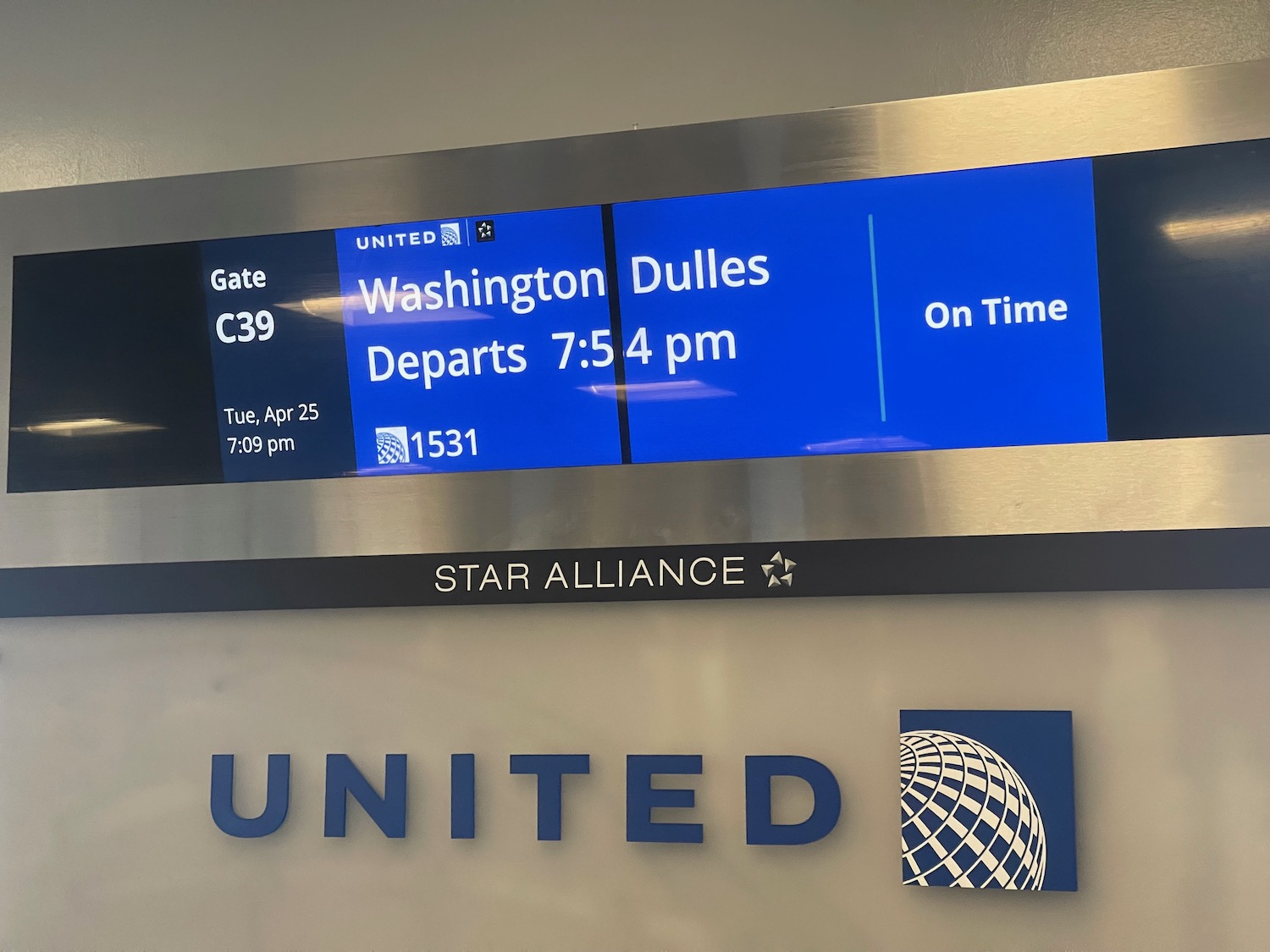 I was quite excited to board this plane, for it would be my first time onboard a 737 MAX 8.
United 1531
Houston (IAH) – Washington (IAD)
Tuesday, April 25
Depart: 7:54 PM
Arrive: 11:59 PM
Duration: 03hr, 05min
Distance: 1,190 miles
Aircraft: Boeing 737 MAX 8
Seat: 2F (First Class)
The crew, particularly the purser working the first class cabin, was superb on this flight and when she noticed that I was like a kid in a toy store, she invited me up to the flight deck, where the pilot welcomed me in and explained some technical details about the new aircraft.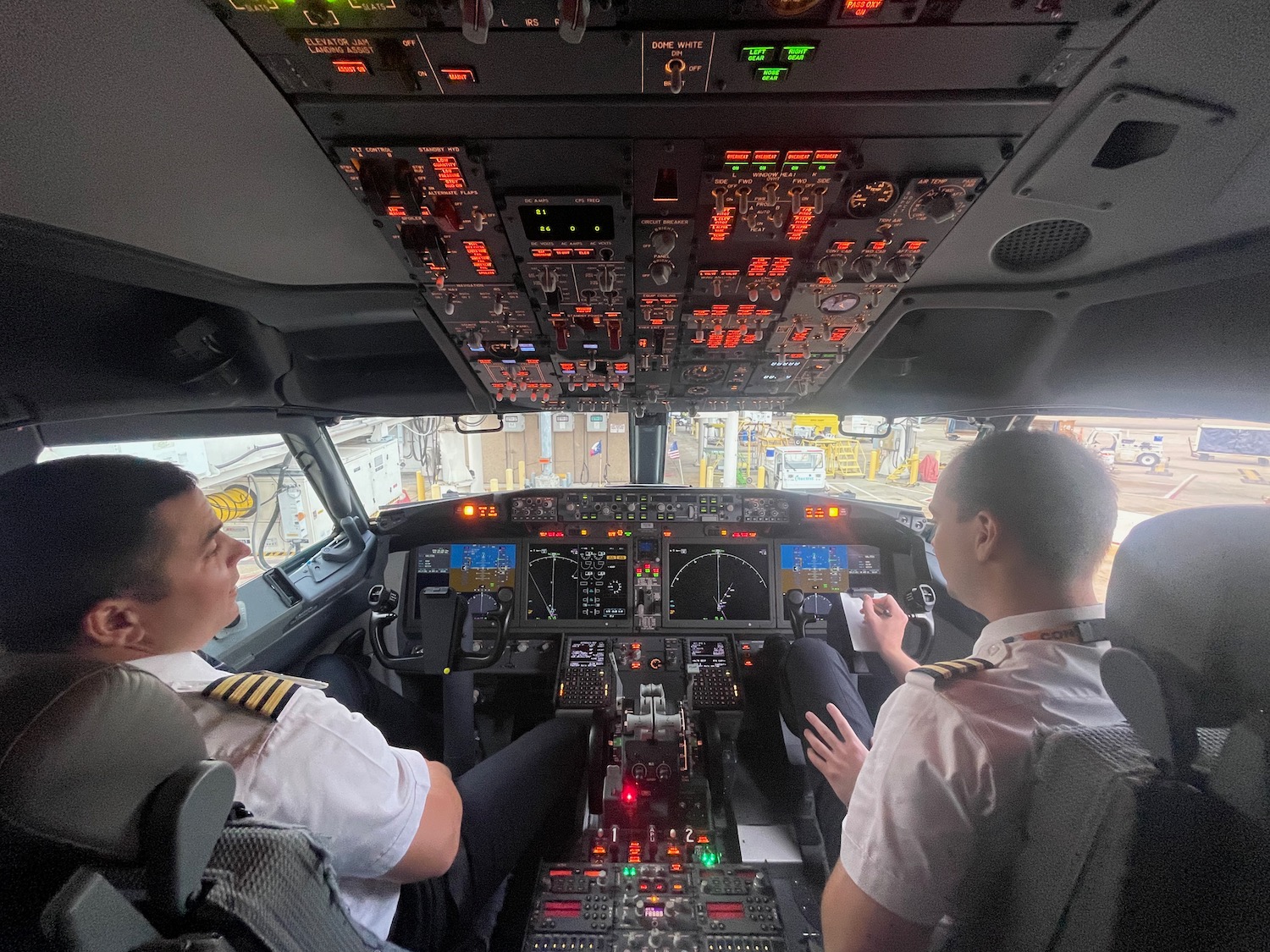 Seat
United's 737 MAX 8 features 16 seats in first class spread over four rows in a 2-2 configuration (meanwhile, the 737 MAX 9 features an extra row in first class, totaling 20 seats). United utilizes Safran articulated cradle seats that feature just under 37 inches of seat pitch, a 20-inch width, and a recline of about five inches. The seats are well-padded and comfortable for a three-hour flight.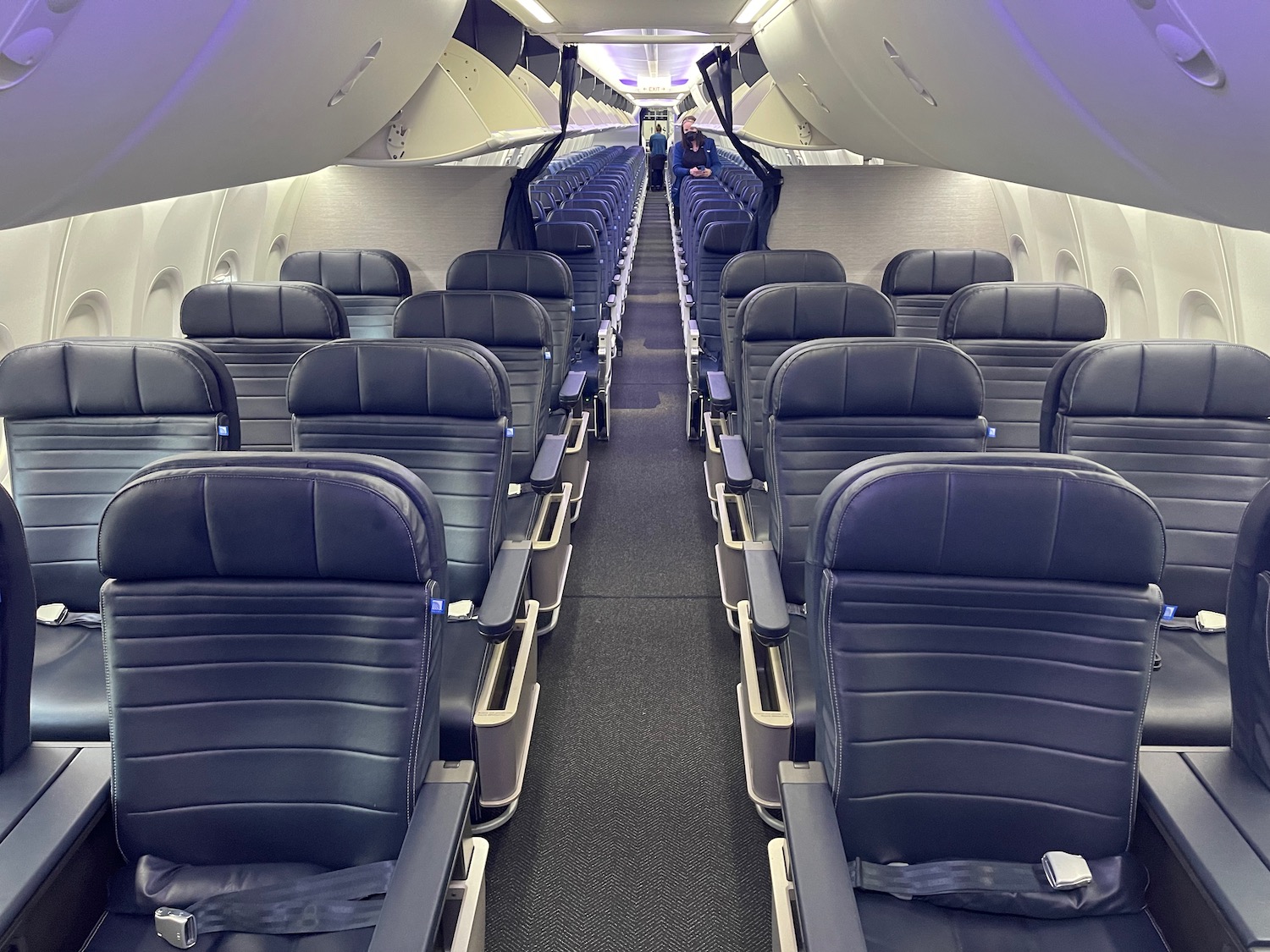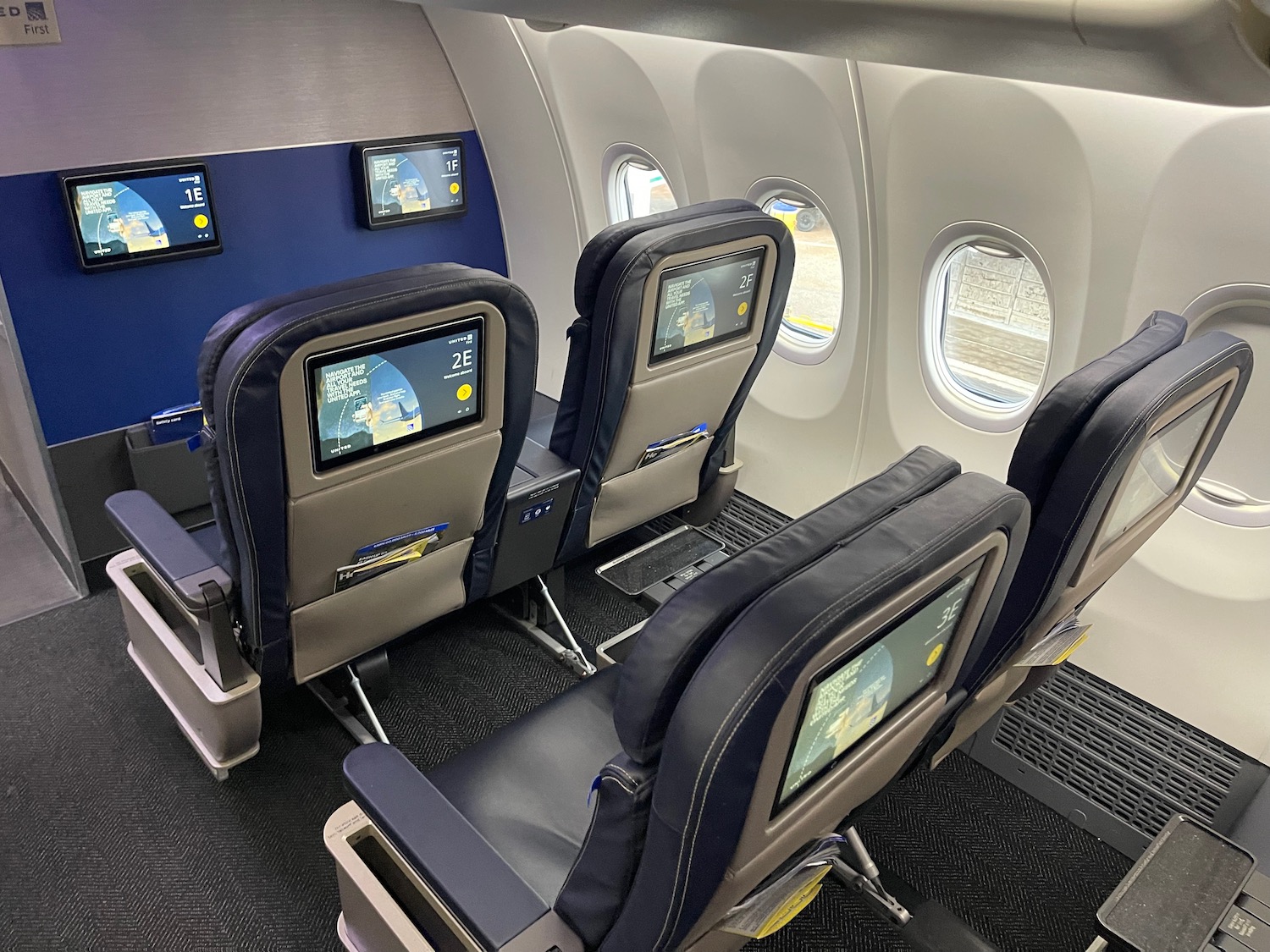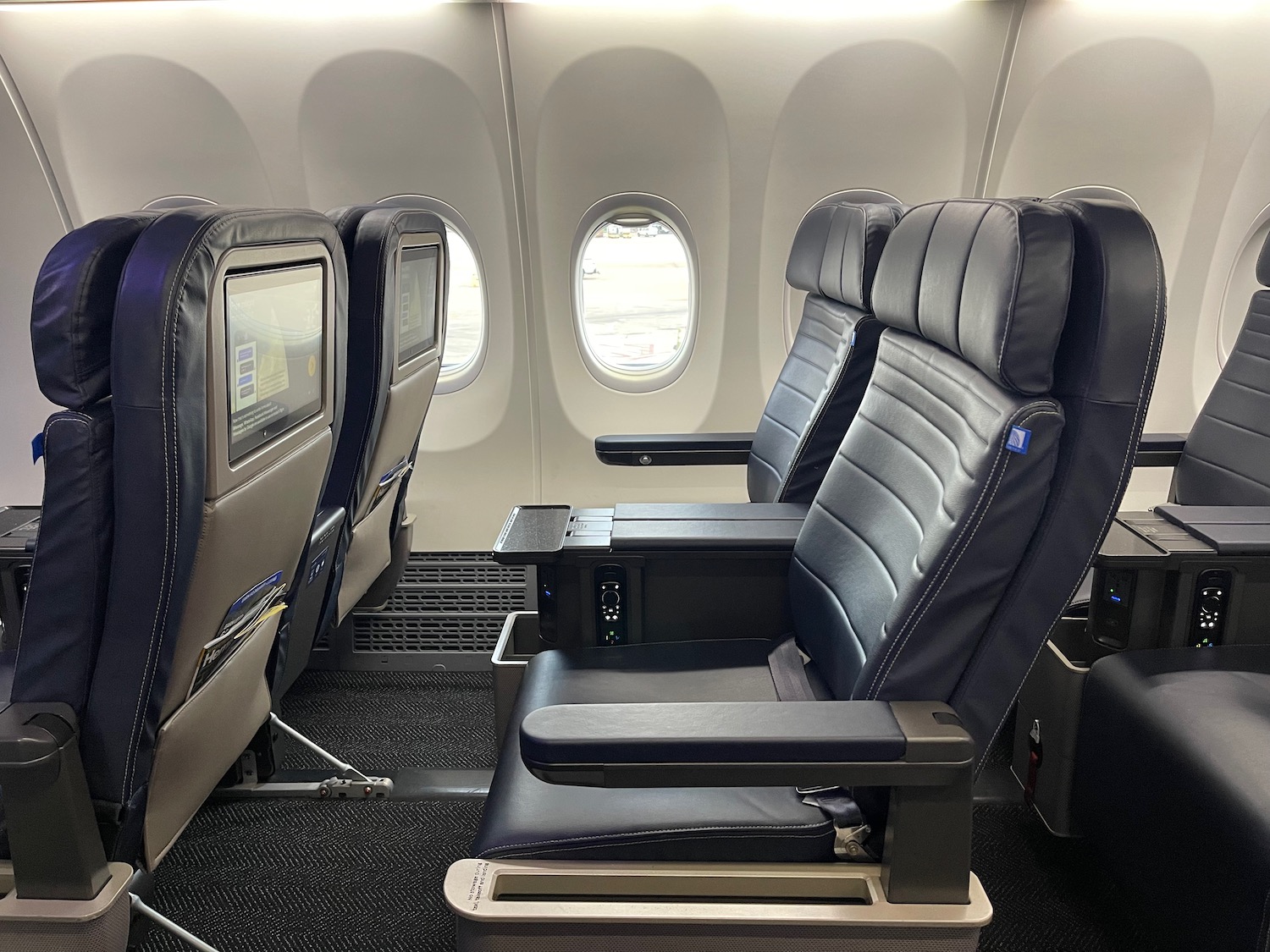 Tray tables are located in the center console and are a tad annoying to flip up and slide back (particularly when you must do the reverse when storing them). Each tray table has a little wing that flips up to prop you your phone or tablet.
There are universal power outlets, high-speed USB-A chargers, and limited personal storage between seats. There is also a storage compartment large enough for your laptop underneath the adjacent armrest (the armrest flips up for easier access).
Above, the console includes individual air vents and reading lights.
Speaking of storage, this aircraft features the next generation of overhead lockers that are roomy enough for large bags to be stacked on their side. Thus, no one had to gate check their carry-on bag.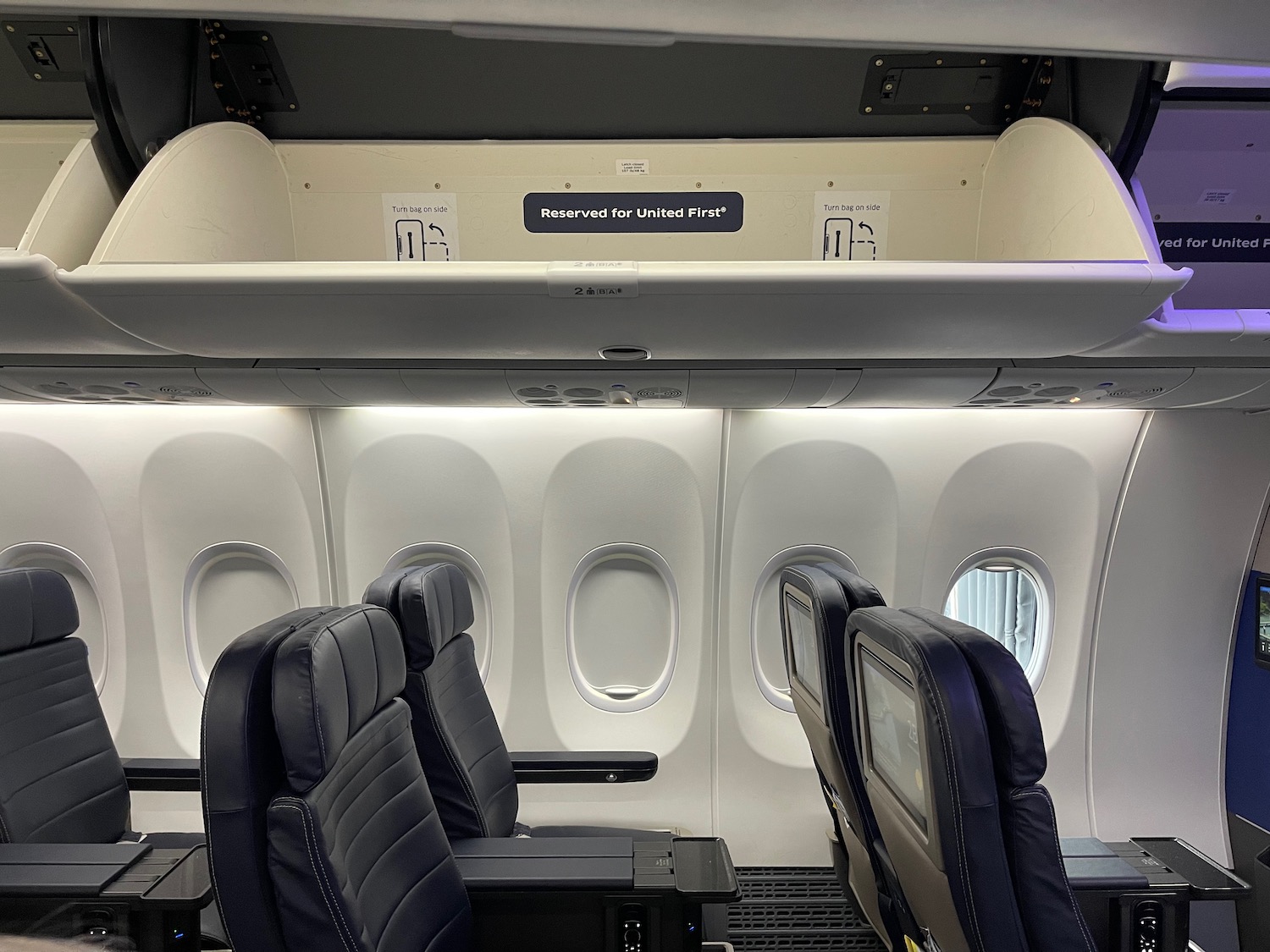 IFE + Wi-Fi
All seats on this aircraft feature an individual screen.
In first class, each HD screen is 13 inches and features a Panasonic IFE system. Unlike in prior models, there is also a passenger service unit (like a remote control) in each seat.
In the first row, the monitors are affixed on the bulkhead.
This IFE system not only includes hundreds of movies, TV shows, audio files, and games, but also news updates and the ability to connect your Bluetooth headphones (which is recommended considering what poor quality the free headphones are).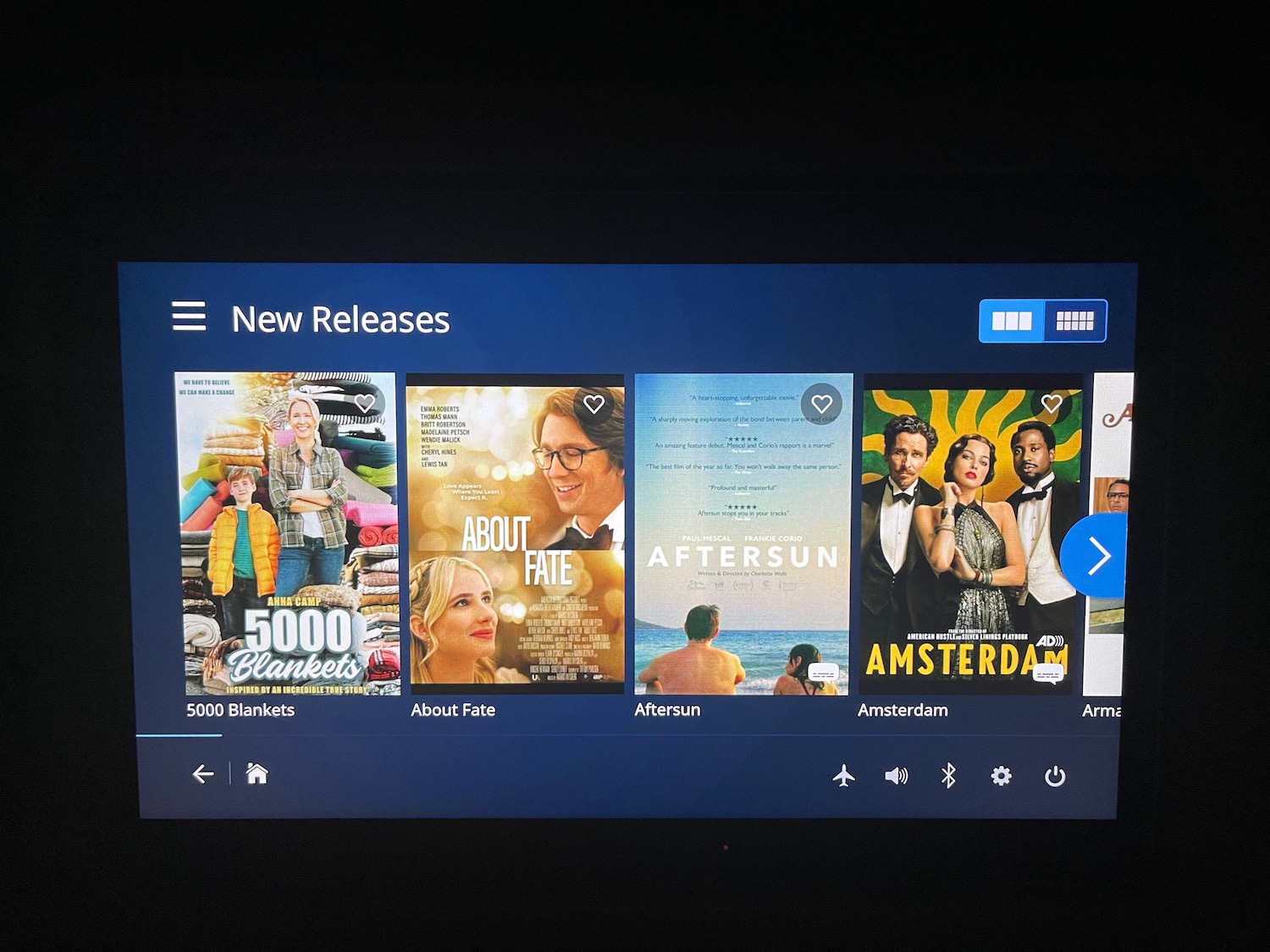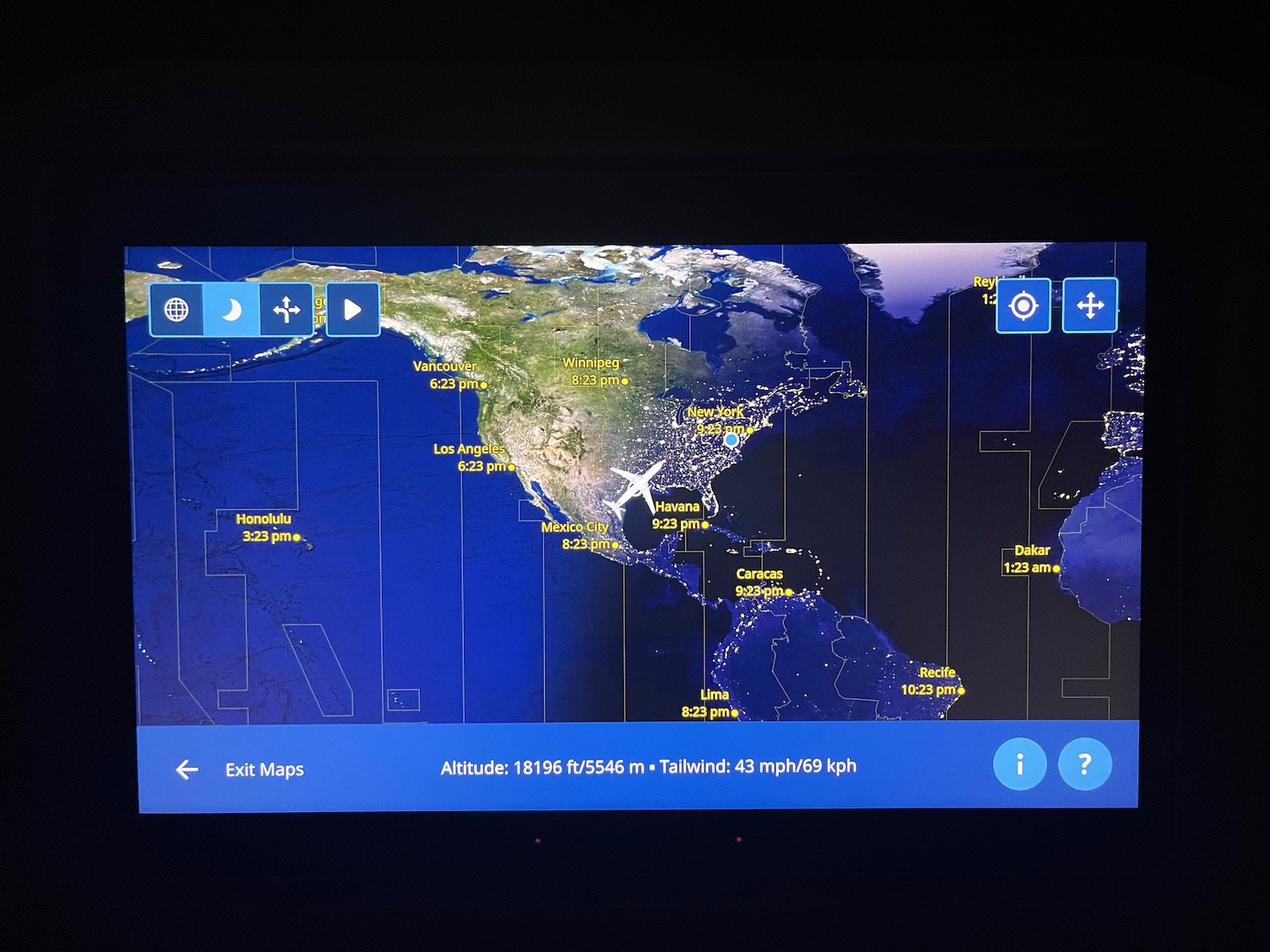 Wi-Fi is available onboard ($8 for MileagePlus members or $10 for non-members) and worked flawlessly during the flight. Select T-Mobile passengers can enjoy free internet onboard on their mobile device (one hour free for Magenta subscribers or unlimited for Magenta MAX subscribers). Messaging is free for all passengers.
Streaming IFE via the United app is also available.
At one point in the flight the IFE system went out and had to be reset. I guess the new system still has some kinks…
It was a beautiful evening as we departed Houston.
Mood Lighting
As far as I am concerned, nothing makes an aircraft look modern as much as mood lighting. I like "heavy" mood lighting and think the blue light is far preferred to the standard fluorescent lighting.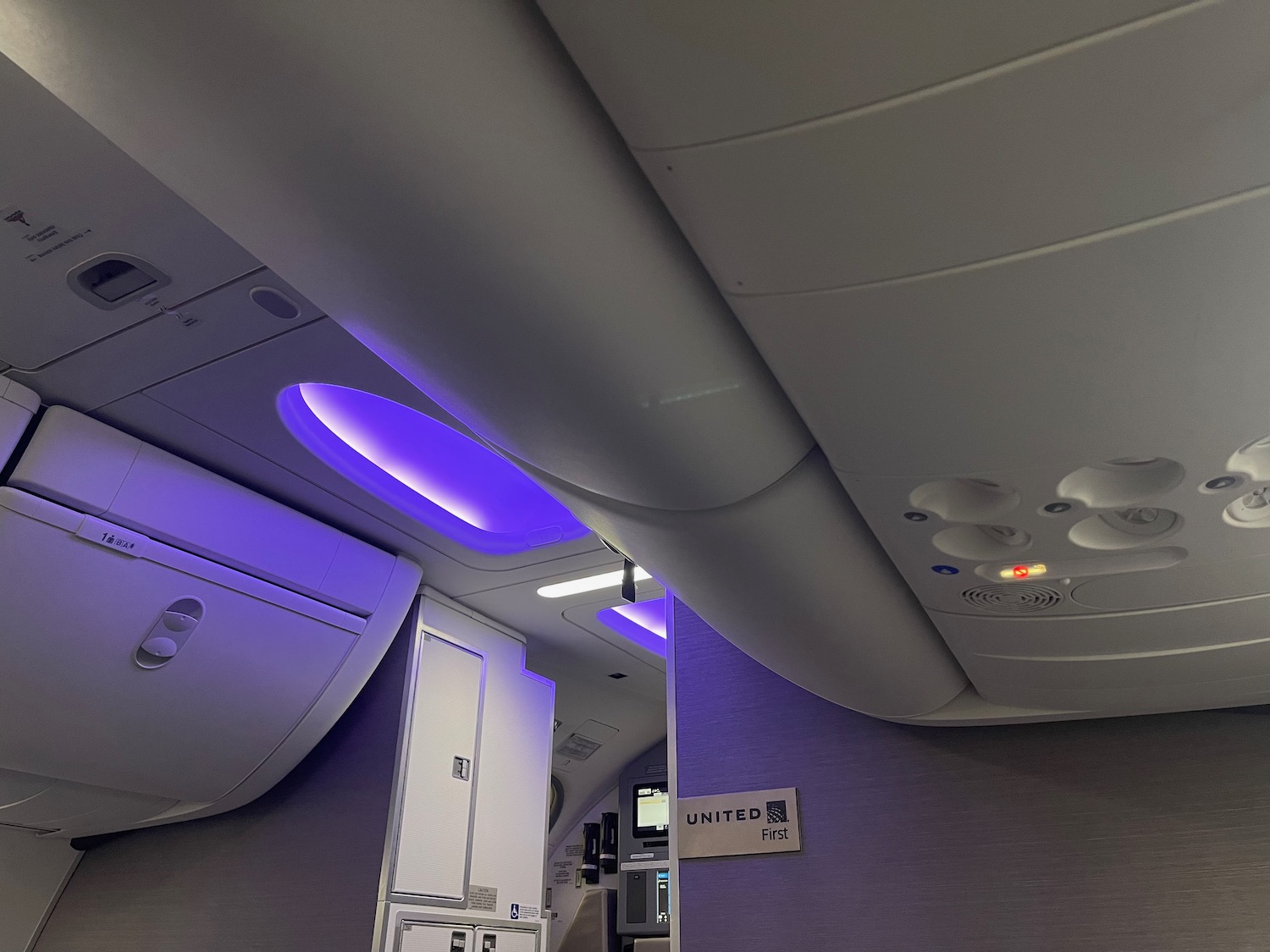 Lavatory
Sadly, the lavatories on this aircraft are bad news. Not only are they tiny, but the sink is such that you will get splashed every time you use it.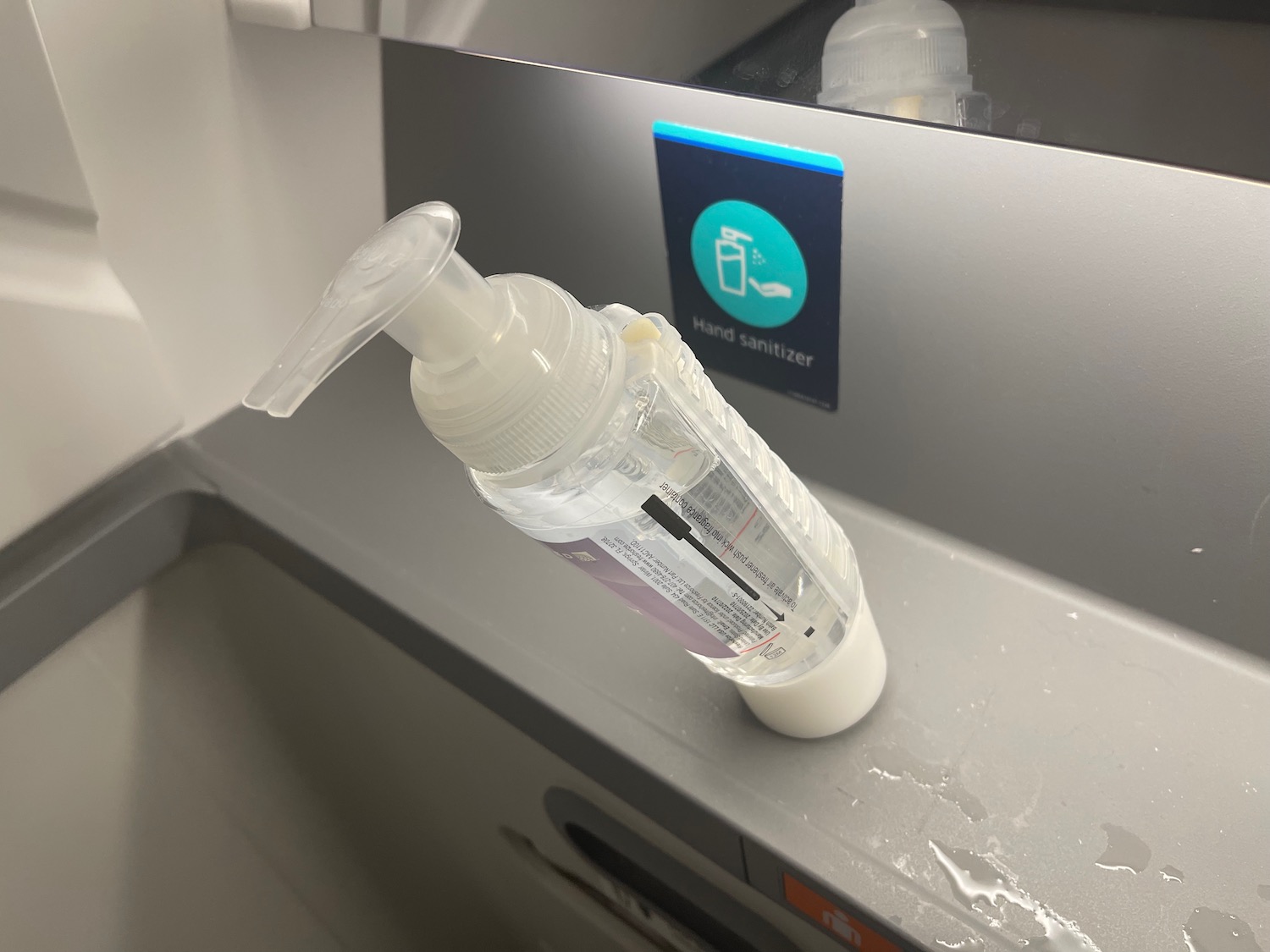 Perhaps more alarmingly, this brand-new aircraft was already showing signs of wear around the lavatory lock.
Food + Drink
Pre-departure beverages were offered in blue plastic cups during boarding. While water, orange juice, or sparkling wine were proactively offered on a tray, the bar was open and many took advantage.
Dinner was served after takeoff with a choice between a spiced tofu bowl, cheese enchiladas, or a glass noodle salad with beef (same as my previous flight). Once again, though, I had preordered dinner, with beef and broccoli for my father and a cheeseburger with French Fries for me.
Service began with a warm towel after takeoff, but no mixed nuts.
Meals were served on a tray that included bread, salad (with Newman's Own dressing, something I have never seen on United before), and a "Pie in the Sky" cookie.
Beef and broccoli
Beef and broccoli with white rice and sesame-ginger sauce
My father enjoyed his beef and broccoli, though I had a taste and thought the quality of the meat was dreadful and it smelled like a Panda Express dish. No thank you…
However, my burger was fine. Probably the beef was even worse in terms of quality, but it the jalapeño cheese and grilled onions gave it an excellent taste.
Four-cheese skillet burger
Four-cheese skillet burger with caramelized onion and jalapeños
If you order the dish today, it comes with French Fries instead of a side salad (though you will receive a side of lettuce and tomato for the cheeseburger).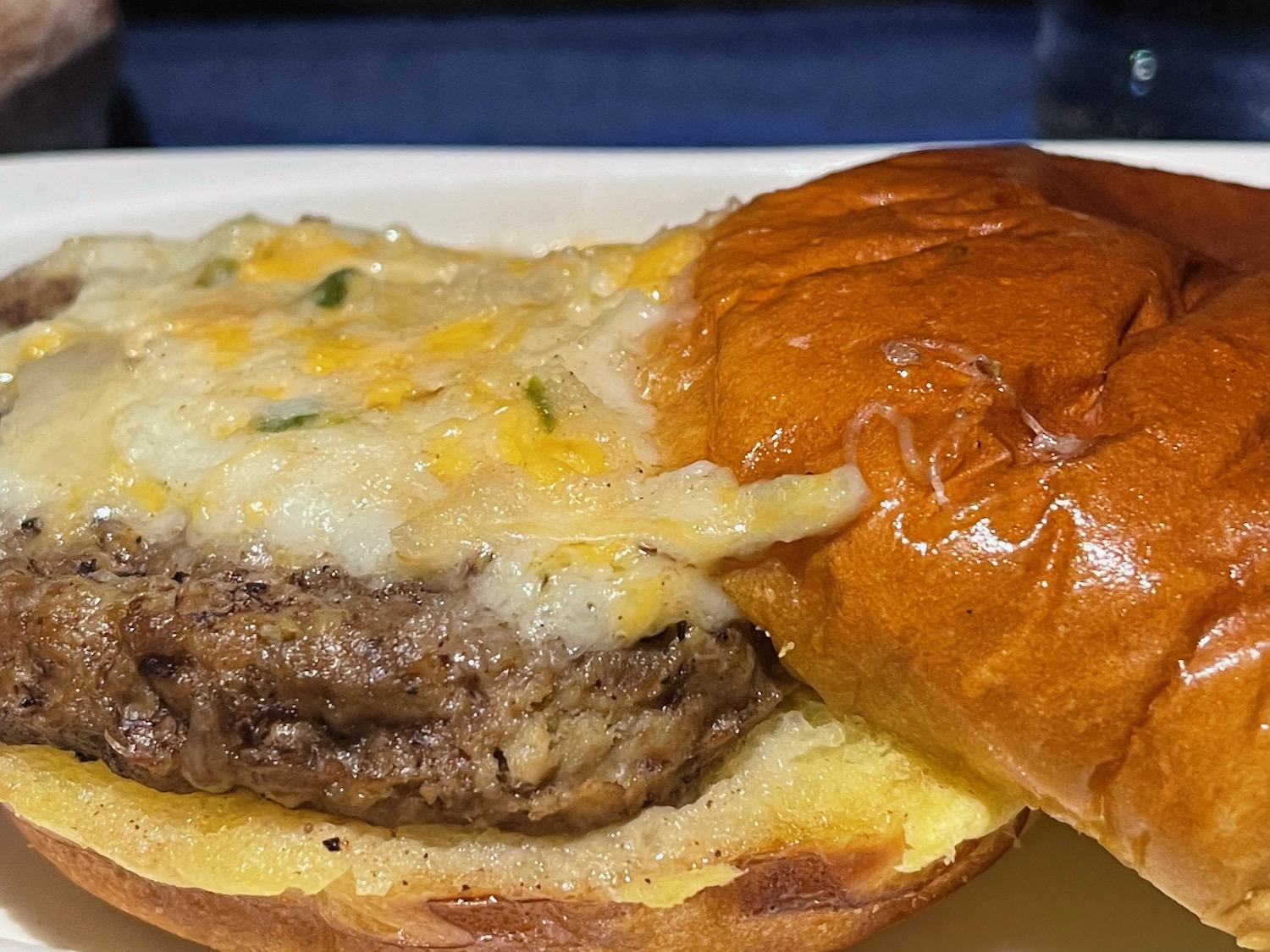 I would not hesitate to order this again, not because it is something I would eat at home, but because it is the best option among the current line-up (the lemon roasted chicken thigh is also not bad).
During dinner, the mixed nuts were located and served.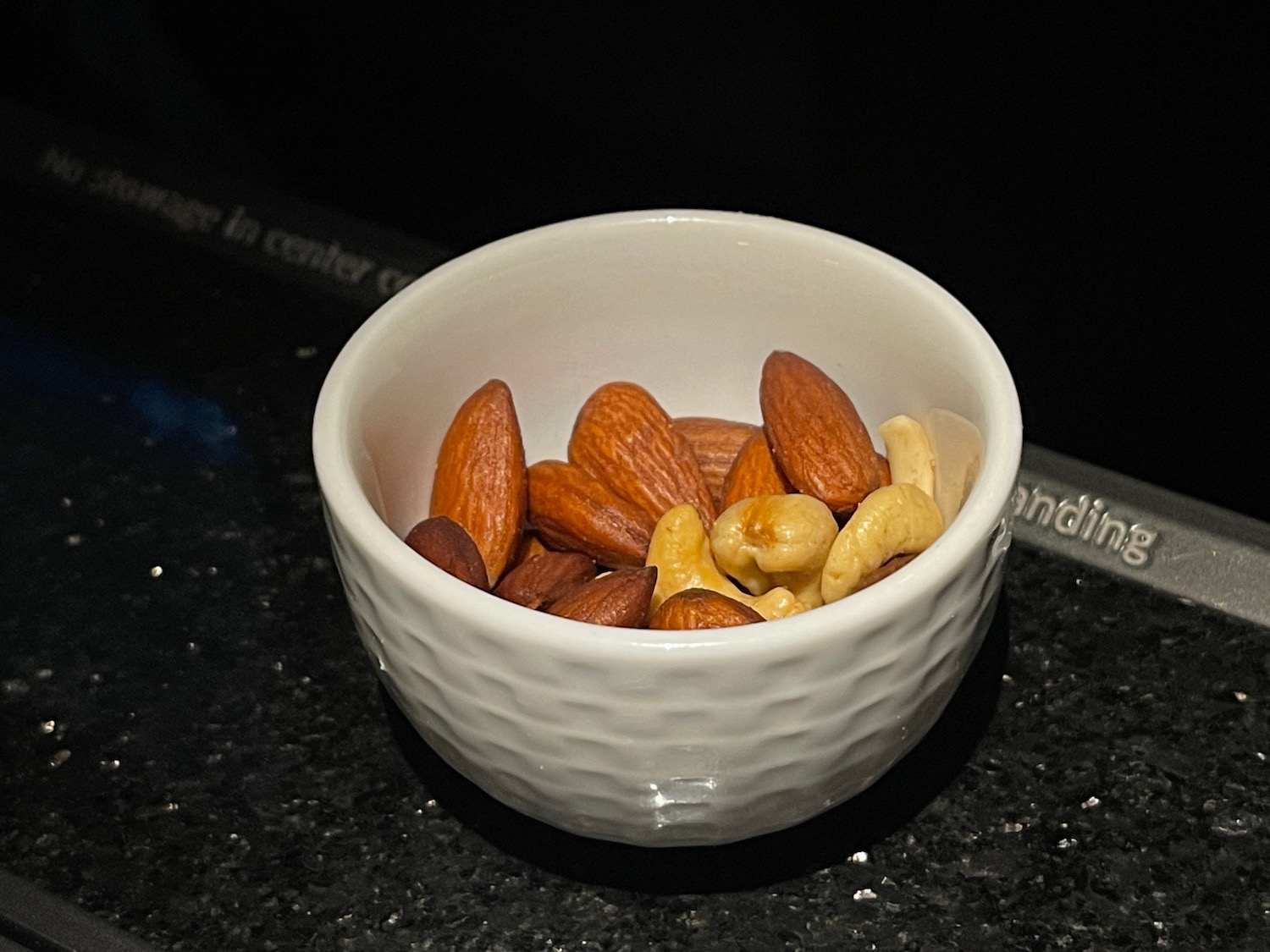 Service
I mentioned the great service earlier and just want to commend the crew for being so attentive. I love it when flight attendants smile and it is always so easy to see who loves their job and who is just going through the motions.
CONCLUSION
We landed ahead of schedule at Washington Dulles and were soon on our way to the mobile lounge, which took us to the main terminal where we caught a ride to our hotel.
I quite like the 737 MAX 8 on United (except for the lavatories) and I do think the screen is a game-changer in terms of providing a leading economy class experience within the USA.
Our trip to Washington was quite smooth (despite traveling through Houston during storm season) and I don't mind breaking up the trip when it means an easier upgrade or tremendous savings versus a nonstop flight from Los Angeles to Washington.