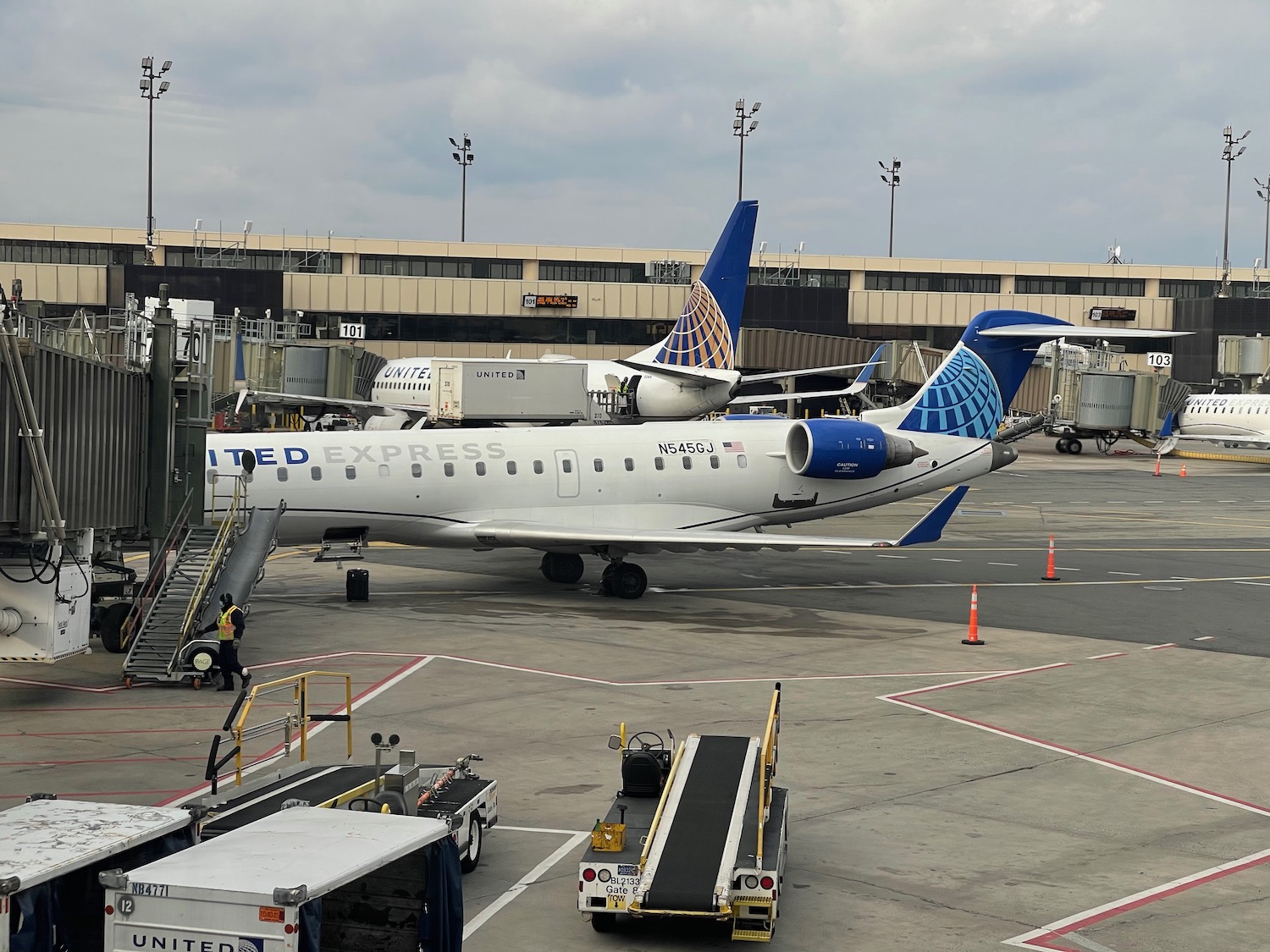 The United Airlines CRJ-550 offers the most spacious and comfortable regional jet experience in the skies. This review covers my first class journey from Newark to Washington, DC.
United Airlines CRJ-550 First Class Review
For a background on the CRJ-500, click here. In short, it is a 70-seat jet with 50 seats. This aircraft is a way for United to fly larger regional jets without violating its scope clause agreement with pilot, meant to limit United from outsourcing piloting to lower-cost regional airlines. Although I've been on the aircraft before, this was my first time actually flying on it.
There's a bit of nostalgia in flying into Washington National and I made the choice to connect in Newark for a lie-flat bed and then connect to National rather than fly nonstop to Dulles. Thus, after a long layover in the United Club in Newark, I headed to my gate to board my flight to DCA.
This was in January, the day before the Biden inauguration and just weeks after the Capitol insurrection. Boarding began a few minutes early and I soon understood why: TSA agents were waiting on the jet bridge. My bags were emptied out contents closely scrutinized. I was carrying my Bible and a commentary in my bag and the TSA agent even flipped through the pages of those and looked through a manila folder of paperwork (sadly, many of the insurrectionists misappropriated Christianity so I somewhat get the concern, but I digress…).
United Airlines 4433
Newark (EWR) – Washington (DCA)
Tuesday, January 19
Depart: 02:15 PM
Arrive: 03:51 PM (02:57 PM actual)
Duration: 01hr, 36min
Distance: 199 miles
Aircraft: Bombardier CRJ-550
Seat: 2D (First Class)
I boarded first and ended up having the plane to myself for two minutes as other passengers underwent additional screening.
Seats
Indeed, this is a spacious plane. First class has 10 seats, three rows of 1-2 seating plus an extra "A" seat in the row four. Each seat has 42 inches of pitch (much more than most mainline jets in the United fleet). Seat width is just under 20 inches.
Between first class and EconomyPlus are three large dual-level storage bins which can accommodate large carry-on items so no gate checking is necessary. Overhead bins can also accommodate larger bags placed on their side.
Behind that is the EconomyPlus (20 seats with 34-36 inches of seat pitch) and then 20 economy class seats, which offer 30 inches of seat pitch.
The lavatory is located in the rear of the aircraft.
In the front, there's also a snack and beverage station for first class passengers. It was empty on this flight but pre-pandemic looked like this:
The point of this is snack station is that the 50-seat plane only has a single flight attendant, so first class passengers can help themselves.
Wi-Fi + IFE
In-flight-entertainment via streaming movies and TV shows were available. Download the latest version Untied app prior to departure to take advantage. Wi-Fi was also available for purchase and runs $12-20/hour.
Service – Food + Drinks
The flight departed with only twelve passengers. Thus, despite a flight time of only 30 minutes, the flight attendant hustled to offer every passenger onboard a beverage. She was not obligated to do this, but did anyway – and I appreciated it.
First class passengers were served first and I had seltzer water.
I also had not eaten lunch, but had brought some snacks from the United Club and enjoyed a nice afternoon "tapas" break.
Views Out The Window
I enjoy flights to DCA from EWR because the aircraft generally does not climb above 20,000 feet. The lower altitude makes the outdoor views even more enjoyable.
CONCLUSION
A 30-minute flight was not enough time to fully appreciate this aircraft, which represents an arguably inefficient but extremely comfortable CR7 configuration. For short flights, this is a great aircraft. Even for longer flights, though, I would not hesitate to fly this jet.
---
> Read More: Exploring United's Swanky New CRJ-550 "Luxury" Regional Jet
---