I had to address a problem on my gas bill this week that required a trip to one of Philadelphia Gas Works' offices. Thinking that it would be a quick visit, I hopped on the Market-Frankford subway line and traveled to 52nd St–which I must note is like a completely different world. Making my way past the knock-off Rolex watch and Gucci bag dealers, the beggars, and the Islamic clothing stores (which all reminded me of the Arab quarter of Jerusalem), I came upon the dilapidated Gas Works office and proceeded inside.
I won't say it looked like a refugee camp inside, but it reminded me of something similar. First, I equated it to immigration at Washington Dulles–but no, at least at Dulles there is more than one agent on duty. Here there were 12 stations and only one person on duty at 2:30 in the afternoon! Then I thought about United's customer service desk in T7 at LAX. I see crowded customer service desks all the time in UA's weather-prone hubs like Denver and Chicago, but there always seem to be at least three or four people staffing them. At LAX, though, United often has only one person at the desk and if there is a problem and you're not witty enough to call Reservations or duck in the Red Carpet Club, you're going to be waiting a while.
I took my number (266) and peered up at the small monitor near the door–233 was currently being served. No big deal, I thought. Wrong. I waited a half hour and guess what number they got up to? 236, and still only one person at the window. That was enough for me. My problem was going to have to wait.
I went to 52nd St because I thought it would be less crowded than the Center City office (who knows, maybe it is) but I'm not looking forward to my return visit.
I really do love United, but my afternoon excursion brought them to mind. That's probably not a good thing…
I wish these pictures were clearer, but I took them at LAX in February. There were about 100 people in line and only one agent on duty! Just like the gas company.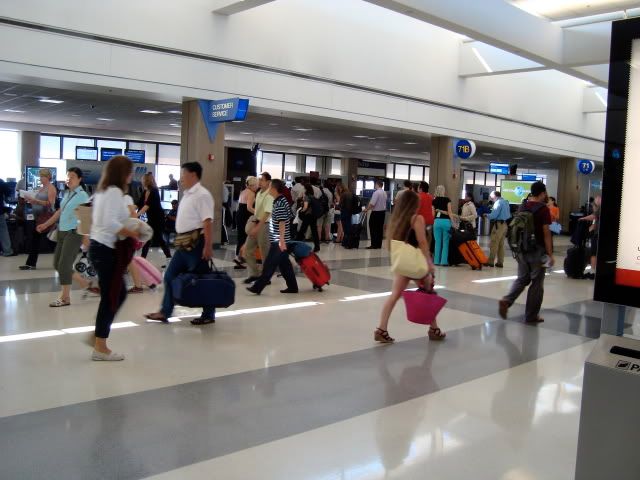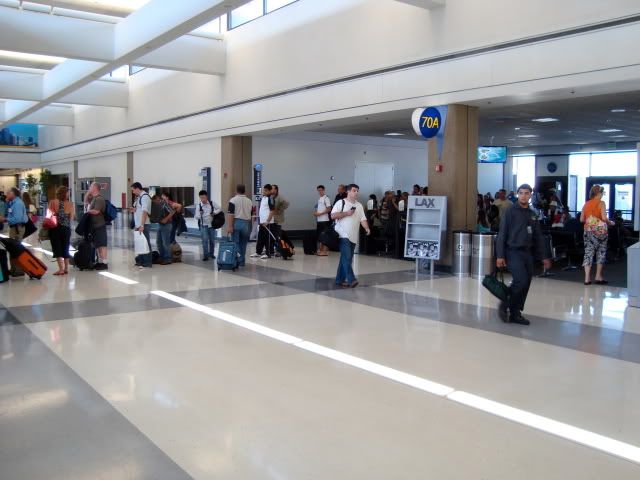 The line stretched in a U-shape all the way around the surrounding gate areas.