I spent one night at the Four Seasons Dallas, officially called the Four Seasons Resort and Club Dallas at Las Colinas. Effective today, it has left the Four Seasons family and is now part of the Marriott portfolio. Currently, it is operating as The Las Colinas Resort but will undergo renovation and re-brand as a Ritz-Carlton in 2024. There's a lot to like about this hotel and overall I had a very pleasant stay. But is it worth the money? No way – the switch to Ritz-Carlton is very appropriate.
Four Seasons Dallas Review
Room rates ran $450-800/night at this hotel. At over $600/night, I was reluctant to stay here, but my friend talked me into it. And while I booked with American Express Fine Hotels & Resorts such that I received early check-in, late check-out, a room upgrade, and free breakfast, I really had trouble reconciling the high price with Dallas, especially considering the age of the hotel.
While the Thompson Dallas the night before felt brand new (in a good way, not a cheap tawdry way), this felt like a lavish country club about 10 years past its prime. I'm not really one for making things new when they do not need to be made new (the property is exceptionally well maintained), yet I cannot help to note (as you will see in the pictures below) that this hotel just felt dated.
Thus, it comes as no surprise that the investors who owned this property decided to unload it and as of today, it no longer operates under the Four Seasons brand.
Location
Far from the heart of the city, the Four Seasons Dallas is located in Irving, Texas a northwest suburb of Dallas. Conveniently, it was located quite close to DFW Airport.
When you are here, you really do not want to leave the resort…which includes a golf course, gym, spa, multiple swimming pools, and multiple bars and restaurants.
Check-In
When I arrived about 1:00 pm, the lobby was packed with men in sports coats and dungarees. Ah yes, the business conference had returned. It took about 10 minutes in line to check-in (setting the tone for what would be a very non-Four Seasons-like stay), though the check-in staff seemed to be working efficiently.
Just as the facade of the hotel is dated, the lobby too felt like a beautiful hotel…circa 2002. I mention that not to poke fun or to complain (after all, the very-dated Park Hyatt Tokyo is one of my favorite hotels in the world), but merely to be descriptive.
Room
I was assigned room 962, an upgrade to a "deluxe" room on the top floor. The room was very spacious and included a king-size bed, sitting area, work area, and a balcony. Because I was on the top floor, my ceiling was much taller and the windows had an extra half-moon window above them.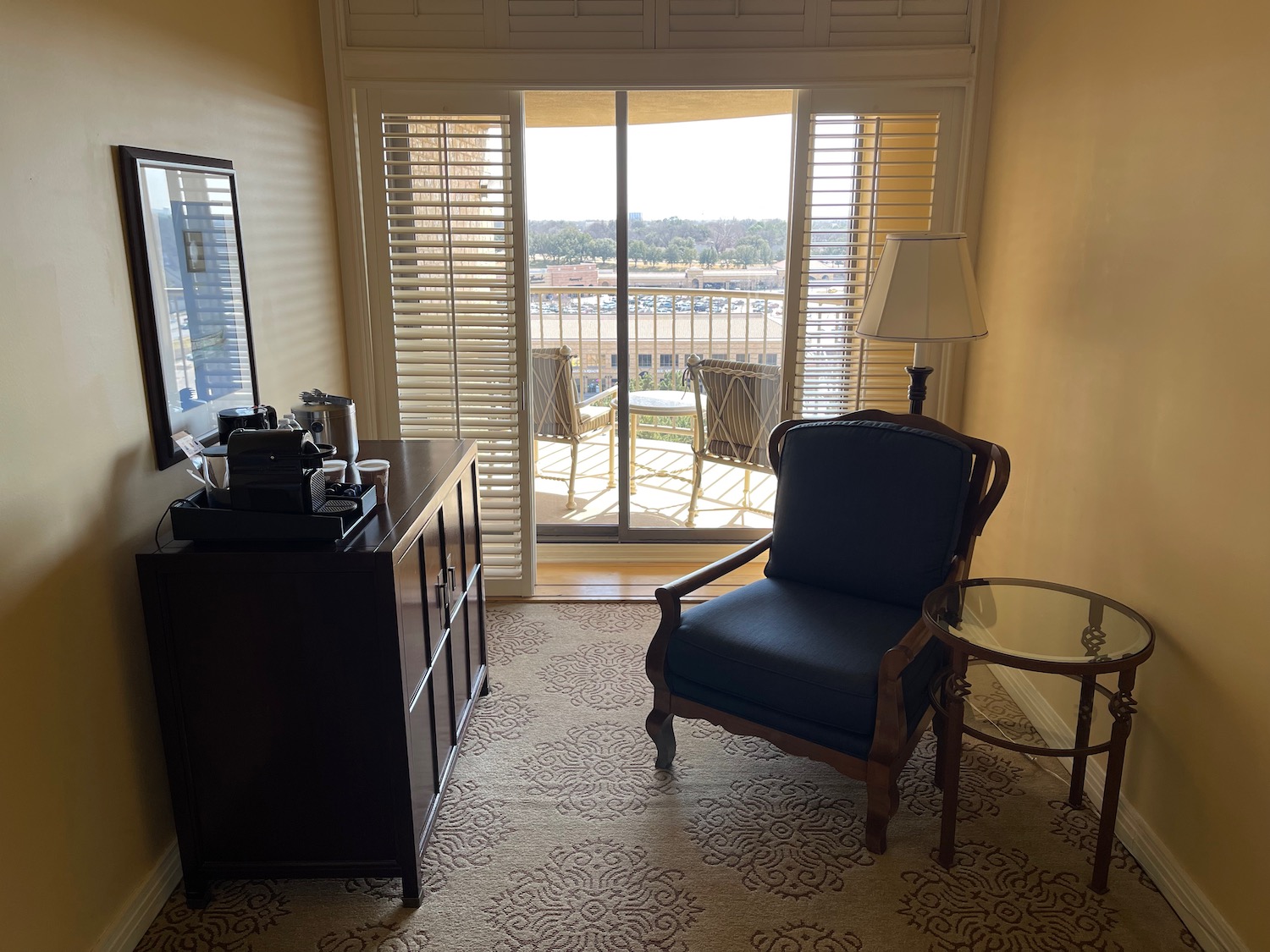 In terms of amenities, the minibar was empty but there was a Nespresso machine.
The bathroom was also large, with a big bathtub, large shower, and bath products from L'Occitane.
The closet included slippers and robes.
Note the alarm clock: it had the old Apple 30-pin port for phone charging…doesn't that say it all?
I did appreciate that there were several power ports.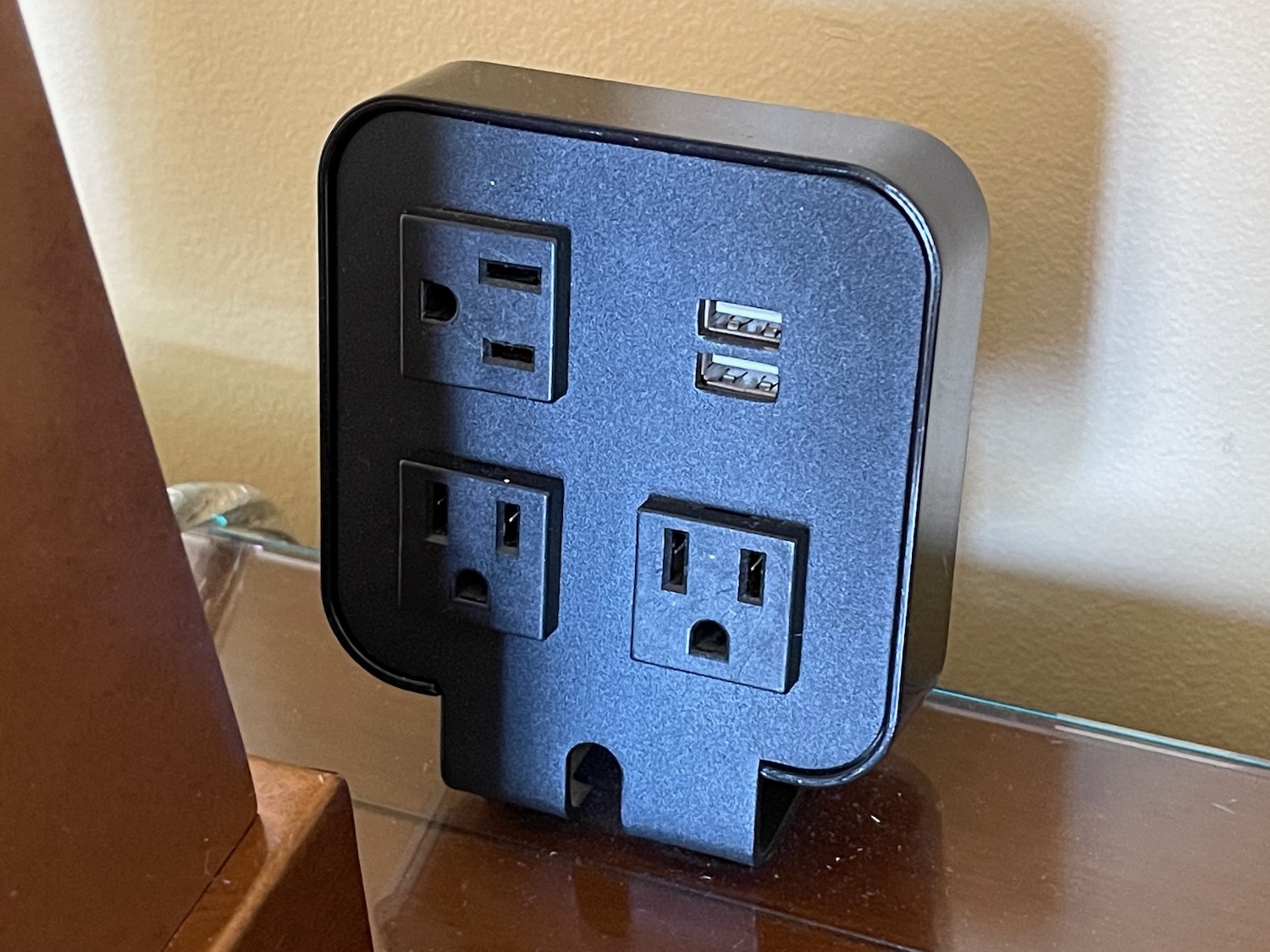 Fitness Center
The advantage of essentially being a country club with hotel rooms was that the hotel had a superb gym. It was packed in the morning like a commercial gym, yet had everything you could want…hundreds of machines for a full-body workout. I loved this feature of the hotel and generally speaking always prefer hotels that grant gym access versus having a small gym area of their own.
Squash + Tennis
Squash and tennis courts were available for guest use.
Spa
The clubhouse also featured a full-service spa. While I was not about to pay hundreds of dollars for a massage, the wellness area included an (old…) but well-functioning sauna, steam room, and soak pool. I came here three times during my stay as part of my daily sauna regimen and greatly appreciated this (and the fact that there was no nickel and diming for access, unlike at the Thompson Dallas the night before).
Pools
Both an indoor and outdoor pool are available. The outdoor pool is huge, spanning the length of the building and located between the rear of the hotel and golf course.
The indoor pool is Olympic-sized and was quite busy throughout the day every time I walked by (I had to show up at 6:00 am for the pictures below).
Dining
I enjoyed a late lunch, dinner, and breakfast onsite.
Outlaw Taproom
The hotel bar and cigar lounge, called the Outlaw Taproom, offers drinks, snacks, and both an indoor and outdoor dining area. The patio outside includes a fireplace and fire pit, which was quite nice considering it was a nippy February day.
I had an agave drink, served with large bowls of wasabi peanuts and mixed nuts, followed by a chicken sandwich with bacon and avocado on a pretzel roll. It was excellent. However, my friend ordered a hamburger with sautéed onions and cheese and it arrived without either onions or cheese.
The waitress failed to write down the order and as usually happens, the order got messed up. To make matters worse, she disappeared, never checking back to ensure the order was correct. Finally, over 10 minutes later, I got up and took the burger to the bar and asked that it be fixed.
Room Service
My friend was not all that hungry for dinner so I ended up ordering room service: a ribeye steak ($64) and beet and arugula salad ($17). It was fabulous… the meat was cooked medium rare as specified and very flavorful without having too much fat.
Law Restaurant
The hotel's main restaurant and steakhouse (where my steak came from the previous night) is called Law and will survive (in some form) during the rebrand from Four Seasons to Ritz-Carlton. I enjoyed my complimentary breakfast here and want to give a special shoutout to Marcus and Lucy for their excellent service.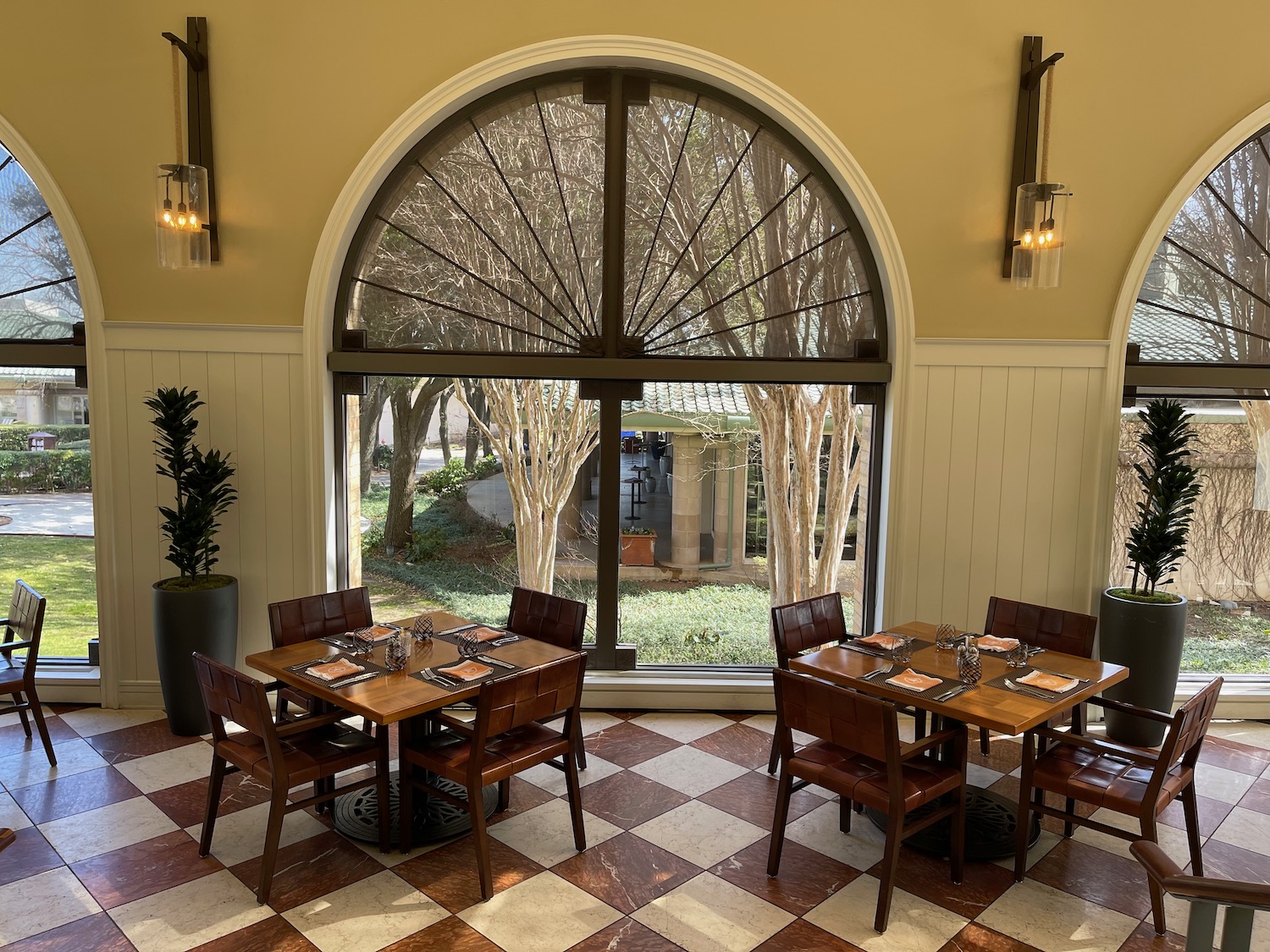 I ordered a bowl of berries to start as well as a cappuccino and glass of cold-pressed green juice. The coffee, provisioned by La Colombe, was very good. The highlight of the meal, however, was the huevos rancheros. Normally I would order shakshuka or perhaps steak and eggs, but since I was about to embark on a trip to the Middle East for a week, I thought I'd get my Tex Mex fill while I still could.
Breakfast was excellent.
CONCLUSION
I guess this will be the last review ever of the Four Seasons Dallas…at least at this location. I appreciated the hotel, but I think you understand now why it has left the Four Seasons family. As Marriott now assumes ownership and operates it as an independent resort ahead of the Ritz-Carlon conversion, I was happy to try it, but probably would not stay here again…I liked the Thompson Dallas much better.