Sleep and food…two of my favorite things and the two items my Qatar Airways A350 flight from Doha to New York centered on.
After spending a couple hours inside the Al Mourjan Business Class Lounge in DOH, it was time to board my 14hr flight to New York.
Enhanced Security at Doha Hamad International Airport for U.S. Bound Flights
I approached the gate to board only to be directed to a large queue to have my electronic devices checked. It's a cumbersome procedure, though now mandated by U.S. law. You'll wait in line until you come to desk. There, declare which electronic devices you are traveling with. Next, you'll pivot to a nearby security checkpoint where your bags will be searched. All electronic devices are placed in a sealed bag. You can open the bag once you get onboard the aircraft.
The whole process took about 20 minutes. Once the check was complete, I boarded immediately.
Qatar Airways 703
Doha (DOH) – New York (JFK)
Saturday, October 21
Depart: 02:15AM
Arrive: 09:00AM
Duration: 13hr 45min
Aircraft: Airbus A350-900
Seat: 6A (Business Class)
Qatar Airways A350 Business Class Seat
The reverse-herringbone seat onboard the Qatar Airways A350 is extremely comfortable. The seat contains ample personal storage and your feet are not nearly as constrained as on the A330 or A340.
Seats are controlled by a push-button control unit on the side of the seat. Window shades are also controlled by the touch of the button.
In lie-flat mode, the bed feels spacious and comfortable. Qatar's bedding is also excellent.
You must look beyond the seat, as well. The cabin is stunning. The center section has no overhead bins, giving it a very open feel. Furthermore, there is no galley between the two business class cabins. Instead, there is a circular bar that adds a stunning decorative touch to the cabin. Even the lighting above has intricate attention to detail. This is a very beautiful cabin.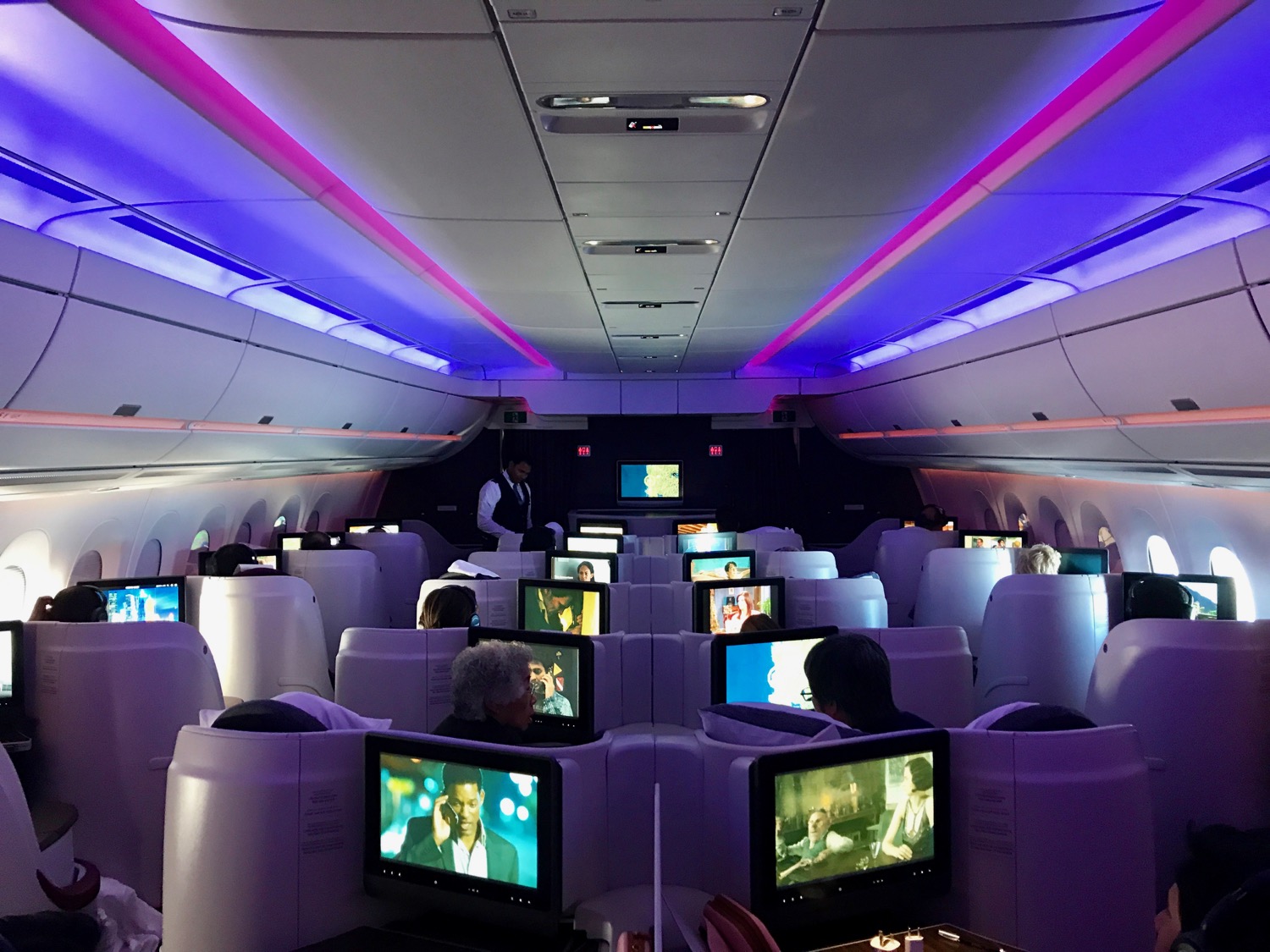 Qatar Airways A350 Business Class On-Demand Dining
As I alluded to in the intro paragraph, this flight was really just a meal followed by nap, followed by a meal and a nap, then one more meal and one more nap.
On Qatar longhaul flights, an extensive on-demand menu is available. Whenever you are hungry, just ring your FA call button or flag down a FA.
Here's the food and drink menu for the flight–
Meal #1 – Midnight Snack
Just after takeoff, I enjoyed my first snack…more like a dinner. I began with a glass of lemon/mint juice and a bowl of nuts.
Next, a cajun chicken salad. The chicken wasn't great, but it was still a light, relatively healthy salad.
Finally, Ricotta-cheese filled pasta with sun-dried tomatoes, olives, and basil sauce. Pasta is the perfect dish to make you sleepy and I loved the taste of this dish, my favorite dish on the entire flight.
I changed into my pajamas and fell asleep for the next seven hours.
Meal #2 – Dinner
I awoke after about 7-hours feeling well-rested. It was time for dinner.
First up, another round of nuts and lemon/mint juice.
Next, I was offered an amuse bouche of chicken in a yogurt sauce.
No tomato soup on this flight, but the cream of mushroom soup served with a dollop of pesto sauce was excellent.
I ordered a grilled beef filet for my main course. Unfortunately, the peppercorn sauce made it worse not better and the meat was extremely overcooked. Aida, the FA working my section, proactively apologized, stating that the meat comes pre-cooked and she could only warm it up.
Finally, desert. I was relatively full by this point, so just ordered ice cream–one scoop of chocolate and one scoop of vanilla. It truly hit the spot.
After another nap, it was time for breakfast.
Meal #3 – Breakfast
Qatar offers excellent fresh-squeezed orange juice, a perfect start to the morning.
The onboard cappuccinos are also excellent and definitely not powdered.
After nicely laying the table and bringing my third breakfast basket of the flight, Aida presented a delicious fruit-yogurt parfait.
The main course, served with a delicious mango/guava smoothie, was not great. I ordered toasted sourdough with chives and scrambled eggs. The bread came out cold, the eggs tasteless, and the whole dish was overwhelmed by far too many mushrooms. Avoid this dish.
Even though the steak wasn't great and the scrambled eggs disappointing, I have to hand it to Qatar for offering an excellent menu and on-demand service. It certainly was not easy work for the FAs when you consider there was no galley at Door 2…
Qatar Airways A350 Business Class Service
On that note, the service was very good on the flight. As I mentioned earlier, Aida took care of my section and did a superb job balancing polish with friendliness. She roamed the aisles often and offered refills on drinks…the small touches that matter. It took a long time…far too long actually…for the meals to be served, but I chalk that up to a busy kitchen, not laziness.
Before takeoff, a choice of beverage was offered and a hot or cold towel.
Drinks were kept full the entire flight (while I was awake) and water bottles were also available:
A shout-out to Faiz, the purser, as well. He personally greeted every business class passenger upon boarding and thanked every business class passenger prior to landing. He was friendly and seemed to do an excellent job of managing his crew.
While I have seen more attentive service on carriers like EVA, China Airlines, and Singapore Airlines, the crew was very good on this flight and met my expectations.
Qatar Airways A350 Business Class Wi-Fi and IFE
Let's get wi-fi out of the way first. It didn't work. That was a bummer, but thankfully it was a late Friday/early Saturday flight meaning I did not miss much. I would have been far more stressed out had this been a daytime departure from the USA.
Qatar offers an excellent library of films, TV shows, games, and music and I watched what I thought was a rather excellent film, called Wakefield.
Qatar Airways A350 Business Class Tail Camera
The highlight of the IFE, though, was the tail camera. This is my favorite feature of the A350 and something I look forward to every time I fly on one.
As we neared JFK, we began racing an Emirates A380 landing on a parallel runway:
Qatar Airways A350 Business Class Lavatories
The lavatory contained an oversized sink (for an airline lavatory) and extra amenities like shaving and dental kits. Body mist and water-free soap was also available.
Qatar Airways A350 Business Class Amenity Kits
FAs distributed a special-edition Breast Cancer Awareness Month pink hardshell amenity kit from BRICS. Contents included skincare products from Monte Vibiano as well as pink socks, earplugs, and a pink eyeshade.
Qatar Airways A350 Business Class Pajamas
Finally, Qatar offers excellent pajamas in business class from The White Company…good quality and nice fit.
CONCLUSION
Qatar Airways offers one of the most consistent, highest-quality business class products in the world. I appreciated the superior seat, excellent on-demand dining options (even if the food itself wasn't the best of the best) and great service.
With excellent fare sales and a partnership with American Airlines, business class on Qatar Airways is much more reachable than you may think.