For the final leg of my Air Canada journey, I flew from Montreal to Los Angeles onboard a brand new Airbus A220 in business class. The new aircraft is quite impressive, but the service onboard was even more impressive.
Air Canada Airbus A220 Business Class Review
My departure gate was right below the Air Canada Maple Leaf lounge, allowing me to walk downstairs just moments before boarding began. The gate area was not crowded: it would be a light load to LA tonight.
Air Canada 783
Montreal (YUL) – Los Angeles (LAX)
Thursday, January 13
Depart: 6:15PM
Arrive: 9:34PM
Duration: 06hr, 19min
Distance: 2,474 miles
Aircraft: Airbus A220-300
Seat: 2A (Business Class)
Onboard, I was welcomed and found my seat in 2A. Usually I sit on the other side on flights to LAX so I can see downtown Los Angeles on approach, but I chose the other side because the entire side of the business class cabin was empty. Turned out there was a couple in the row in front of me, but the cabin went out less than half full.
Service
The star of the flight was Bianca, the flight attendant pictured below. She served the business class cabin on this flight and I leadoff this review with her because I think great service is truly what differentiates one flight or carrier from another. She addressed passengers by name, was attentive, courteous, and simply charming. Being present is half the battle and Bianca made frequent rounds through the cabin to ensure that each passenger was always comfortable.
Being proactive is such an asset and Air Canada should take pride in the superb service that Bianca offered on this flight. I'd rate my service as excellent on the entire trip, but Bianca was particularly excellent.
Seat
The Air Canada A220 seat is the same seat as the 737 MAX 8, which is the same as the premium economy seat on the 787-9 (there may be minor technical differences, but as a consumer I found them largely identical). Seat pitch is 37 inches, seat width is 21 inches, and a legrest is available on each seat (a separate footrest also flips down from the seat in front in rows 2-4).
A armrest flips up to reveal a headphone jack, USB-A rapid charger, and a universal power outlet. There's also limited storage for personal items like a phone.
A small table separates the two seats which is small, but big enough for two drinks and nothing else.
The literature pocket can handle a laptop or tablet, but it will intrude into your legroom. There's also a coat hook in each seat. 
If you're seated in a window seat, the IFE box does impede some of your legroom.
Air nozzles are present and a blue flight attendant call button is departed from the light switch, which makes a lot of sense considering the number of times I've accidentally pressed the call button when I intended to turn on the light.
In case you were wondering, economy class is arranged in a 2-3 configuration, reminding me of the MD-80:
In-Flight-Entertainment + Wi-Fi
Wireless internet was available for purchase and did function on this flight, at a cost of CA$11.25 for a flight pass, which I thought was a great deal for a six-hour flight.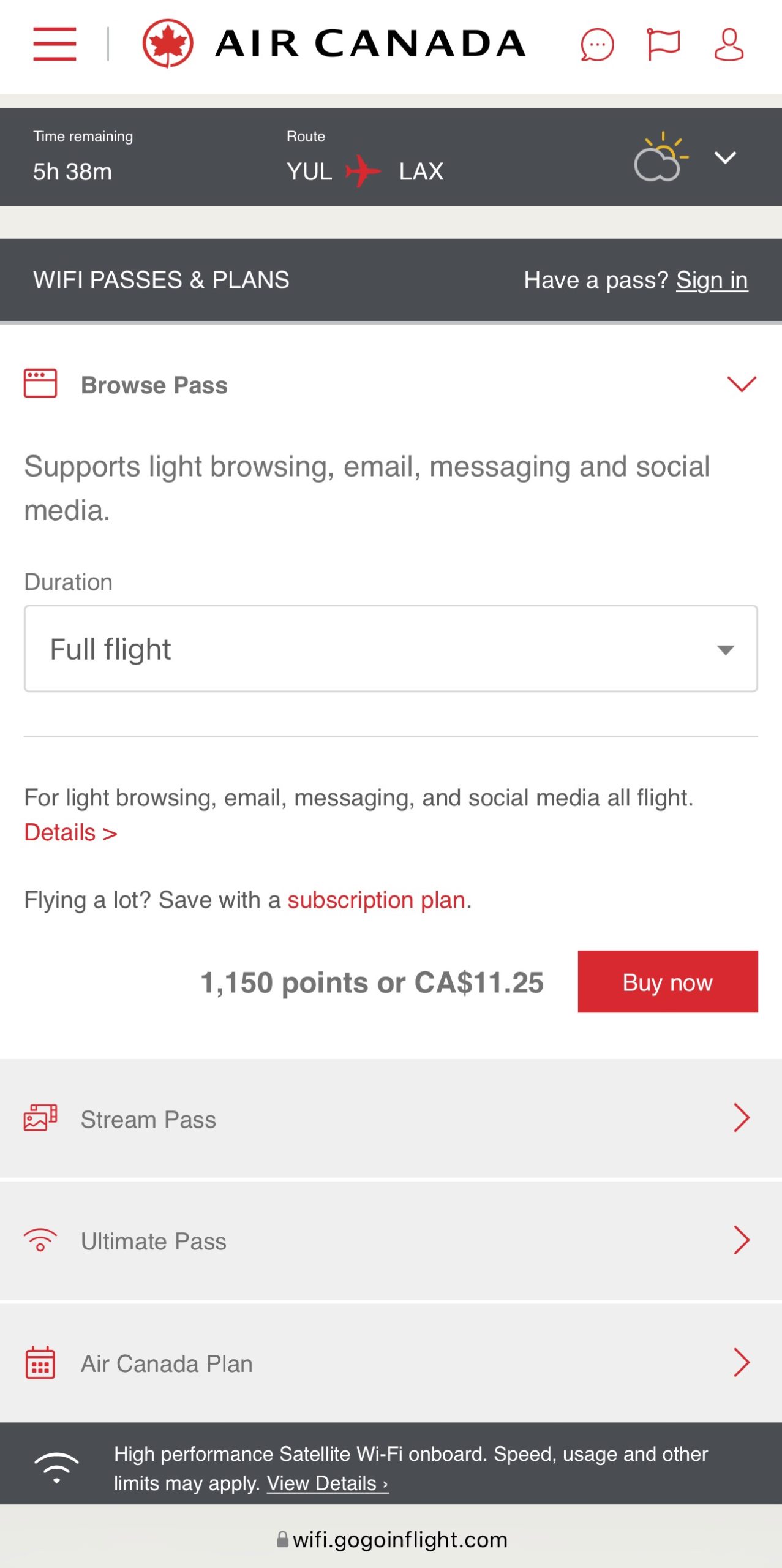 Complimentary headphones were distributed and the the modern IFE system, with 15-inch screen, offered a library of movies, TV shows, games, music, a moving map, and even a list of all the beverages available.
I liked that on Air Canada's newer aircraft, the IFE landing page is destination-specific. Here, various images of Los Angeles scrolled through: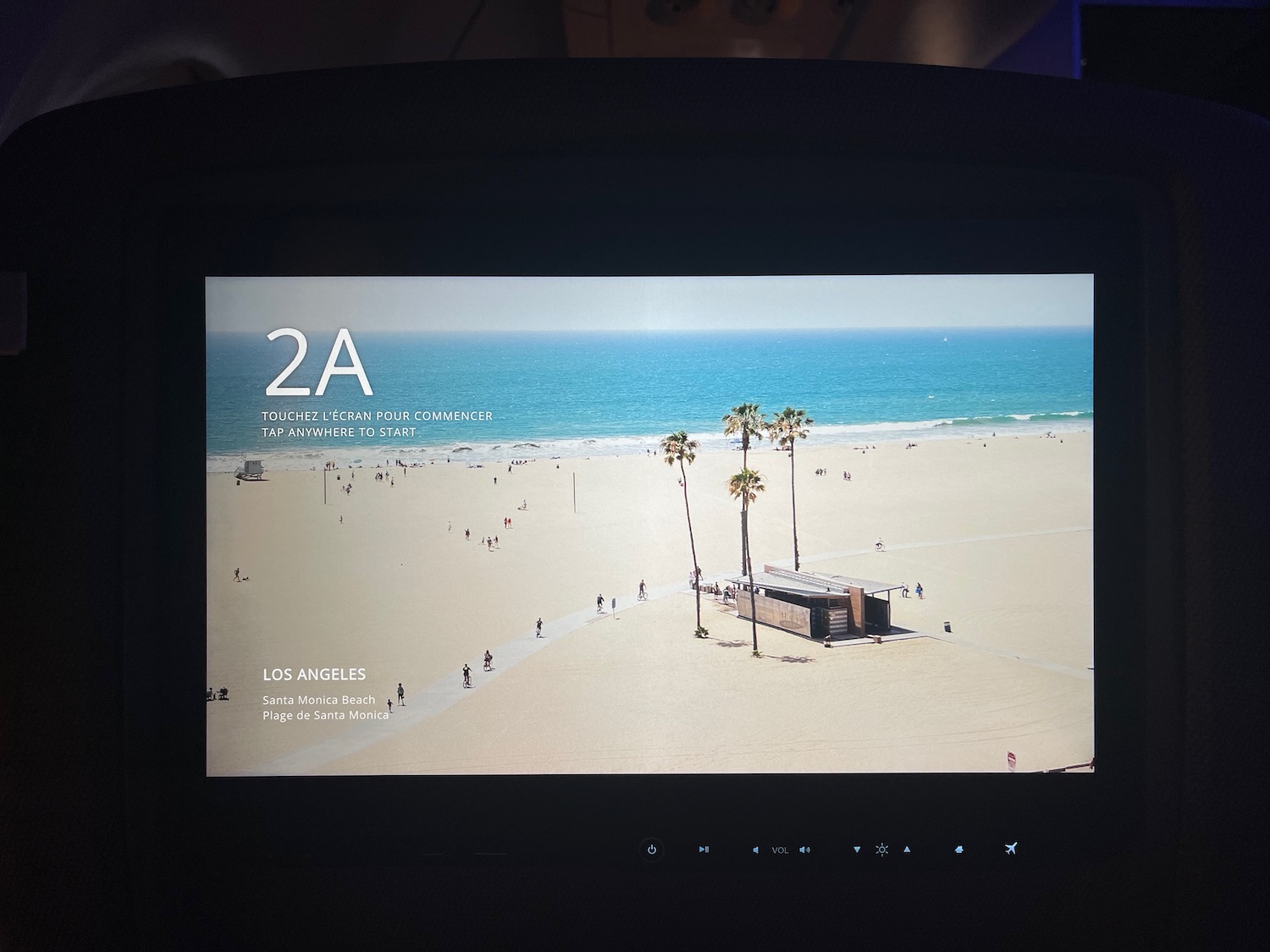 There was also a city guide for LA available, which was very well-done (great coffee and restaurant recommendations – this was clearly written by someone who is familiar with Los Angeles).
I started watching a fascinating German movie called Nebenan (Next Door). Watching German movies helps my German improve and this movie was particularly well-done (most of it took place inside a Berlin bar).
Food + Drink
Dinner was served after takeoff, which inclued an appetizer, main course, and dessert. Air Canada still prints menu cards, but the menu is also posted online about 48 hours before departure, a wonderful feature that I wish U.S. legacy airlines would also offer.
Meal service began with a bag of almonds and choice of beverage. I ordered white wine, which was passable but not great (too sweet, even though it was a Riesling).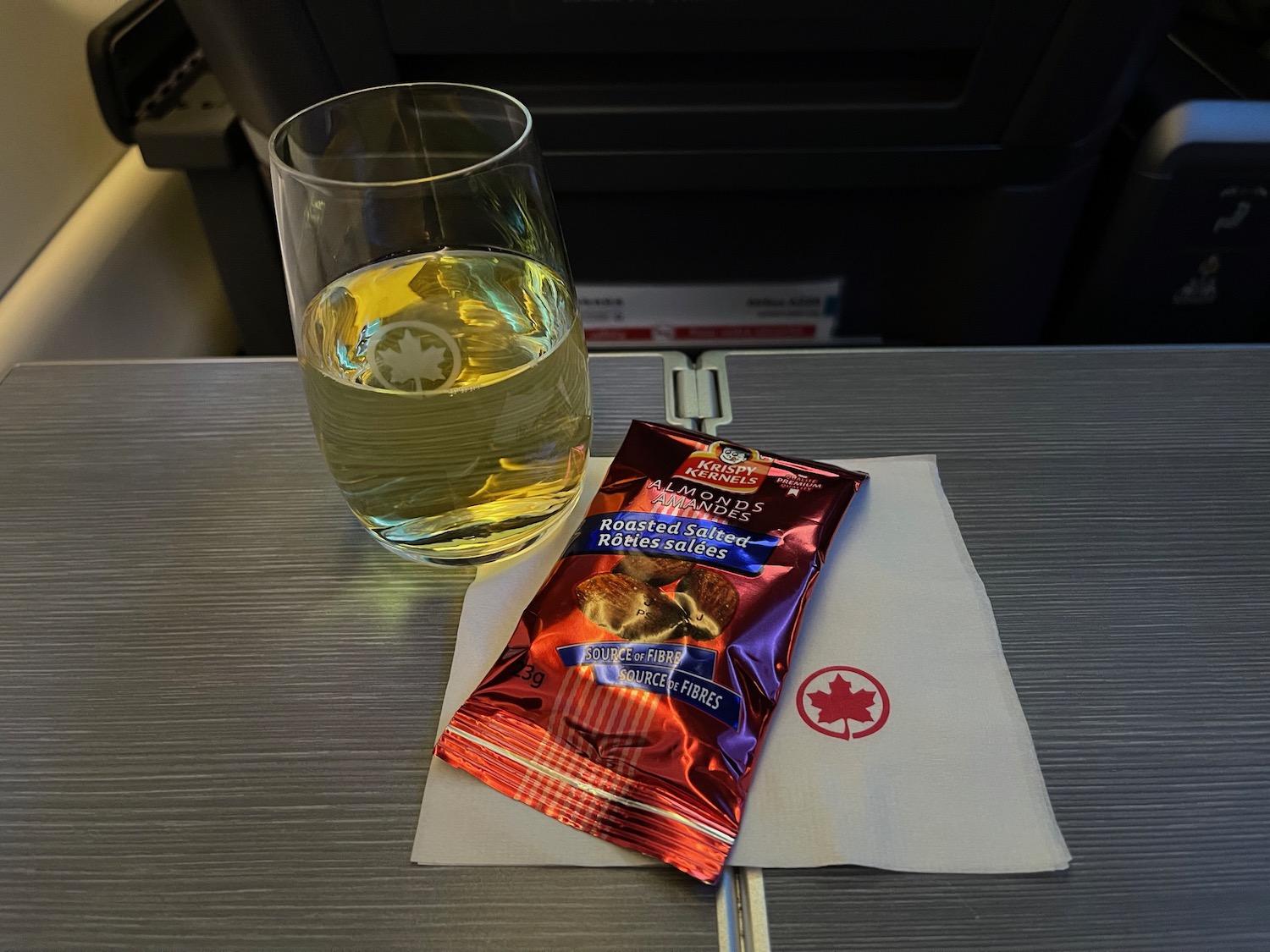 The appetizer was listed as a salad with Brussels sprout, pickled cauliflower, and tomatoes, however a simple mixed green salad was delivered (which I didn't mind…I actually prefer it).
Main course choices were between a chicken breast covered in moqueca-style sauce (onions, tomatoes, mixed peers, coconut milk) and served with mixed vegetables and potations or cheese tortellini in a creamy garlic tomato sauce. I love cheese tortellini and wasn't all that hungry, but thought I would try the Brazilian moqueca dish because I had never tried it before (on a plane or on the ground). It was a good choice: I feared the coconut milk would overpower it, but it did not. In fact, the tomato sauce was much stronger. 
Also on the dinner tray was a warm bread roll and a slice of cheesecake. The menu listed the dessert as blueberry cheesecake, but I tasted no blueberries.
About an hour prior to landing, a snack was offered: a bag of Miss Vickies potato chips and a Lindt chocolate bar.
Lavatory
I thought the lavatory was well-designed, with room to actually move around. The sink and counter were rectangular, with the drainage system hidden behind the wall. That left room for your feet under the faucet.
The locking mechanism was also easier to slide than on older Airbus aircraft. An ashtray was also present…just in case, I suppose.
Flight Deck
After we landed in LA, Bianca (seeing that I had taken a lot of pictures during the flight) offered me the chance the visit the flight deck. The captain and first officer were very kind and controls look quite modern (a lot more glass than physical switches and buttons).
CONCLUSION
I enjoyed my A220 flight in business class on Air Canada business and would not hesitate to fly this aircraft again. The seat was comfortable (I slept for most of the flight, after all), food edible, IFE and internet functional, and most of all I enjoyed great service from Bianca and her colleagues. 
My whirlwind trip on Air Canada, spanning four flights, three hubs, and six lounges in just over 24 hours, was over.
---
Read More of my O Air Canada – One Day, Three Hubs, Four Flights, Six Lounges Trip Report:
---
P.S. I've largely given this up (more on that in a future post…) but I did end this trip as I historically have done, with a lovely Double-Double animal style with French Fries at In-N-Out.