Now that I have recently flown both Delta Air Lines and United Airlines in business class on the 757-200, I thought it would be helpful to compare the two products.
Comparing 757-200 Business Class On Delta Air Lines Versus United Airlines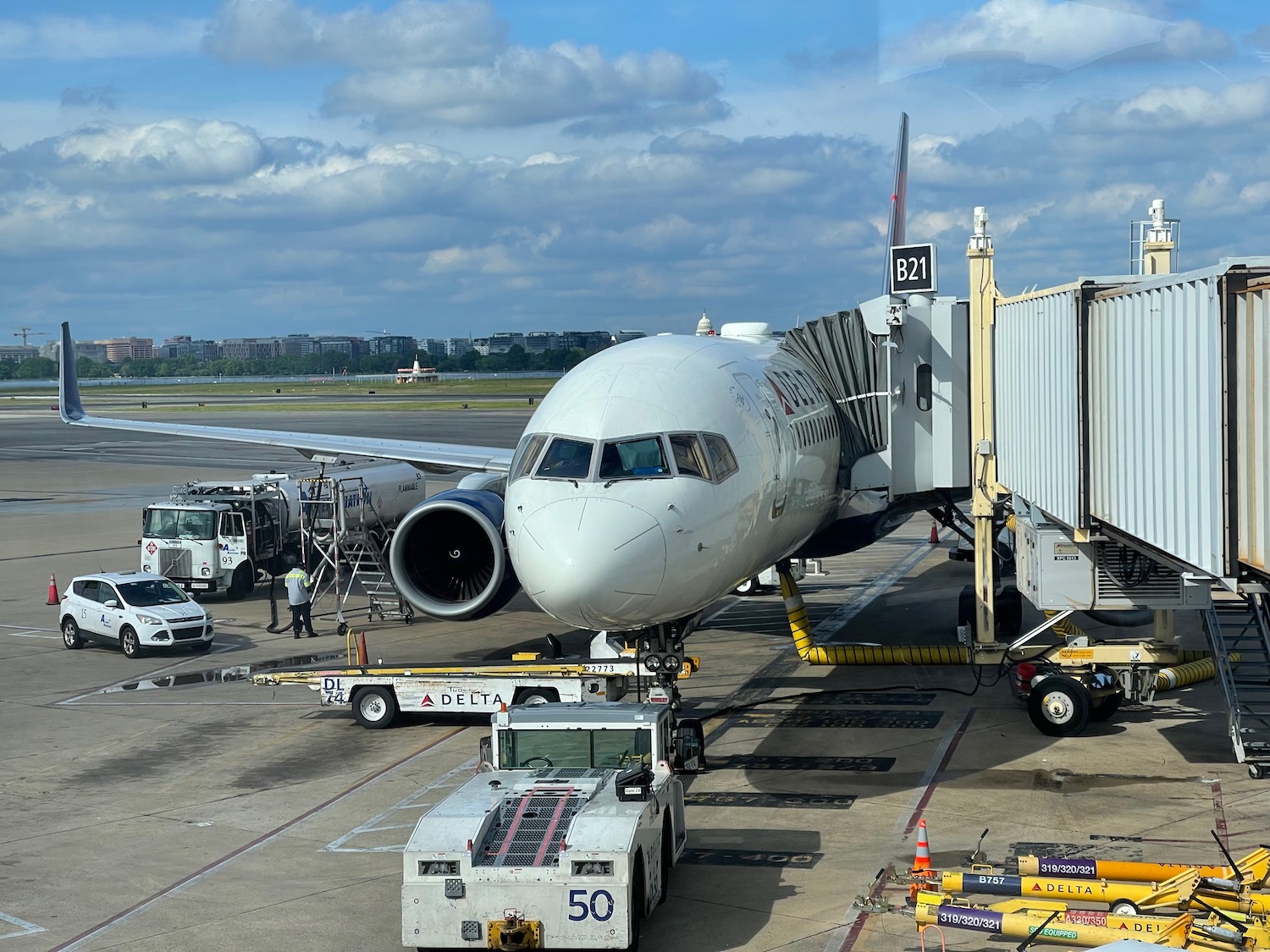 I flew from Washington National (DCA) to Los Angeles (LAX) on Delta in "Delta One" business class and from Newark (EWR) to Los Angeles on United in business class:
Check-In
I checked in on the app for both airlines…no problems with either. I find United's app slightly better overall due to the layout of flight information, but the Delta app has greatly improved and is also very efficient.
Lounge Access
Both Delta and United grant their business class passengers lounge access on premium transcontinental flights. The DCA-LAX flight is considered premium on Delta so access to the SkyClub is granted.
United considers its EWR-LAX premium and also grants business class passengers lounge access.
I prefer United's lounge in Newark because of the barista coffee service available, but Delta's food options are often superior.
Boarding
Delta and United both board passengers with disabilities, members of the military, and top-tier Delta 360 and Diamond members or United Global Services and 1K passengers before boarding business class passengers.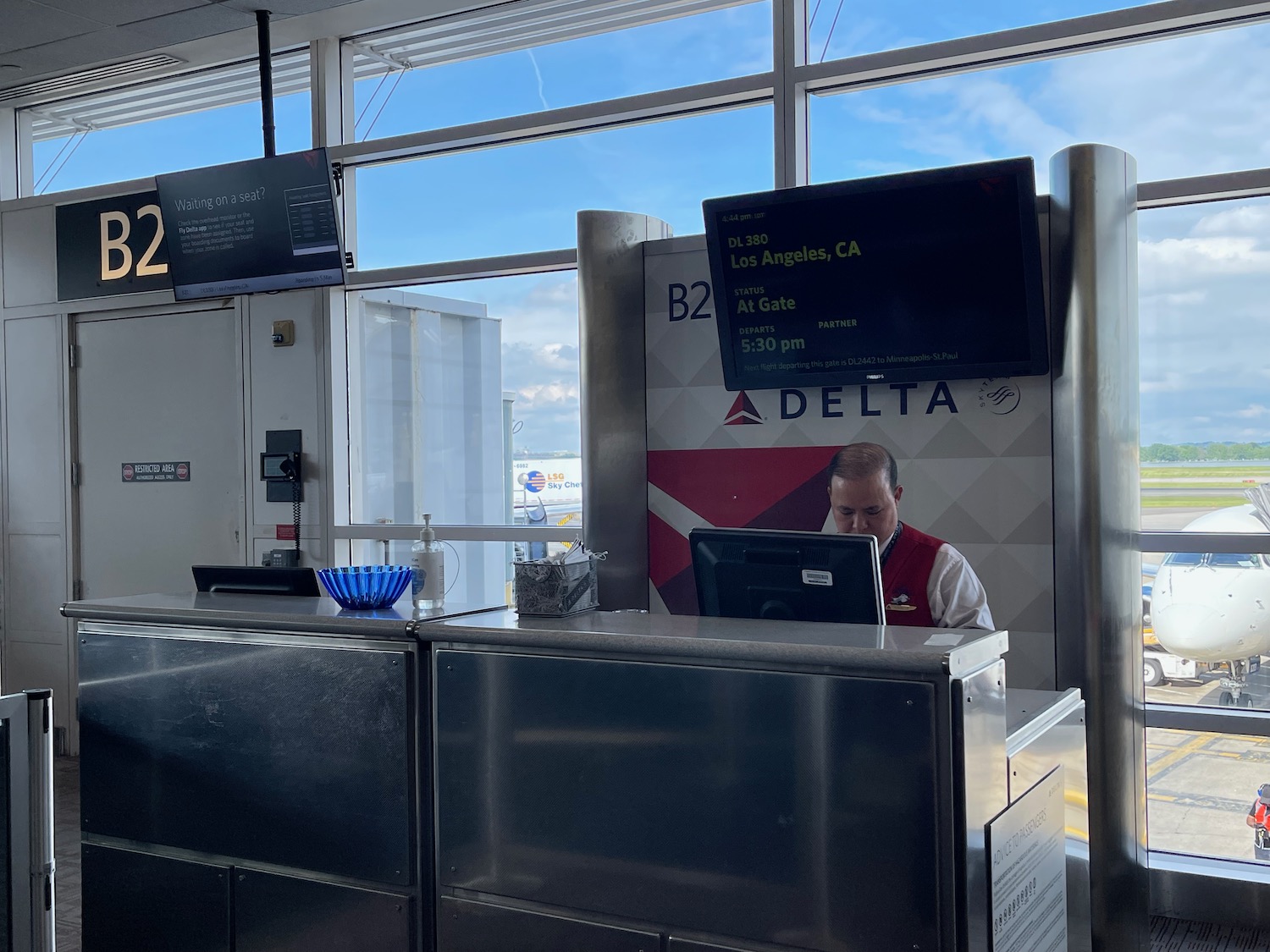 Cabin
Although both 757-200s were about the same age, Delta has retrofitted its cabins with mood lighting which give the aging cabin a very modern and sleek appearance.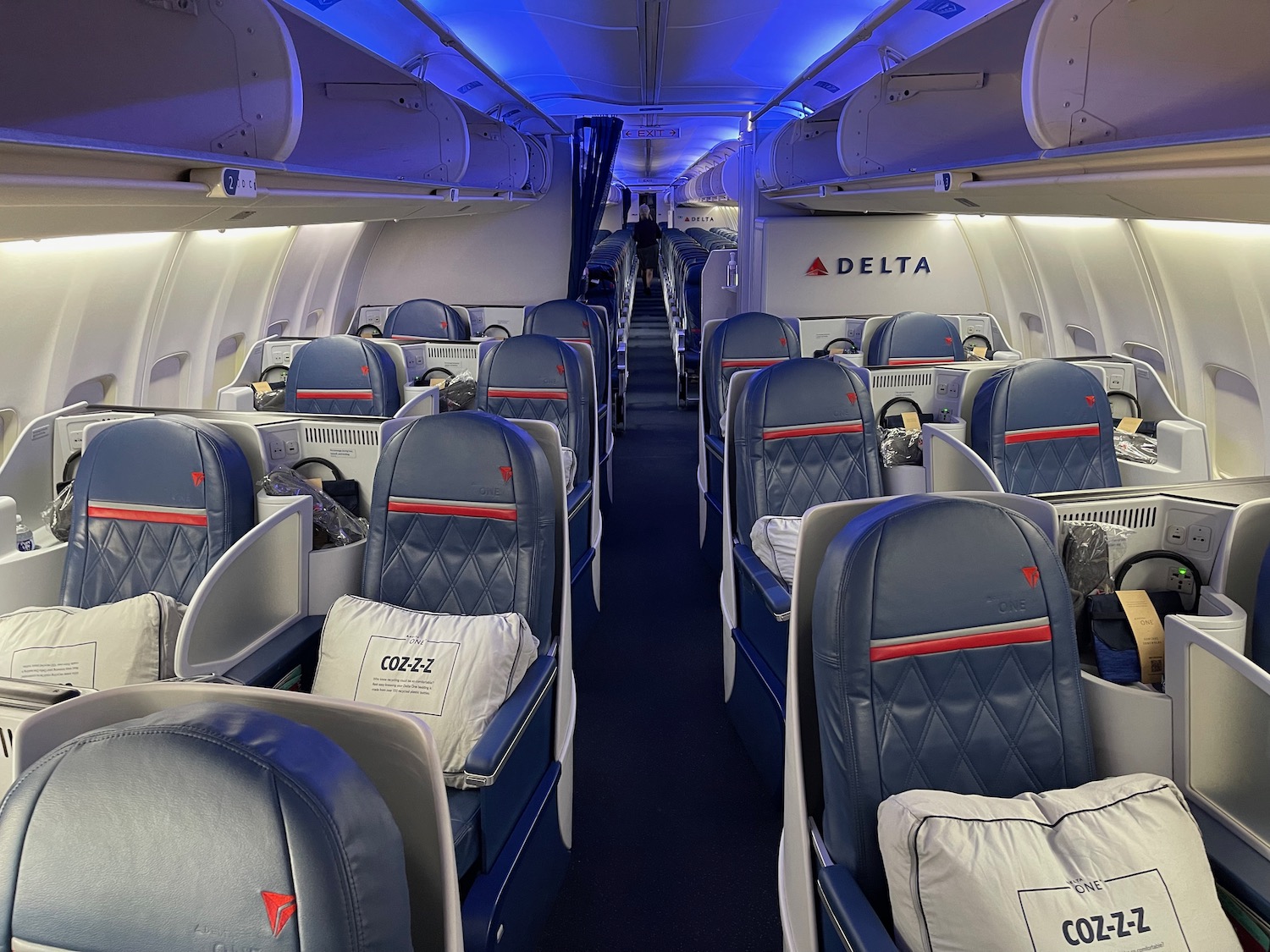 Meanwhile, the stale fluorescent light on United's 757-200 gives the cabin a rather dull appearance.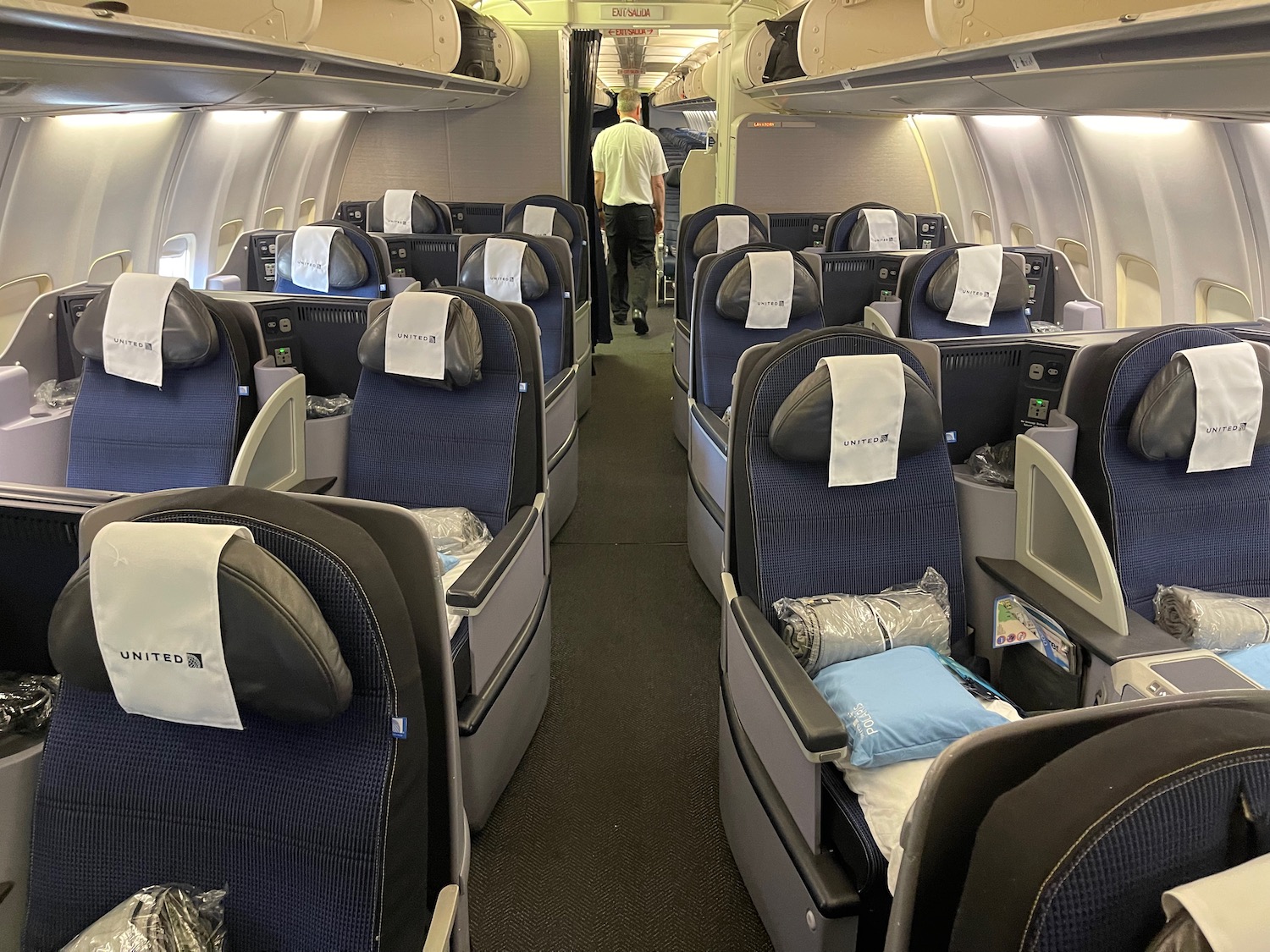 However, the Delta cabin was not clean:
But the United cabin was really showing signs of a lack of upkeep including in the console below my monitor and the window shade, which was broken.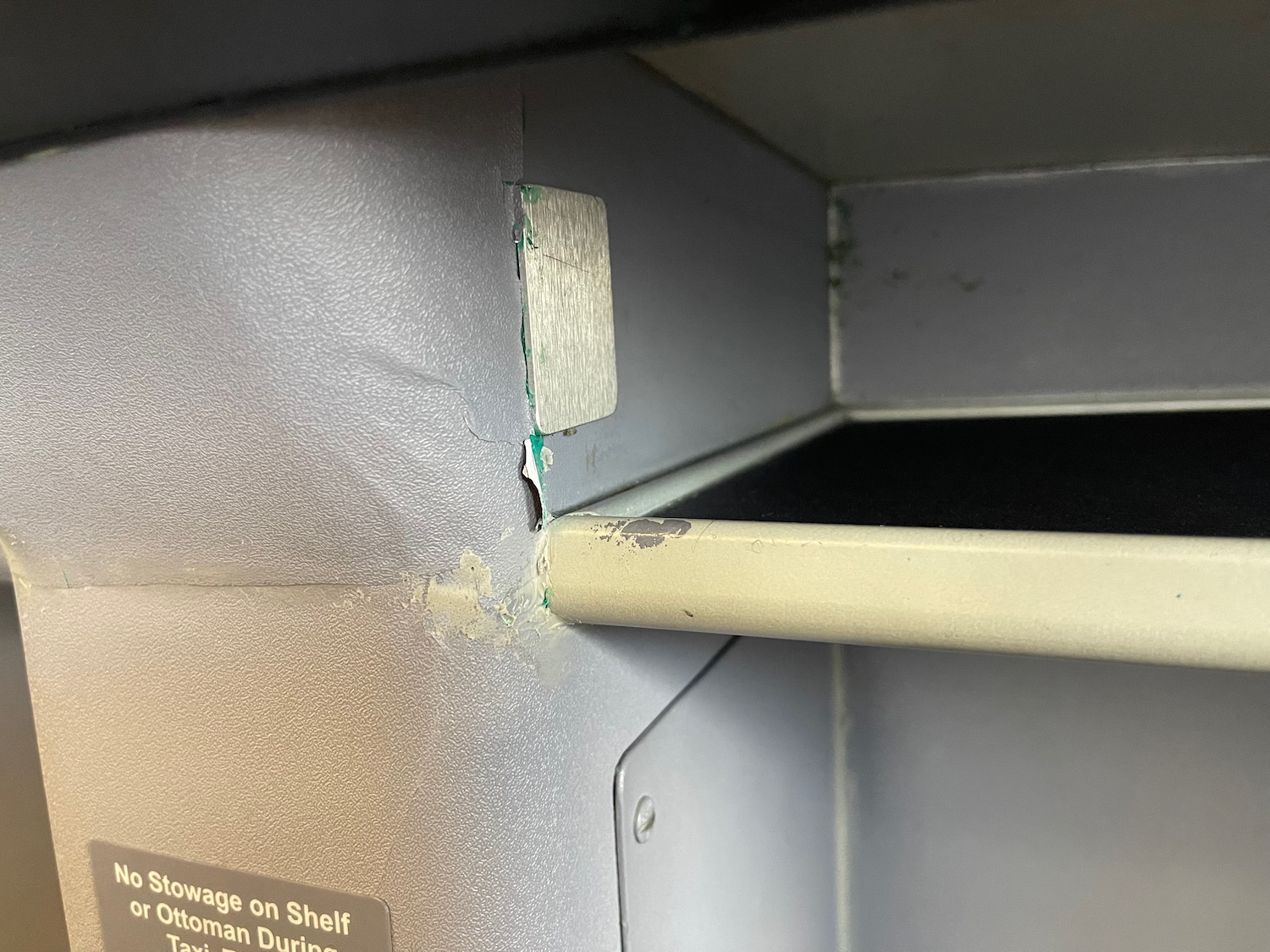 I felt like the United cabin was cleaner, but I loved the mood lighting on Delta.
Seat
Both Delta and United use the exact same seat in their business class cabin, the B/E Diamond seat. The cabin includes 16 seats in a 2-2 configuration between doors 1 and 2. Each seat reclines into a full lie-flat bed (76 inches) and offers a width of 20.5 inches.
The only difference in seating is that United has adjustable headrests while Delta does not.
Delta:
United: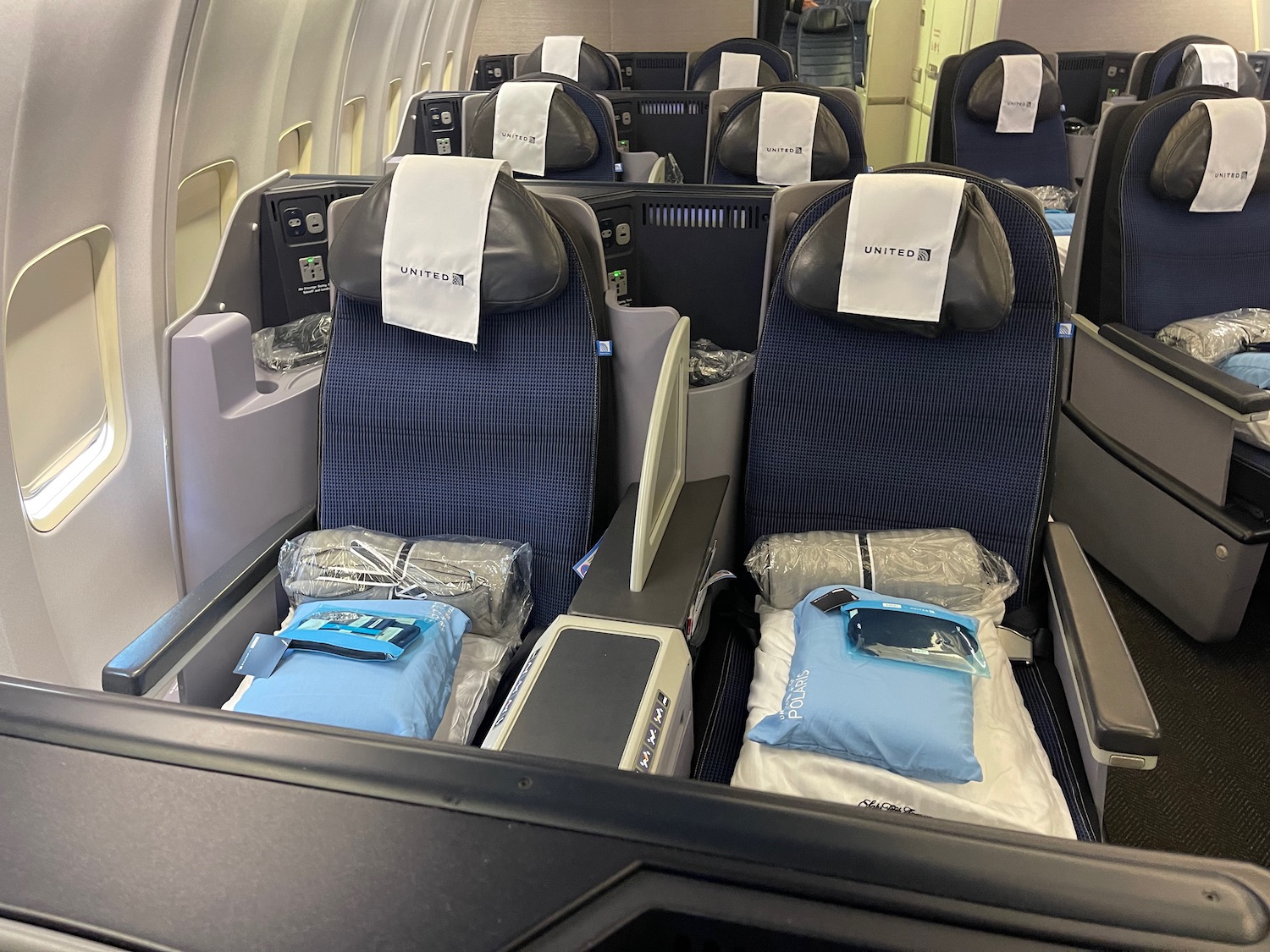 Each seat also has a storage shelf with a universal a/c (110V) plug and a USB-A socket.
Seats are controlled by electronic controls in the center console.
Delta:
United:
This is widely considered an "old" seat today and window seat passengers do not have direct aisle access, but I did not mind it (and chose a window seat on both flights).
Bedding
Both Delta and United offered premium bedding with a duvet and pillow. United's satin-like material was a bit more comfortable and United also offered a second pillow (cooling gel foam).
Delta:
United:
Wi-Fi
Delta and United both have wireless internet available for purchase. On Delta, a flight pass cost $39.99 while on United a flight pass was only $10 (reduced to $8 for MileagePlus members regardless of status). Both offered complimentary wi-fi for T-Mobile customers on a single mobile device.
Internet worked well on both carriers. In fact, on Delta I even streamed video without issue while on United I was simply working on my accounting during the flight.
IFE
Both Delta and United offer a comprehensive library of TV shows, movies, games, and music via a 16-inch touchscreen display. Both offer a wired passenger service unit (remote) as well to toggle between options.
Delta:
United:
While Delta prides itself on offering seatback screens on all mainline flights, United does not and therefore also offers streaming IFE via intranet with a similar selection. On this aircraft, however, all passengers had their own IFE screens.
Delta's noise-cancelling headphones slightly edged out United's, though both are inferior to what American Airlines and JetBlue offer.
The Delta library was more diverse and included more music options, but both offered plenty of options for a five-hour flight.
Food
Sadly, my Delta flight was delayed 18 hours (more on that below) so my dinner flight became a breakfast flight. I wanted to compare dinner to dinner and try Delta's short ribs, but wound up with a quiche instead, served with yogurt, a fresh fruit bowl, and a warm croissant.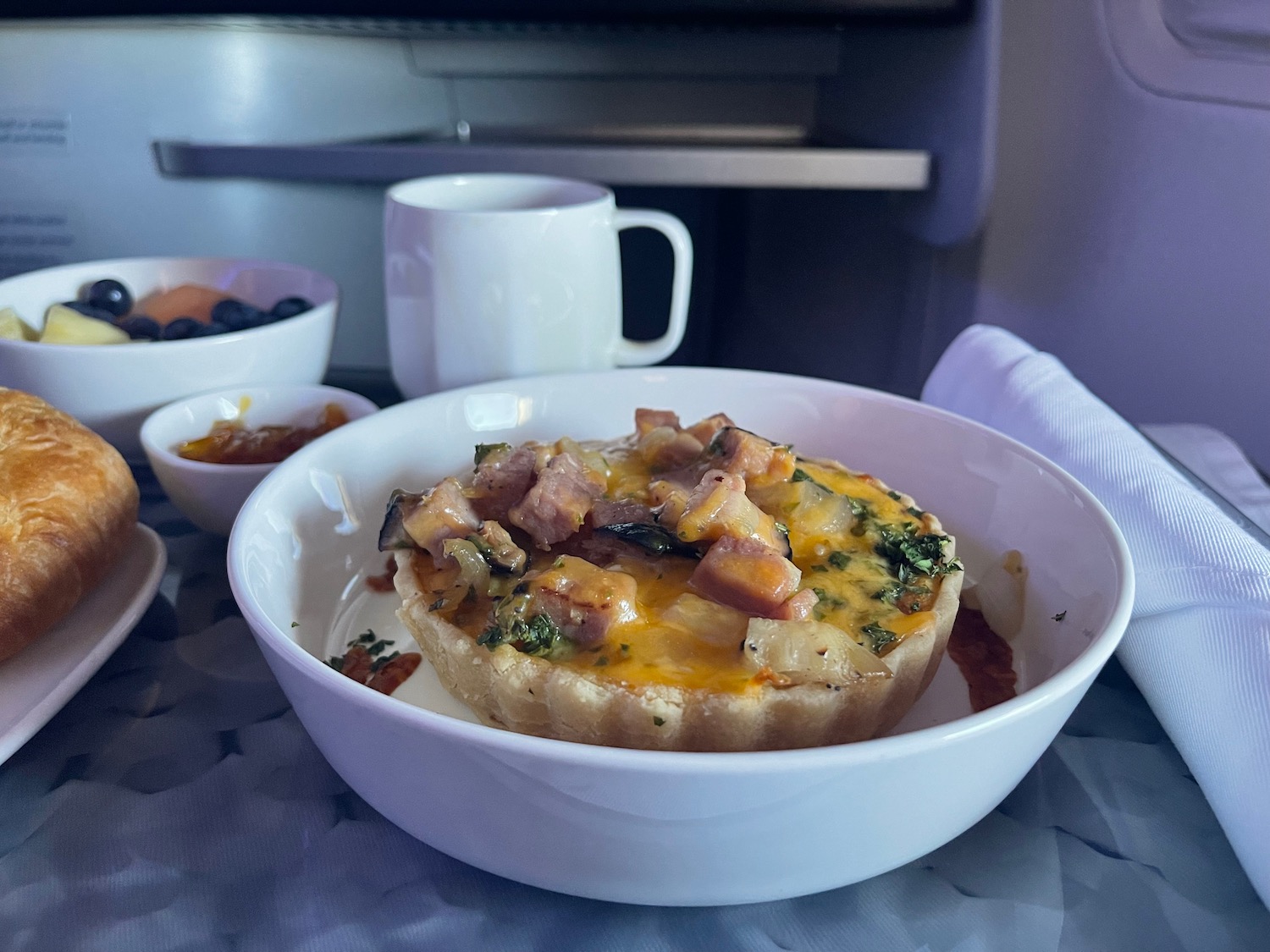 During the flight, snacks and drinks were available on-demand and I loved that the snack basket had pistachios.
Meanwhile, dinner was served on United with a choice between a chicken breast or cheese ravioli, both served with a side salad and bread. I ordered ravioli which was perfectly fine, though I will lament here that United has not really rotated the meal choices on this route in over two years.
United offered a choice of ice cream sundae, cake, or cheese (or all three) for dessert via cart. It is my understanding that Delta does not offer a full dessert service on its transcon flights.
Prior to arrival, United offered a choice of a light snack:
Hummus, tabouli salad, Kalamata olives, lemon wedge, grapes
Strawberries, grapes, Swiss cheese, Cheddar cheese, sliced roasted turkey breast, Genoa salami
Both are served with crackers. I enjoyed the hummus and thought it was a fitting pre-arrival meal.
Both carriers offer pre-orders on their premium transcontinental 757 flights.
I preferred the United meal service, but feel like it was comparing apples and oranges considering breakfast was served on Delta.
Lavatories
Lavatories, located in the front of the aircraft, were clean on both carriers.
Delta:
United:
Delta offers hand soap and creme from Grown Alchemist while United featured Sunday Riley (and now uses Therabody) hand soap and creme.
Amenities
Both carriers offer an amenity kit to business-class passengers, though Delta offers a much better reusable bag with the following contents:
Toothbrush + toothpaste from The Thumble Co.
Lip balm + hand creme from Grown Alchemist
Delta-branded pen
Eyeshade
Earplugs
The United kit only contained:
lip balm
dental kit
ear plugs
eye shade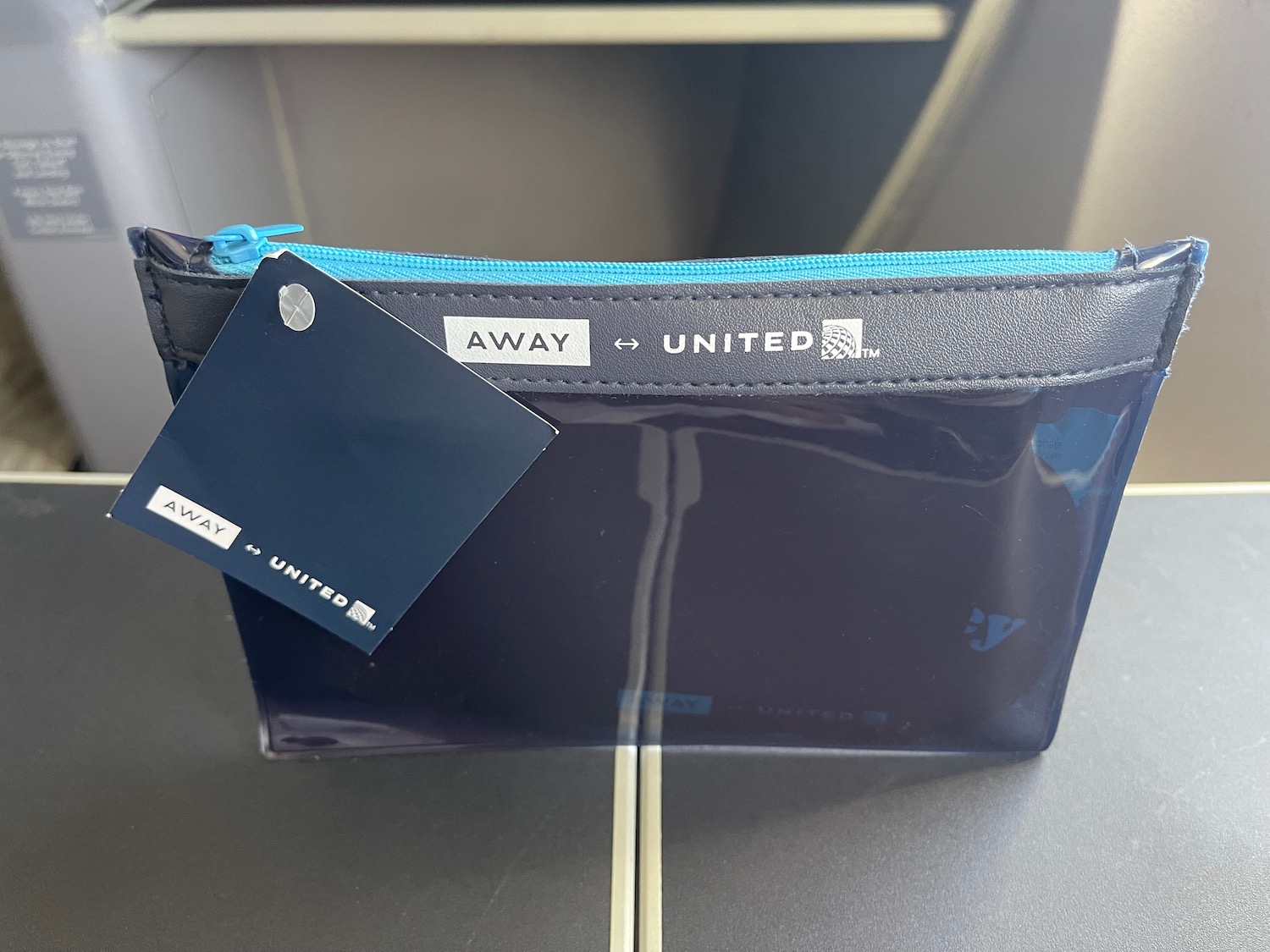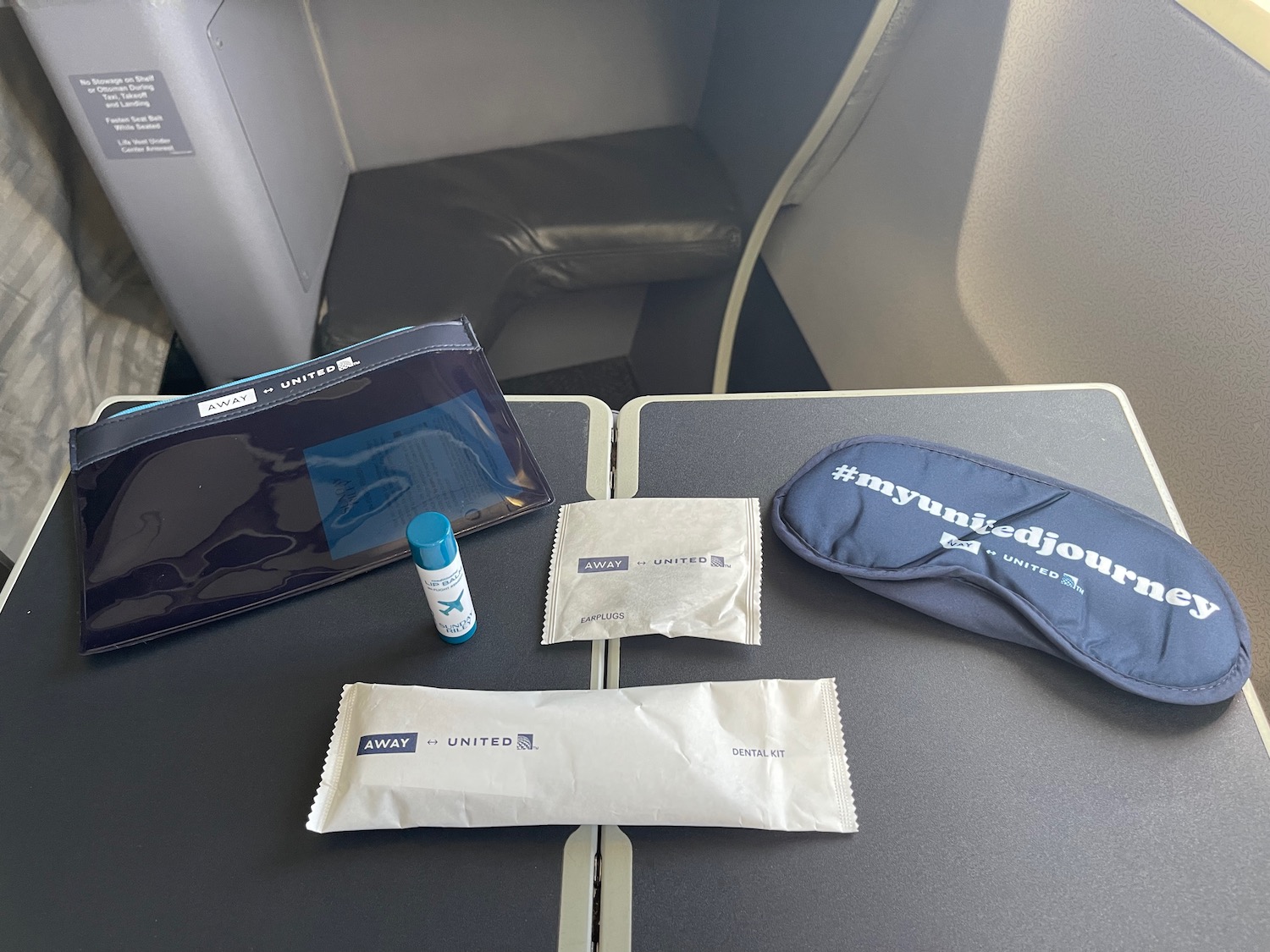 Both carriers also offer slippers, though Delta offered them proactively and United was via request.
Service
Service was lovely on both flights and this is hard category to say who was better.
Michael served the business class on Delta and was simply fabulous. Attentive and with a great sense of humor, he hustled throughout the flight to keep everyone comfortable. He was great.
On United, Alycia and Nicole took excellent care of the business class cabin and were also very attentive throughout the flight, checking the cabin often for beverage refills.
I don't fly Delta enough to know whether Michael is the norm or was extraordinary, but he was great…on United, the service was better than I am used to.
Operational Reliability
I cannot avoid mentioning that my Delta flight experienced an 18-hour mechanical delay. The 757-200 is an aging aircraft and one of our engines would no start (comforting, isn't it?).
Of course I could have just as easily ran into a mechanical delay on United, but I must point out that the extended delay on Delta certainly dampened my experience overall.
CONCLUSION
Objectively, I have to say my United flight was better because it arrived on-time instead of 18 hours late.
However, if we put the delay aside I think both products were quite similar…and quite good. Service was great on both flights. Wi-fi worked well. Bedding was comfortable. Food was satisfactory.
I've staked my loyalty in United, but even with the specter of another mechanical delay, I would not hesitate to fly either product in the future.